Apple Watch Series 6 long-term review — Was it worth upgrading?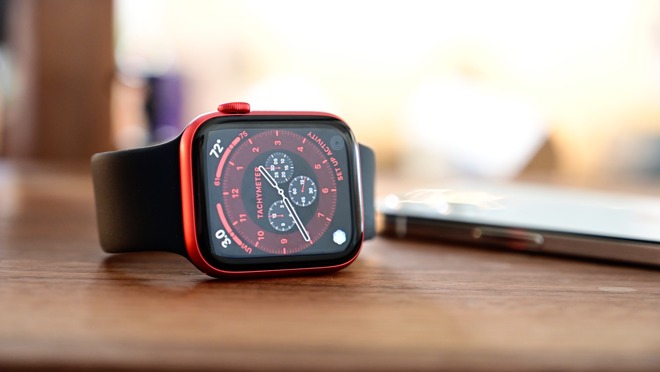 It's been almost six months since the Apple Watch Series 6 was released. Halfway to the next model, how does Apple's latest wearable hold up and compare to the Apple Watch Series 5 after months of daily use?
I'll freely admit that I'm not your average Apple Watch user. Beyond being an Apple-primary user, I work at AppleInsider, so it was a foregone conclusion that I'd upgrade my Apple Watch when a new model was released.
At launch, I wasn't overly excited by many of the Apple Watch Series 6 features, and I still had a preference for the stainless steel. That made it a more costly decision than it otherwise would be getting a new aluminum model.
In the end, for my personal watch, I opted to go with the graphite stainless steel Apple Watch Series 6 in the larger 44mm size.
What Apple Watch Series 6 had to offer
There's no need to entirely rehash what's new on the Apple Watch Series 6. As a high-level overview, the Apple Watch Series 6 features the S6 SiP that Apple says is 20 percent faster than the prior generation, a brighter display, three new color choices, a new blood oxygenation measurement, an always-on altimeter, faster charging, and the U1 chip.
At the same time we also got watchOS 7 and a bevy of new Apple Watch bands.
Was the Apple Watch Series 6 worth the upgrade?
I don't particularly notice a performance increase on the new Apple Watch with my typical tasks. Perhaps Siri is slightly snappier but hard to tell without having two models side-by-side. I never use the blood oxygen app, though I'll admit I may not be the target audience.
Apple did include the U1 chip here, but it remains a table-setting for the future. In the future, it will be used for things like unlocking and starting your vehicle, finding Apple Tags, and other new experiences — but none of that is today.
If I planned to keep this watch for a couple of years, I'd inevitably get some use out of the U1, but it may not ever come into play if I plan to upgrade again in late-2021.
The screen improvements have been helpful, though. I'm outside quite a bit, working on the house, hiking, and taking pictures. On the Apple Watch Series 5, the always-on display was hard to read while in direct sunlight. The new brightness is noticeable, obvious, and welcomed.
The faster charging battery is perhaps the most obvious improvement of the bunch. It only takes an hour and a half to charge the Apple Watch Series 6 in its entirety and is more important now due to sleep tracking.
It charges fast enough that I can toss my watch on the charger while I get ready for the day in the morning and a bit while I'm in the shower at night. That's all I need to make it through the day without issue, and it would be harder to pull off with slower charging.
On the other hand, the graphite color means that any black stainless steel lugs I had in the past no longer match. Graphite looks good on its own, but it is a bit too close to the silver, and to date, no one is producing graphite lugs — not even Apple offers them other than the updated graphite Milanese loop.
Cumulatively, these features don't add up to a massive new experience for users from the previous generation. It is a massive jump from the Apple Watch Series 4, though.
It's less about the watch itself
It's not always about the specs of the hardware. Apple's watchOS 7 and the new Apple Watch bands change things up — both of which apply to recent models of Apple Watch and not just the Apple Watch Series 6.
I'm still not a fan of the death of Force Touch. While the new watch omitted the gasket hardware necessary for the feature, watchOS 7 killed the feature on any Apple Watch that included the hardware. They probably did this for a consistent user interface across all generations
The lack still makes so many aspects of interacting with the Apple Watch worse than what it was. I want this feature to return desperately, but I'm under no illusion that this will ever happen.
On the positive side, watchOS 7 has been a considerable upgrade that has been one of the most transformative. Native sleep tracking, while it has a way to go, has been great, and I've used it nearly every day.
I also love the changes to watch faces. Finding curated ones online is fun the ability to change them based on the time of day via Shortcuts is clutch. It's convenient to have one face during the day that shows my calendar and meetings. Then, at 5 PM, it automatically switches to another that highlights my activity progress— all without my interaction.
Then we have the new Apple Watch bands. The Leather Link is perhaps my favorite Apple Watch band of all time. It is comfortable to wear, it's easy to adjust, and it is perfect for sleeping in.
Do I regret upgrading?
When it all boils down, the question that presents itself is whether or not I regret upgrading my Apple Watch this time around. It's a question I've thought a lot about, and in the end, I don't — but I am disappointed. I was disappointed in how much of a daily difference the Apple Watch Series 6 improvements have made. I'd likely be almost as happy if I still had the Series 5 with the Leather Link band and watchOS 7.
That isn't to say that the Apple Watch Series 6 is a bad Apple Watch. This is absolutely the best Apple Watch to date, and its improvements are significant. Apple's is adding narrower, more focused health features, which means they won't always appeal to everyone.
Other aspects are about making the watch more beneficial long-term. The U1 chip we still haven't seen come into play, and its speed will be vital to ensure it can run new versions of watchOS in several years.
My disappointment in the year-over-year hardware changes makes it clear that in the future, the software is going to be even more critical than ever in the success of Apple Watch.