AMD Radeon RX 6700 XT GPU may launch at March 3 event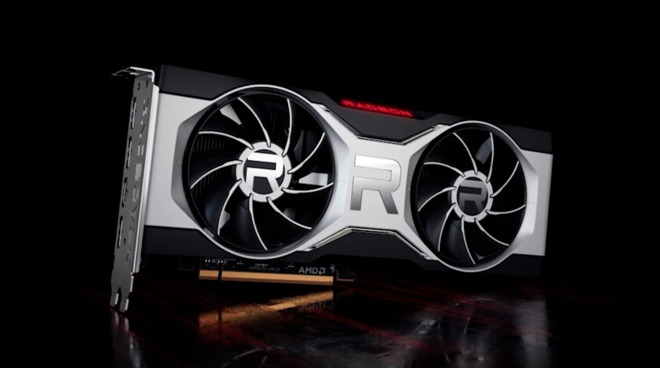 AppleInsider may earn an affiliate commission on purchases made through links on our site.
AMD will be expanding its Radeon RX 6000 graphics card line on March 3, with the launch thought to introduce lower-priced options that could eventually be used with the Mac Pro or eGPU solutions.
The first Radeon RX 6000-series GPUs were introduced on October 28, with the RX 6800, RX 6800 XT, and RX 6900 XT unveiled by AMD. In an announcement made on Twitter, AMD plans to add more cards to the range.
The tweet proclaims "the journey continues for RDNA2" at 11 A.M. Eastern on March 3. The event will be the third episode of AMD's "Where Gaming Begins" virtual event streams, and is confirmed via the tweet to include at least one new card.
Current speculation is that AMD's next card will be one that extends the range down toward the value end of the spectrum. Thought to be the Radeon RX 6700 XT, images and details of the cards leaked by VideoCardzon Sunday indicate Asus is already preparing versions for sale.
The RX 6700 XT is believed to use the Navi 22 XT GPU, with a reduced 40 compute units versus the 60 to 80 units offered by the RX 6800 and RX 6900 XT. The core count will also allegedly be reduced to 2,560, well below the 3,840 of the RX 6800.
The card may also switch out the 16GB of GDDR6 memory for 12GB as a cost-saving measure and use a 192-bit memory bus instead of 256-bit. A lower memory bandwidth may also be revealed, with it being capable of up to 384GB/s rather than 512GB/s performed by its stablemates.
It will likely provide some power savings, with a power consumption of up to 230W undercutting the RX 6800's 250W power draw or the 300W of the higher two cards.
Rumors point to a launch date in March 2021 for the card, and potentially a price below $500. For comparison, the RX 6800 was priced at $579 at launch, while the RX 6800 XT cost $649, and the RX 6900 XT was $999.
The card is likely to be a potential future upgrade for Mac Pro users and those with Thunderbolt 3 eGPU enclosures, though not at the moment. Drivers do not yet exist for macOS for the RX 6000-series cards, but are anticipated to arrive soon, given historical trends for addition of support.
Apple's decision to drop Nvidia GPU support in favor of Radeon gives upgradable Mac users few video upgrade options. The launch of more affordable top-end Radeon cards may help press Apple to support them.