Apple researching mattress haptic system to wake, relax users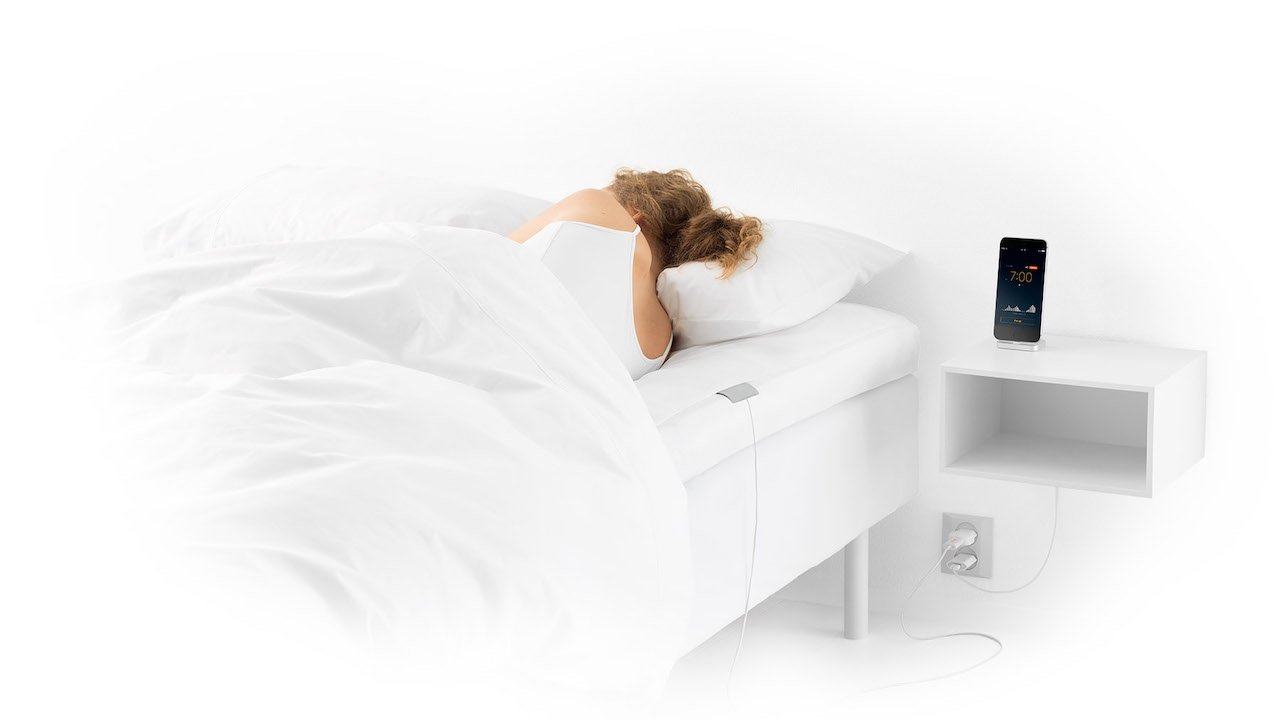 Apple is researching a possible haptic feedback device that could be placed on top of a mattress and act as an alarm clock or relaxation device for users.
In a patent application published on Thursday and titled "Pneumatic Haptic Device Having Actuation Cells for Producing a Haptic Output over a Bed Mattress," Apple outlines a new type of sleep-related system that could allow a control device to provide haptic feedback on a mattress.
The so-called "in-bed haptic device" could be comprised of actuation cells that could be inflated or deflated to produce a tactile and perceptible impulse. It could do so via introduction or removal of some type of "fluid," which could also include air, gasses, liquids, or some combination of them.
"The in-bed haptic device may include an enclosure that is configured to be placed beneath a user during use. In some cases, the in-bed haptic device may be positioned between a mattress and a user during use. The in-bed haptic device may provide haptic outputs along a top external surface that may be perceived tactilely (e.g., sensed through touch) by the user," the patent reads.
Comfort is an important part of sleep, so Apple adds that the in-bed haptic device could be sufficiently thin or flexible enough to not disturb a user when placed between them and a mattress.
The system could be configured to expand, contract, or otherwise change shape in a predetermined sequence to provide haptic outputs. Apple notes it could be used to "help a user relax, to move and/or wake a user, to indicate outputs, alerts, or notifications at the in-bed haptic device or another electronic device, or the like."
Apple adds that the haptic unit could be combined with or include an input system, which could include force sensing mechanics, biometric sensors, light sensors, or other sensors.
With the suite of sensors, the system could detect whether a user is in bed and whether they are sleeping on their back, side, or stomach. If a microphone is included in the sensor suite, the system could also detect snoring.
As far as practical uses, the system could be used as a gentle and noiseless "alarm clock" to wake users. Combined with the snoring detection system, it could automatically provide haptic feedback to gently wake a user if they happen to snore throughout the night.
The patent lists Riley E. Brandt; Linda Benavente-Notaro; Antonio Herrera; Denis Lin; Zijing Zeng; Erno H. Klaassen; and Zhipeng Zhang as its inventors. At least two of those inventors have also worked on technology related to Apple Watch blood pressure sensing mechanisms and "smart blankets."
The company has also shown off its sleep-related ambitions in other patents, including one published in February for a much more unobtrusive sleep tracking system.
Apple files and is granted numerous patents on a weekly basis, so they are a poor indicator of the company's future plans or any sort of product release timeline.