Price wars heat up as Apple's M1 MacBook Air drops to $899 [u]
As month-end price wars heat up, B&H Photo has issued a standout deal on the standard M1 MacBook Air, dropping the price to a record low $899. And Amazon has followed suit.
$899 M1 MacBook Air
Update on April 28: Only Silver and Gold remain on sale for $899 at Amazon. Both colors are on backorder, but are in stock at B&H.
The $899 price at B&H Photo is the cheapest M1 MacBook Air price available, according to the AppleInsider Price Guide. Space Gray Silver and Gold units are in stock and ready to ship with free expedited shipping within the contiguous U.S.
In addition to the $100 price cut, Payboo cardholders in eligible states can save on tax, putting another $70+ back in your wallet on average.
Limited supply is available for this MacBook Air deal, so don't delay if you're in the market for the standard Air with Apple's M1 chip, 8GB of RAM and a 256GB SSD.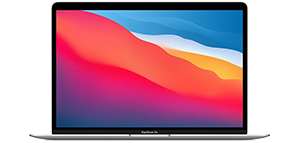 M1 MacBook Air Prices
---
Configurations
Discount
MacBook Air (M1, 8GB, 256GB, 7-core GPU) Space Gray

$999.00

$935.00

Coupon

Price with $64 promo code APINSIDER. As always, if you have any issues, you can reach out to us at [email protected] and we'll try and help.

$899.00

$999.00

$948.00

$999.99

$929.00

$994.00
$100.00
MacBook Air (M1, 8GB, 256GB, 7-core GPU) Silver

$999.00

$935.00

Coupon

Price with $64 promo code APINSIDER. As always, if you have any issues, you can reach out to us at [email protected] and we'll try and help.

$899.00

$899.00

$948.00

$999.99

$929.00

sold out
$100.00
MacBook Air (M1, 8GB, 256GB, 7-core GPU) Gold

$999.00

$929.00

Coupon

Price with $70 promo code APINSIDER. As always, if you have any issues, you can reach out to us at [email protected] and we'll try and help.

$899.00

$899.00

$948.00

$999.99

$929.00

sold out
$100.00
MacBook Air (M1, 8GB, 512GB, 8-core GPU) Space Gray

$1,249.00

$1,185.00

Coupon

Price with $64 promo code APINSIDER. As always, if you have any issues, you can reach out to us at [email protected] and we'll try and help.

$1,099.00

$1,149.00

$1,186.00

$1,249.99

$1,162.00

$1,244.00
$150.00
MacBook Air (M1, 8GB, 512GB, 8-core GPU) Silver

$1,249.00

$1,165.99

Coupon

Price with $64 promo code APINSIDER. As always, if you have any issues, you can reach out to us at [email protected] and we'll try and help.

$1,099.99

$1,149.00

$1,186.00

$1,249.99

$1,162.00

$1,244.00
$149.01
MacBook Air (M1, 8GB, 512GB, 8-core GPU) Gold

$1,249.00

$1,149.99

Coupon

Price with $50 promo code APINSIDER. As always, if you have any issues, you can reach out to us at [email protected] and we'll try and help.

$1,194.94

$1,199.00

$1,186.00

$1,249.99

$1,199.00

$1,244.00
$99.01
MacBook Air (M1, 8GB, 512GB, 7-core GPU) Space Gray

$1,199.00

place order

Coupon

Price with $80 promo code APINSIDER. As always, if you have any issues, you can reach out to us at [email protected] and we'll try and help.

n/a

$1,199.00

$1,132.00

n/a

n/a

n/a
$80.00
MacBook Air (M1, 8GB, 512GB, 7-core GPU) Silver

$1,199.00

$1,119.00

Coupon

Price with $80 promo code APINSIDER. As always, if you have any issues, you can reach out to us at [email protected] and we'll try and help.

n/a

$1,199.00

$1,132.00

n/a

n/a

n/a
$80.00
MacBook Air (M1, 8GB, 512GB, 7-core GPU) Gold

$1,199.00

$1,149.00

Coupon

Price with $50 promo code APINSIDER. As always, if you have any issues, you can reach out to us at [email protected] and we'll try and help.

n/a

$1,199.00

$1,132.00

n/a

n/a

n/a
$67.00
MacBook Air (M1, 8GB, 1TB, 7-core GPU) Space Gray

$1,399.00

place order

Coupon

Price with $50 promo code APINSIDER. As always, if you have any issues, you can reach out to us at [email protected] and we'll try and help.

n/a

place order

$1,321.00

n/a

n/a

n/a
$78.00
MacBook Air (M1, 8GB, 1TB, 7-core GPU) Silver

$1,399.00

$1,349.00

Coupon

Price with $50 promo code APINSIDER. As always, if you have any issues, you can reach out to us at [email protected] and we'll try and help.

n/a

place order

$1,321.00

n/a

n/a

n/a
$78.00
MacBook Air (M1, 8GB, 1TB, 7-core GPU) Gold

$1,399.00

place order

Coupon

Price with $50 promo code APINSIDER. As always, if you have any issues, you can reach out to us at [email protected] and we'll try and help.

n/a

place order

$1,321.00

n/a

n/a

n/a
$78.00
MacBook Air (M1, 8GB, 2TB, 7-core GPU) Space Gray

$1,799.00

place order

Coupon

Price with $50 promo code APINSIDER. As always, if you have any issues, you can reach out to us at [email protected] and we'll try and help.

n/a

place order

$1,698.00

n/a

n/a

n/a
$101.00
MacBook Air (M1, 8GB, 2TB, 7-core GPU) Silver

$1,799.00

place order

Coupon

Price with $50 promo code APINSIDER. As always, if you have any issues, you can reach out to us at [email protected] and we'll try and help.

n/a

place order

$1,698.00

n/a

n/a

n/a
$101.00
MacBook Air (M1, 8GB, 2TB, 7-core GPU) Gold

$1,799.00

place order

Coupon

Price with $50 promo code APINSIDER. As always, if you have any issues, you can reach out to us at [email protected] and we'll try and help.

n/a

place order

$1,698.00

n/a

n/a

n/a
$101.00
MacBook Air (M1, 16GB, 256GB, 7-core GPU) Space Gray

$1,199.00

place order

Coupon

Price with $50 promo code APINSIDER. As always, if you have any issues, you can reach out to us at [email protected] and we'll try and help.

n/a

$1,199.00

$1,138.00

n/a

n/a

n/a
$61.00
MacBook Air (M1, 16GB, 256GB, 7-core GPU) Silver

$1,199.00

place order

Coupon

Price with $50 promo code APINSIDER. As always, if you have any issues, you can reach out to us at [email protected] and we'll try and help.

n/a

$1,199.00

$1,138.00

n/a

n/a

n/a
$61.00
MacBook Air (M1, 16GB, 256GB, 7-core GPU) Gold

$1,199.00

$1,149.00

Coupon

Price with $50 promo code APINSIDER. As always, if you have any issues, you can reach out to us at [email protected] and we'll try and help.

n/a

$1,199.00

$1,138.00

n/a

n/a

n/a
$61.00
MacBook Air (M1, 16GB, 512GB, 7-core GPU) Space Gray

$1,399.00

place order

Coupon

Price with $100 promo code APINSIDER. As always, if you have any issues, you can reach out to us at [email protected] and we'll try and help.

n/a

$1,399.00

$1,321.00

n/a

n/a

n/a
$100.00
MacBook Air (M1, 16GB, 512GB, 7-core GPU) Silver

$1,399.00

place order

Coupon

Price with $110 promo code APINSIDER. As always, if you have any issues, you can reach out to us at [email protected] and we'll try and help.

n/a

$1,399.00

$1,321.00

n/a

n/a

n/a
$110.00
MacBook Air (M1, 16GB, 512GB, 7-core GPU) Gold

$1,399.00

place order

Coupon

Price with $100 promo code APINSIDER. As always, if you have any issues, you can reach out to us at [email protected] and we'll try and help.

n/a

$1,399.00

$1,321.00

n/a

n/a

n/a
$100.00
MacBook Air (M1, 16GB, 1TB, 7-core GPU) Space Gray

$1,599.00

$1,549.00

Coupon

Price with $50 promo code APINSIDER. As always, if you have any issues, you can reach out to us at [email protected] and we'll try and help.

n/a

$1,599.00

$1,510.00

n/a

n/a

n/a
$89.00
MacBook Air (M1, 16GB, 1TB, 7-core GPU) Silver

$1,599.00

place order

Coupon

Price with $50 promo code APINSIDER. As always, if you have any issues, you can reach out to us at [email protected] and we'll try and help.

n/a

$1,599.00

$1,510.00

n/a

n/a

n/a
$89.00
MacBook Air (M1, 16GB, 1TB, 7-core GPU) Gold

$1,599.00

place order

Coupon

Price with $50 promo code APINSIDER. As always, if you have any issues, you can reach out to us at [email protected] and we'll try and help.

n/a

$1,599.00

$1,510.00

n/a

n/a

n/a
$89.00
MacBook Air (M1, 16GB, 2TB, 7-core GPU) Space Gray

$1,999.00

place order

Coupon

Price with $50 promo code APINSIDER. As always, if you have any issues, you can reach out to us at [email protected] and we'll try and help.

n/a

place order

$1,888.00

n/a

n/a

n/a
$111.00
MacBook Air (M1, 16GB, 2TB, 7-core GPU) Silver

$1,999.00

place order

Coupon

Price with $50 promo code APINSIDER. As always, if you have any issues, you can reach out to us at [email protected] and we'll try and help.

n/a

$1,999.00

$1,888.00

n/a

n/a

n/a
$111.00
MacBook Air (M1, 16GB, 2TB, 7-core GPU) Gold

$1,999.00

place order

Coupon

Price with $50 promo code APINSIDER. As always, if you have any issues, you can reach out to us at [email protected] and we'll try and help.

n/a

place order

$1,888.00

n/a

n/a

n/a
$111.00
MacBook Air (M1, 8GB, 1TB, 8-core GPU) Space Gray

$1,449.00

place order

Coupon

Price with $50 promo code APINSIDER. As always, if you have any issues, you can reach out to us at [email protected] and we'll try and help.

n/a

$1,449.00

$1,369.00

n/a

n/a

n/a
$80.00
MacBook Air (M1, 8GB, 1TB, 8-core GPU) Silver

$1,449.00

$1,399.00

Coupon

Price with $50 promo code APINSIDER. As always, if you have any issues, you can reach out to us at [email protected] and we'll try and help.

n/a

place order

$1,369.00

n/a

n/a

n/a
$80.00
MacBook Air (M1, 8GB, 1TB, 8-core GPU) Gold

$1,449.00

place order

Coupon

Price with $50 promo code APINSIDER. As always, if you have any issues, you can reach out to us at [email protected] and we'll try and help.

n/a

place order

$1,369.00

n/a

n/a

n/a
$80.00
MacBook Air (M1, 8GB, 2TB, 8-core GPU) Space Gray

$1,849.00

place order

Coupon

Price with $50 promo code APINSIDER. As always, if you have any issues, you can reach out to us at [email protected] and we'll try and help.

n/a

place order

$1,747.00

n/a

n/a

n/a
$102.00
MacBook Air (M1, 8GB, 2TB, 8-core GPU) Silver

$1,849.00

place order

Coupon

Price with $50 promo code APINSIDER. As always, if you have any issues, you can reach out to us at [email protected] and we'll try and help.

n/a

place order

$1,747.00

n/a

n/a

n/a
$102.00
MacBook Air (M1, 8GB, 2TB, 8-core GPU) Gold

$1,849.00

place order

Coupon

Price with $50 promo code APINSIDER. As always, if you have any issues, you can reach out to us at [email protected] and we'll try and help.

n/a

place order

$1,747.00

n/a

n/a

n/a
$102.00
MacBook Air (M1, 16GB, 512GB, 8-core GPU) Space Gray

$1,449.00

place order

Coupon

Price with $100 promo code APINSIDER. As always, if you have any issues, you can reach out to us at [email protected] and we'll try and help.

n/a

$1,449.00

$1,376.00

n/a

n/a

n/a
$100.00
MacBook Air (M1, 16GB, 512GB, 8-core GPU) Silver

$1,449.00

place order

Coupon

Price with $100 promo code APINSIDER. As always, if you have any issues, you can reach out to us at [email protected] and we'll try and help.

n/a

$1,449.00

$1,376.00

n/a

n/a

n/a
$100.00
MacBook Air (M1, 16GB, 512GB, 8-core GPU) Gold

$1,449.00

place order

Coupon

Price with $100 promo code APINSIDER. As always, if you have any issues, you can reach out to us at [email protected] and we'll try and help.

n/a

$1,449.00

$1,376.00

n/a

n/a

n/a
$100.00
MacBook Air (M1, 16GB, 1TB, 8-core GPU) Space Gray

$1,649.00

$1,599.00

Coupon

Price with $50 promo code APINSIDER. As always, if you have any issues, you can reach out to us at [email protected] and we'll try and help.

n/a

$1,649.00

$1,557.00

n/a

n/a

n/a
$92.00
MacBook Air (M1, 16GB, 1TB, 8-core GPU) Silver

$1,649.00

$1,599.00

Coupon

Price with $50 promo code APINSIDER. As always, if you have any issues, you can reach out to us at [email protected] and we'll try and help.

n/a

$1,649.00

$1,558.00

n/a

n/a

n/a
$91.00
MacBook Air (M1, 16GB, 1TB, 8-core GPU) Gold

$1,649.00

place order

Coupon

Price with $50 promo code APINSIDER. As always, if you have any issues, you can reach out to us at [email protected] and we'll try and help.

n/a

$1,649.00

place order

n/a

n/a

n/a
$91.00
MacBook Air (M1, 16GB, 2TB, 8-core GPU) Space Gray

$2,049.00

place order

Coupon

Price with $150 promo code APINSIDER. As always, if you have any issues, you can reach out to us at [email protected] and we'll try and help.

n/a

$2,049.00

$1,936.00

n/a

n/a

n/a
$150.00
MacBook Air (M1, 16GB, 2TB, 8-core GPU) Silver

$2,049.00

place order

Coupon

Price with $50 promo code APINSIDER. As always, if you have any issues, you can reach out to us at [email protected] and we'll try and help.

n/a

place order

$1,936.00

n/a

n/a

n/a
$113.00
MacBook Air (M1, 16GB, 2TB, 8-core GPU) Gold

$2,049.00

place order

Coupon

Price with $50 promo code APINSIDER. As always, if you have any issues, you can reach out to us at [email protected] and we'll try and help.

n/a

place order

$1,936.00

n/a

n/a

n/a
$113.00
Additional deals on Apple hardware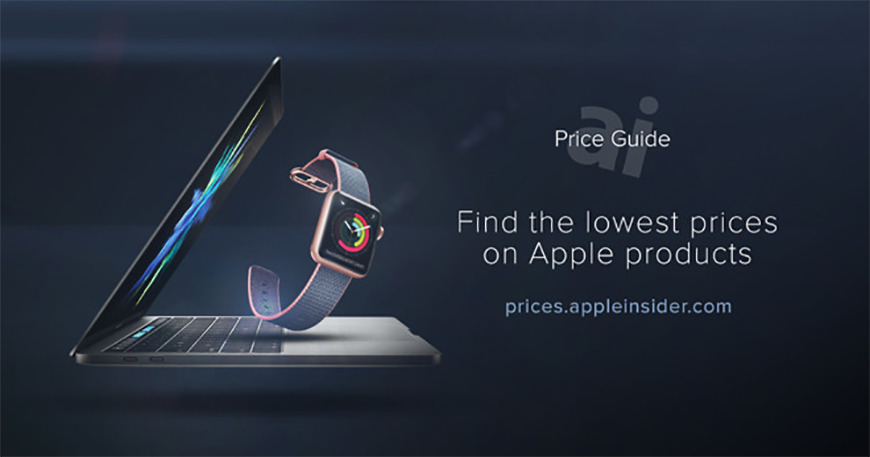 AppleInsider and Apple Authorized Resellers are also running additional exclusive deals on Apple devices that will not only deliver the lowest prices on many of the items, but also throw in bonus savings on AppleCare, peripherals and more. Here are just a few of the promotions: