Apple TV+ review: 'Physical' an unpleasant trip back to the '80s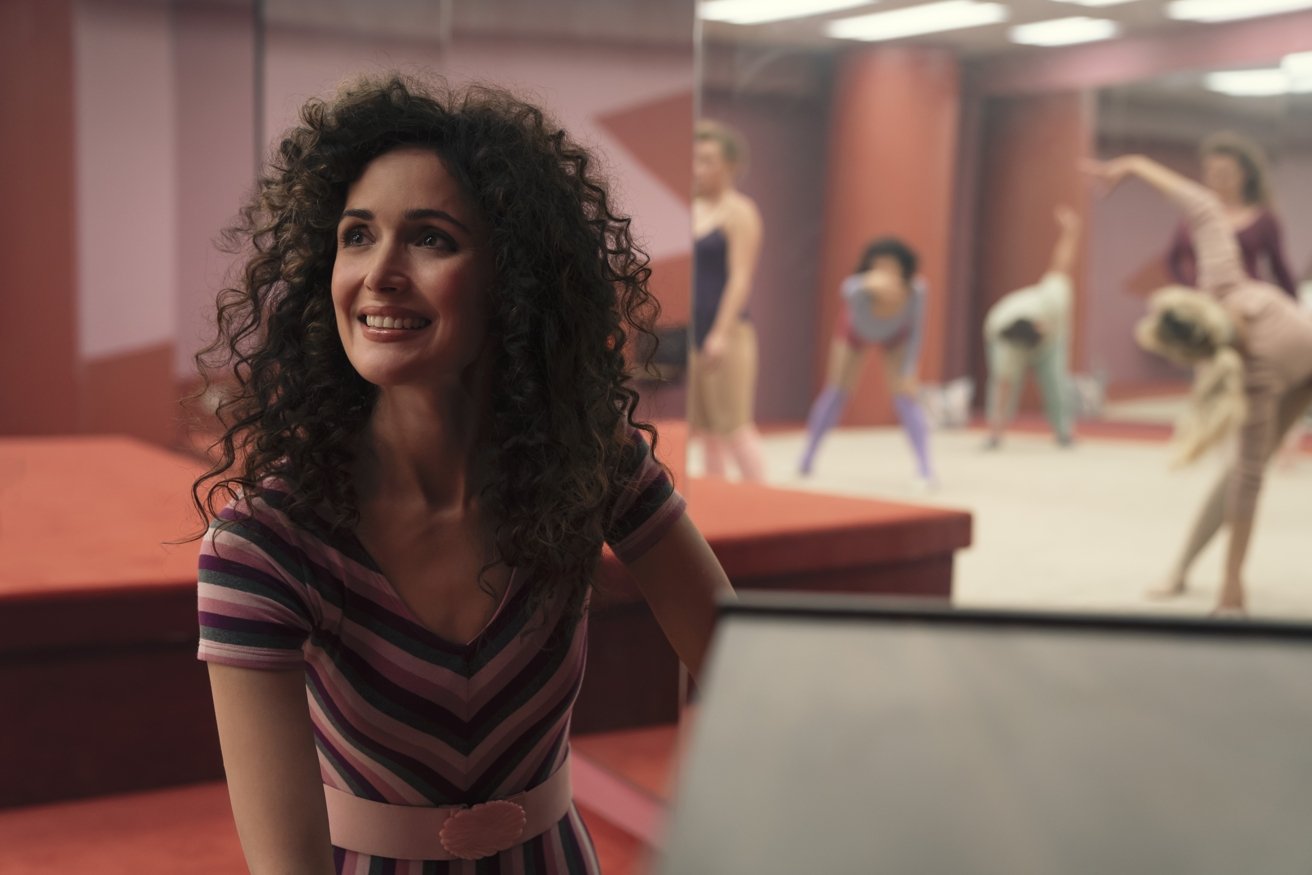 The new dark comedy "Physical," starring Rose Byrne is a punishing, unfocused slog with nothing to say.
The new series Physical, debuting June 18, is one of the great failures of the Apple TV+ era. It's an aggressively unpleasant show full of characters who either boring, actively horrible, or both.
It isn't just that Physical, created by Annie Weisman, is considerably more cynical and mean-spirited than most of what Apple TV+ has put out to date. It's that there's no payoff, and the show very clearly has nothing to say. The show's main plot is bad, while its side plots are even worse.
It's just an all-around punishing series, without any catharsis waiting at the end.
Working it out
Byrne, the former star of Damages and a long run of movies, is coming off a well-received turn as Gloria Steinem in last year's Hulu miniseries Mrs. America.
The actress stars in Physical as Sheila Rubin, a depressed housewife in 1981 San Diego. Married to a scuzzy college professor (comedian Rory Scovel), Sheila is also secretly bulimic, which for her entails a ritual of checking into a motel, getting naked, and binging and purging.
Faced with her husband's loss of his job, and his inexplicable pivot to running for political office, Sheila discovers aerobics exercise. Some flash-forwards imply that she's eventually going to ride that '80s craze to fame and fortune, using then-nascent VHS technology.
But if you thought Physical would serve as the origin story of a sympathetic, badass girl boss, that's not what this show is at all. Instead, the series is a character study of a profoundly troubled individual. Many of the best TV shows ever, from The Sopranos on down, have been about exactly that, but Physical just isn't able to make this character interesting.
This is one of those shows where the plot would resolve itself much more quickly if only the protagonist had found a good therapist.
For most of the show, we hear Byrne engaging in a running commentary in voiceover, mostly either showing her own self-loathing, but occasionally directing the mean-spirited snark at most of the other characters. This includes her friend (Dierdre Friel), a character who fears her husband (Ian Gomez) is cheating on her. This "self-talk" device gets very old, very quickly.
Bad politics
For a show billed as a "dark comedy," Physical is very seldom funny unless you're of the belief that 1980s fashions and technologies are inherently hilarious. Byrne has been very good in several comedy movies, especially Neighbors and Bridesmaids, but this show doesn't give her anything funny to do.
The show also doesn't successfully land any satirical punches, nor does it have anything of note to say about any of its subjects, whether it's the '80s, aerobics, eating disorders, self-help crazes, modern marriage, or local politics.
The election subplot, in particular, is a huge waste of time. The show never really makes clear what it's trying to say about how elections work, or about California politics in the early Reagan era specifically. Ronald Reagan isn't even mentioned until a later episode when Danny gives an incongruously smug speech that sounds like a half-hearted homage to the work of Aaron Sorkin.
The apparent conclusions from the political plot — that politics is a cynical game, campaign finance is sleazy and corrupt, and that any idiot can succeed as a candidate — are far from groundbreaking. I guess there's supposed to be a parallel of Scovel and Byrne's characters with Tom Hayden and Jane Fonda, a power couple from around the same time in which the husband was a college activist-turned-California state politician, and his wife was a star in the world of videotaped workouts.
The bigger question is why such a parallel is necessary.
The show does establish that the characters are Berkeley alumni who don't fit in so well in more conservative San Diego. But if the idea is to depict once-idealistic ex-hippies crashing into the reality of adulthood and 1980s America, that's been done before, quite a lot. It was the subject of a whole body of work back in the '80s, most notably the 1983 movie The Big Chill.
That's not all that goes wrong in Physical. There are unnecessary subplots about the theft of a video camera, a surfer (Lou Taylor Pucci) who is faced with the premature end of his surfing career, and the mid-life crisis of an executive (Paul Sparks). The series uses needle-drops of 1980s pop songs to a nearly distracting degree. Craig Gillespie, a director infamous for doing the same thing in his movies I, Tonya and Cruella, is an executive producer and directed the pilot.
Another problem is that there's no sense of place. Aside for an occasional scene that shows the beach, it never really matters that the series is set in San Diego.
Done better before
Back in 2019, there was a show on Showtime called On Becoming a God in Central Florida. That series, which starred Kirsten Dunst, was set in the early 1990s and was about a woman launching a shady multi-level marketing scheme and outsmarting incumbent men at their own game. It was another show that offered a cynical look at the American dream, alongside fashions from another decade and the casting of an actress in the lead role who usually stars in movies.
On Becoming a God, though, succeeded at doing most of the things that Physical tried and failed to do. The difference, though, was that the Dunst show had an actual point of view, and even managed to be funny once in a while.
Part of the appeal of Apple TV+ is that it features all sorts of different shows, and there isn't really one standard definition of what an Apple show looks and feels like.
But at a time when Ted Lasso has begun to emerge as the service's signature show, and with Tim Cook praising its positive ethos in keynote and on earnings calls, it's kind of shocking to see another 30-minute series arrive that is everything that ethos isn't.
If Apple TV+ subscribers are looking for a different feel-good half-hour show to spend time watching while they're waiting for the return of Ted Lasso in a few weeks, they're in for a rude awakening with Physical, which is pretty much the exact opposite.
Physical's first season runs for ten episodes, each running around 30 minutes, with the first three debuting June 18, and one a week following until August 6. There's been no announcement of a second-season renewal.