Interview: 'Fathom' director Drew Xanthopoulos on how he brought his nature documentary to Apple TV+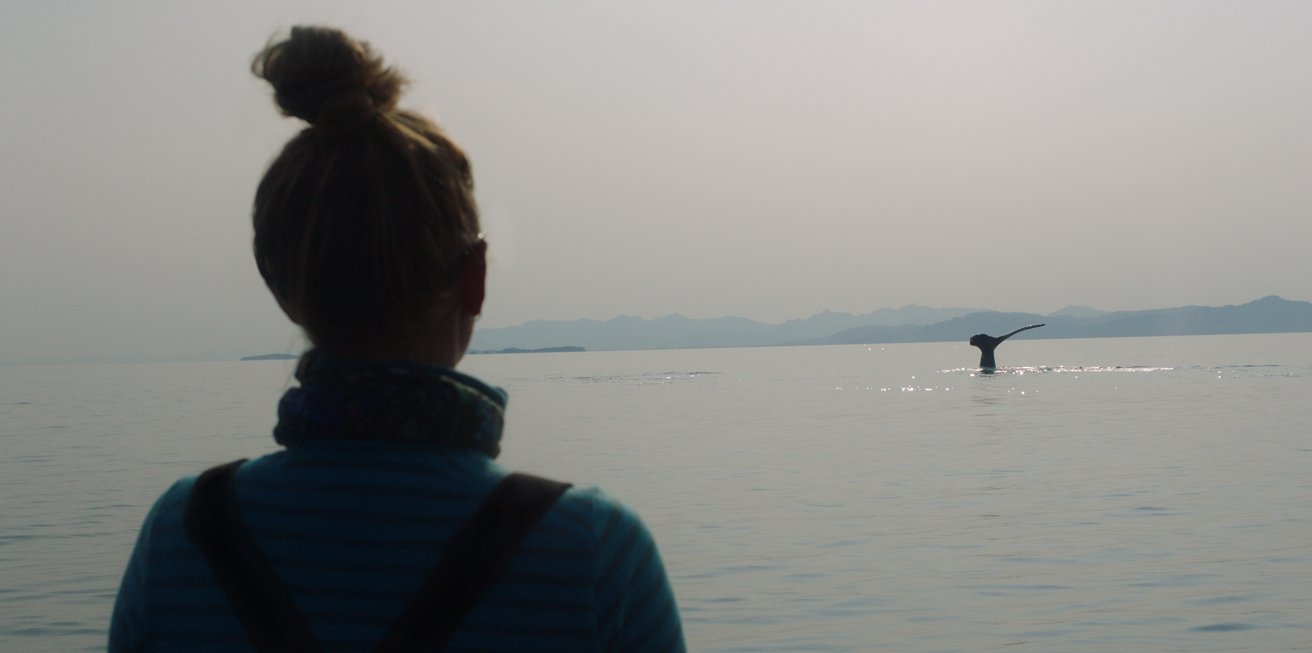 "Fathom", a feature film about whales and the scientists studying their language, lands on Apple TV+ on June 25 — and we spoke to director Drew Xanthopolous about the film, his experience making it, and what it was like to work on a movie with Apple.
Apple has invested considerably in the area of nature documentaries for its Apple TV+ service. The latest in that category is Fathom, a new documentary directed and photographed by Drew Xanthopoulos.
Xanthopoulos previously directed the 2017 feature documentary The Sensitives, which received a Special Jury Mention for the Cinematic Vision Award at the Camden International Film Festival. He has also been credited as the cinematographer on more than 20 projects.
Fathom looks at a pair of expeditions examining how whales communicate. Xanthopoulos' camera follows an American scientist, Dr. Michelle Fournet, to Alaska, and Scottish scientist Dr. Ellen Garland to French Polynesia, as they seek a greater understanding of those majestic creatures.
Ahead of its June 25 debut on Apple TV+ and in some theaters, Fathom held its world premiere at the Tribeca Festival on June 16. While Tribeca was held in a hybrid format in 2021, Fathom had an in-person, outdoor event at Battery Park City in Manhattan.
On the day of that premiere, AppleInsider spoke with Xanthopoulos, the director, about the film, what it was like to work with Apple, and the unusual postproduction process created by the pandemic.
AppleInsider: How did you first get involved with this film? Did you approach the subjects, or did they come to you?
Drew Xanthopoulos: I fell in love with the science first. I was just devouring journals and articles and books, everything I could get my hands on, [about] whale cognition, whale communication, culture, evolution. And it painted a picture that was more profound than any science fiction movie or book that I'd ever read or seen.
It occurred to me that if I was enraptured by the writing, that the scientists themselves who go out there must have profound experiences out at sea. So I started hanging out at whale conferences, and went up to researchers whose talks I was blown away by, and chatted with them and had beers with them, and became friends with them. And they invited me out on boats, eventually, and that was kind of the beginning of starting to wrap my head around what would become this documentary.
AI: So from those people, you chose those two exhibitions, to eventually film? Or were there other contenders?
DX: I filmed with a number of scientists. There was about a year and a half of development where I was just kind of figuring out what people were doing, and what their research questions were, and what different kinds of boat work looked like.
I settled on Dr. Fournet and Dr. Garland because a, I wanted to have researchers who spent a lot of time out at sea, that was really important for just the emotional, physical journey of that, and immersing yourself in that world. And b, who had questions that I thought were inspiring to me and very profound to me, and that I thought would hold a mirror to audiences in a really interesting way.
AI: So how long was the process of making the film?
DX: It was about four years, from concept to world premiere.
AI: Was this all pre-pandemic?
DX: The pandemic occupied our editing phase of the film, thank goodness.
AI: Did that involve doing things differently than you normally would?
DX: Yeah, totally. We were editing for about four months when we had to switch- my editor Robin Schwartz and I had to switch to Zoom. And so that was a huge challenge. We are both- well, I am Mediterranean, and she is honorarily Mediterranean, in terms of her disposition, and the way she is passionate about ideas. So when we are working together, it's a lot of cutting each other off and talking passionately. And it's wonderful, it's just my favorite thing in the whole world is working with Robin.
But on Zoom, when the connection's bad, it just doesn't work, and it was very frustrating for a long time. It was very tough, but we got used to it, and we were able to make the film.
AI: I know you've been credited a lot as a cinematographer, and you're the director of this as well as the cinematographer. On this type of project, what's it like to do both? Are you putting on your cinematographer hat at times, and being the director other times?
DX: I'm used to doing both by now. I did that on my last film, kind of out of necessity, and it sort of translates into this film. It's sort of like tapping your head and rubbing your belly at the same time, if you do it for long enough it just becomes natural.
AI: So, you're out there on the boat with these crews, and they have their equipment and you have your equipment. What's the separation between the two? Are you asking them, "can I put a microphone on there?" What's the give and take with that?
DX: We're not crossing wires in the field at all. But after the field season, I would ask them, "Hey, can I get your underwater recordings from this, this, and this day, or this, this and this year," in the case of Dr. Garland, where she has a decade worth of records.
The only other time where our technology crossed was when I had both of my electrical generators in Alaska, with solar panels, and both of them broke down halfway into the shoot. And of course, Dr. Fournet is not only a brilliant scientist, but she's a brilliant electrician too, and she had a spare inverter. And she just pulled all the wires out, and like, wire strippers, and she just rejiggered the whole thing to work for me. So that was the only other time that we touched each other's equipment.
AI: Who would you say are your main influences, when it comes to being a documentary filmmaker?
DX: The first filmmaker to ever let me into his office, and introduced me to all of his colleagues, was Les Blank. He was so generous, and I eventually worked with other filmmakers- Jed Riffe, Emiko Omori, Maureen Gosling in the Bay Area. They were my original mentors, they kind of taught me what it is to be a filmmaker who tries to make work that tries to make the communities we live in better places, work that's righteous.
AI: When it comes to Apple, what was it like working with them? I know they announced in April that Apple was going to be bringing out the film. Had the deal been agreed to right then, or was it sometime earlier than that?
DX: It had been a done deal for about a year at that point. They came in fairly early on, we didn't have a cut of the film or anything, we had a ten-minute sample of the film. And based on that ten-minute sample, they acquired the film based on that. It was really fantastic.
I don't know if it's like this with everyone, but as a director, one of the things that was just really important to me [is that] not one finger was laid on the cut. Creatively speaking, they gave us feedback- [Apple Head of Documentaries] Molly Thompson gave us wonderful feedback along the way. But we were never told we had to do something or had to change something creatively, which means a lot as a director.
AI: Do you get the sense Apple has made a big commitment to nature-related films?
DX: I think that is a commitment of theirs, sure, based on the stuff they've been putting out. I think they do care about that. In some ways, as a film studio, you'd be kind of irresponsible to not have anything in your catalog that addresses the context, and the world we live in today. So it seems like it was a priority of theirs.
AI: Is there going to be any kind of theatrical release?
DX: Yes, we'll have a limited theatrical release, the same day that it comes out on Apple TV+, June 25. It'll be in New York and L.A. and a few other select cities.
AI: I want to ask a little bit about the experience of Tribeca. I know this kind of a hybrid film festival where there are some in-person events but it's also virtual. What's it like being a filmmaker with a film at a festival like that? Have you been around other filmmakers, have you been checking out other movies?
DX: What's really important to remember is that if this film had come out at a festival three months earlier, four months earlier, it would never have seen a screen, with a live audience sitting together.
So for that, I am eternally grateful that we are premiering at the first major festival on this continent that is putting on in-person screenings. So in that way, it's kind of delightful to have any kind of get-togethers or receptions where you're meeting your colleagues and able to see their work.
I will say, the virtual thing, I don't know any filmmaker who wants people to watch things by themselves in their rooms, necessarily. I think we all prefer for things to be watched, ideally, on a big screen in a dark room with lots of speakers and other people to watch it as a crowd. But, there is a huge advantage to that virtual experience at festivals, in that more people can see it.
Actually, that speaks to why Apple TV+ was our choice, in many ways, in being able to access so many people across so many different countries, in addition to some theatrical play was very important to us.
Fathom debuts June 25 on Apple TV+.
Keep up with everything Apple in the weekly AppleInsider Podcast — and get a fast news update from AppleInsider Daily. Just say, "Hey, Siri," to your HomePod mini and ask for these podcasts, and our latest HomeKit Insider episode too.

If you want an ad-free main AppleInsider Podcast experience, you can support the AppleInsider podcast by subscribing for $5 per month through Apple's Podcasts app, or via Patreon if you prefer any other podcast player.

AppleInsider is also bringing you the best Apple-related deals for Amazon Prime Day 2021. There are bargains before, during, and even after Prime Day on June 21 and 22 — with every deal at your fingertips throughout the event.