Vissles V84 Mechanical Keyboard review: modern with a retro feel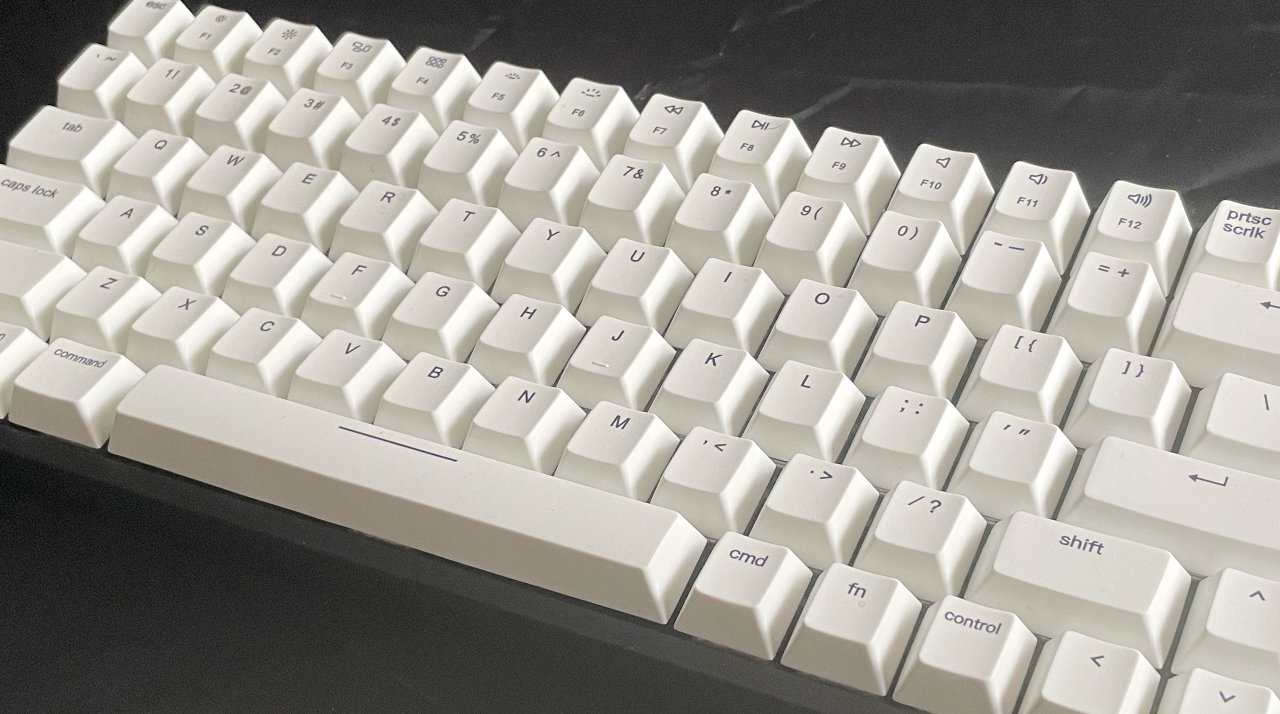 The Vissles V84 is a solid and robust mechanical keyboard for the Mac, but its natural appeal is in how it looks and feels like a retro computer terminal.
The Vissles 84 is one of those mechanical keyboards that are loud but not too loud. It's raised relatively high off the desk, and it comes with white keys that would feel like you were working on a 1980s computer terminal — if it weren't for the very modern lights.
This keyboard features a multicolored backlighting system that will strobe through some 19 different lighting effects at the slightest excuse. As ever, there is no practical benefit to the bright colors as there is to the more common white backlighting. But, also as ever, the colors are deeply appealing.
What's also appealing about this model is the size, feel, and color of the keys themselves. At first glance, it does remind you of old terminals, and the feel of typing on it is only a little softer than it was on those machines.
Design - switches and keys
It's a 75% size keyboard, meaning it is a little cramped compared to regular ones. The keys are also narrower at the top than at the base.
This means they feel wider-spaced out, but the very top of each is also small enough that your fingers can be wider than the keys. It's an odd combination that means it's fun to type on, but it takes quite a time before you're able to touch type without making mistakes.
As with other Vissles keyboards, this comes configured for the Mac andiOS but can also be swapped to use on Windows and Android. Its Mac layout includesmacOS media keys, too.
The keys are Cherry Profile PBT Keycaps, which the company claims make them harder wearing. Specifically, Vissles says the keys are resistant to grease, which makes you wonder who exactly is buying these.
Design - backlighting, typing angle and connectivity
The Vissles V84 has a high profile that stands up from a desk. By itself, it's noticeably easier to type for extended periods when placed on your lap.
But for when it is placed on a desk, Vissles includes a palm rest.
The keyboard is big enough that you wouldn't want to carry it everywhere, it does include enough connectivity that you'd consider it. The Vissles V84 can pair with up to five different Bluetooth devices.
What's missing — for Mac users
Unfortunately, two features are solely available on Windows. First, users can customize the lighting effects only through Vissles own app, which does not run on Mac.
More, Windows users can also take advantage of a macro-recording feature.
Neither detracts from the keyboard's feel on a Mac, though, which is the primary reason to use it.
Should you buy the Vissles V84
At $99, the V84 is more than many mechanical keyboards, including the same company's Vissles V1. Vissles claims that the V1 is rated for 60 million keystrokes, so you are paying for a robust device.
However, it's down to the aesthetics of how the keyboard looks and the feel of how it types. The white colorway with modern backlighting certainly looks excellent.
It also feels great, but that is even more of a subjective opinion. There is a nostalgic feel to the keys, and it is reminiscent of an old terminal, which is very appealing.
Loud enough to be fun, but not too disturbing
Retro feel to the white keys
Compact design
Multicolored backlight
Includes Mac media keys
Lighting and macro customization only available in Windows
Where to Buy