Why you should buy Apple's MagSafe battery pack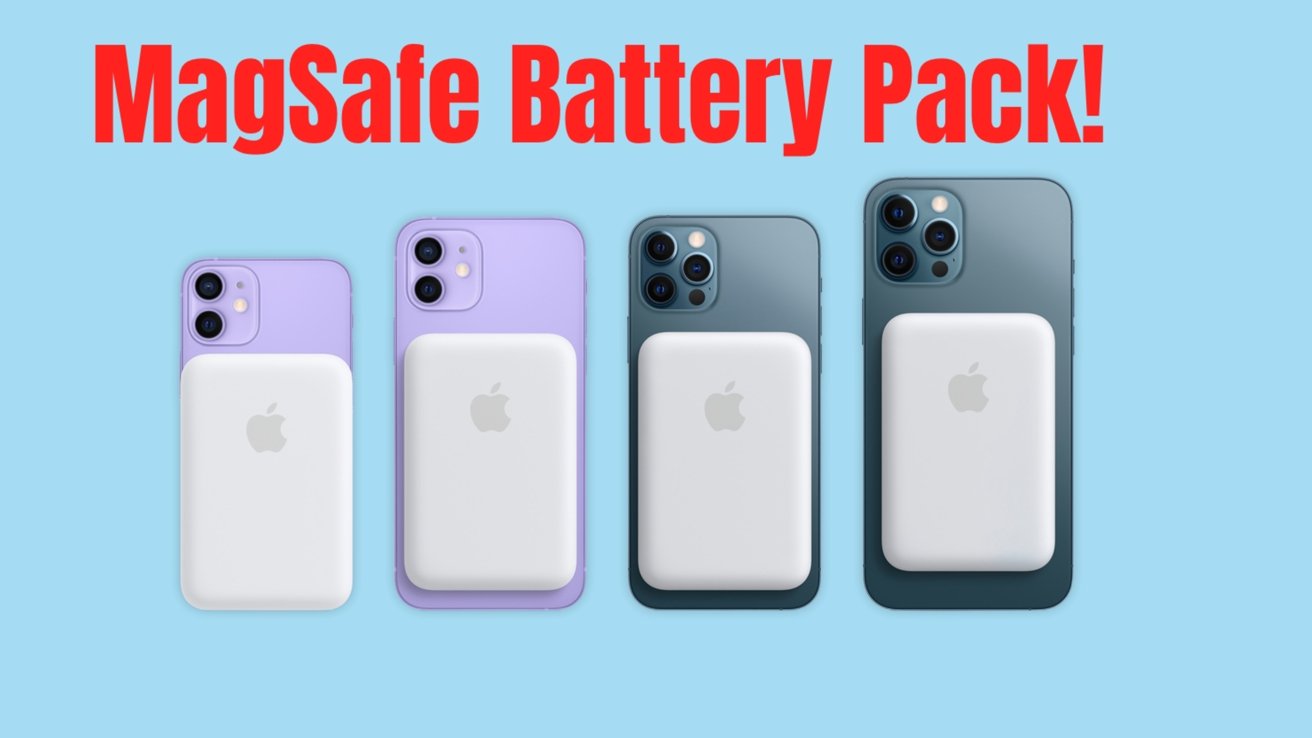 AppleInsider is supported by its audience and may earn commission as an Amazon Associate and affiliate partner on qualifying purchases. These affiliate partnerships do not influence our editorial content.
With its $99 price tag, Apple's own MagSafe Battery Pack can be a tough sell compared to competitors at half or even a third of the price. But while the functionality may look strikingly similar on the surface, there are many, many reasons why Apple's MagSafe Battery Pack is a better buy than the rest.
As a quick low-down on Apple's MagSafe Battery Pack, it is a 1460 mAh battery pack that magnetically connects to the back of your iPhone 12 to help get you through the day. It is similar to an army of alternatives from Mophie, Anker, Zens, Hyper, and others.
At times, the others can look more capable than Apple's with 5,000 mAh capacities and far lower prices. But let's examine why it may not be such a good decision.
Real MagSafe
One of the most significant differences is that Apple's MagSafe Battery Pack is actually MagSafe. All other competitors are merely battery packs with a Qi charging coil and some magnets.
By using real MagSafe instead of Qi, Apple's battery gains improved efficiency. It also can transmit up to 15W of power. Qi batteries are most often limited to 5W. Apple is limited to 5W while on the go, but when plugged in, it jumps up to a maximum of 15W.
As a benefit of being MagSafe, when the battery is connected and you plug the battery into power, it will charge your phone and the battery. The reverse is also true, which is even more impressive.
When connected and you plug your phone into power, your phone can charge the battery. This is extremely helpful if you have to plug your phone into something else, such as your car for CarPlay. When connected to your CarPlay system, your car will charge your phone, and your phone will charge your battery.
Speaking of plugging in, this battery uses Lightning which means you can use the same cord to charge your phone as you can use to charge your battery— only one type of cable is needed.
Tight iOS integration
Apple also is continuing its tight integration between hardware and software. For example, no other battery pack can match Apple's system-level features.
For example, when connected, the battery and iPhone's remaining capacity show on-screen. You can also see the battery capacity in the native Home Screen battery widget.
This integration also helps protect your batteries as well. High temperatures can harm lithium batteries while charging, and third-party batteries will charge away despite this. It can damage the battery pack's battery cells as well as your iPhone's.
The MagSafe Battery Pack will stop charging at 80 percent capacity if the temperature gets above a certain threshold. Otherwise, it will charge up your iPhone to 90 percent because beyond this requires more energy, is slower, and harder on the battery.
Together, all of that ensures your phone is safe, and your battery pack is safe, resulting in the longest possible lifespan for both devices.
Capacity
The biggest hurdle to overcome for most users, though, is capacity. We've seen umpteen comments saying how Apple offers almost a quarter of the battery as some of the competition but more than twice the price.
Many others are 5,000 mAh, while Apple sits at 1460 mAh. But it isn't as it seems. As we've already broken down into very explicit detail, these numbers can't easily be compared.
Here's a small snippet from the larger piece:
More important than milliamp-hours, though, is power and voltage. The milliamp-hour rating is often used to define how much a battery can charge a device, but this only works as a comparable metric if both the battery and the charged device have an identical voltage.
All iPhone 12 models use 3.81V batteries, so the MagSafe battery pack has a higher voltage potential, and therefore, a higher watt-hour rating than the iPhone it is charging. This means that the MagSafe Battery Pack can provide more power to an iPhone than its milliamp-hour rating implies.
We'll know real numbers once we get our hands on the MagSafe Battery Pack, but our estimates say you should get a full charge on the iPhone 12 mini and most of a charge on the iPhone 12 Pro Max.
As we discussed, MagSafe is also more efficient. Qi is roughly 50 percent efficient, which means almost half of the power in the battery is wasted in the transmission. MagSafe is pegged at much higher than that.
Between the larger-then-assumed capacity and increased efficiency, Apple's MagSafe Battery Pack is much more in line with what the competition offers in terms of actual charge potential.
Shipping soon
It is real MagSafe, charges faster, integrates directly into iOS, requires no additional cable, is more efficient, and helps protect your phone and battery alike. Thanks to these features, it results in a better experience.
Even though Apple is charging a premium, to us, those are easily worth the extra investment.
Apple begins shipping its MagSafe Battery Pack on Monday, July 19 and it runs $99.