How to share song lyrics from Apple Music with your friends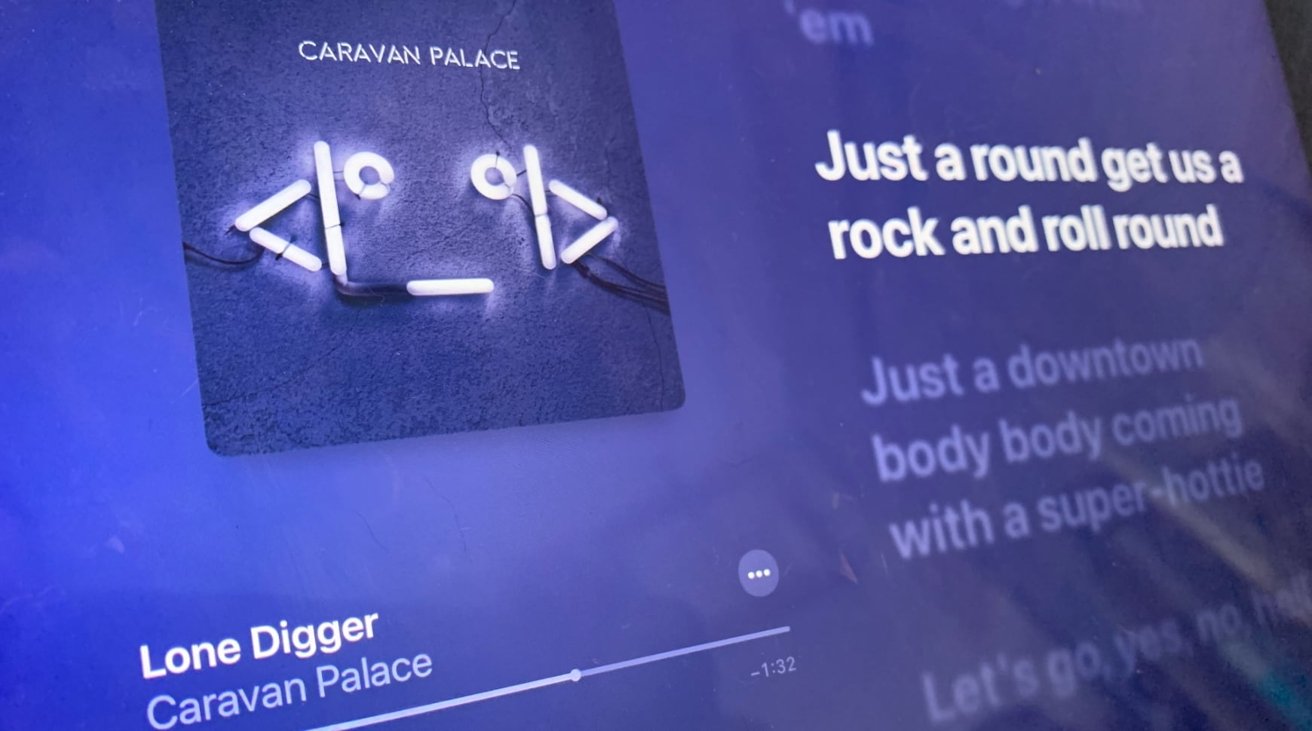 AppleInsider is supported by its audience and may earn commission as an Amazon Associate and affiliate partner on qualifying purchases. These affiliate partnerships do not influence our editorial content.
End arguments over song lyrics once and for all by sharing the lines from Apple Music to your friends via iMessage, Facebook, and Instagram.
It's very common for people to get the lyrics for songs incorrect. Be it a mishearing of the original artist or picking up the words from a cover artist with poor diction, someone in the world will think the lyrics to a song are one thing, but they're actually very wrong.
A family member may have misheard Eddie Money singing "I've got two chickens to paralyze" in his song "Two Tickets to Paradise." More famously, people swear they hear "Scuse me while I kiss this guy" during Jimi Hendrix's "Purple Haze" instead of "kiss the sky."
Sometimes, the mistakes can prompt new creations, such as the often-misheard "We Built This City" by Starship. While some thought the city was build on "sausage rolls" instead of "rock and roll," that inspired YouTuber LadBaby to parody it and reach the top of the UK singles charts in 2018.
While people can argue over whether Taylor Swift sang about "Starbucks lovers" or if Sir Mix-A-Lot rapped about a "can of limes" or that he "cannot lie," it can easily be solved by looking up the answer in Apple Music.
Apple's streaming service provides access to the lyrics for many tracks if they are included by the recording artist or the record company. In most cases where lyrics are available, you can also share them via iMessage, Facebook, or Instagram, so you can correct someone from afar.
Sharing lyrics from Apple Music
To share the lyrics, you need an iPhone or iPad and a subscription to Apple Music. If you want to share the lyrics via Facebook or Instagram, you will also need an account with each service.
How to share lyrics with others from Apple Music on iOS
Open Apple Music.
Search for a song.
Long-press the song, then tap Share Lyrics.
Scroll and select lyrics you want to share. Select multiple lines if needed.
Tap the service you want to share the lyrics through, or tap the contact if the right one is presented to you.
For Messages, it will create a new message. Add the contact you want to send the lyrics to, a comment if required, and send the message.
For Facebook, the lyrics will be added to a Story as a sticker. Continue editing the story as required, then tap the Share to Story button.
For Instagram, it will also make a Story, using the lyrics as a sticker. Continue editing as needed, then tap the arrow. Select to share the story to a page or to a contact.
In the case of iMessage, the recipient will be able to hear a relevant snippet of the song, though only if they too listen to Apple Music. In all three ways, it will state that the song is available for listening and give the opportunity to listen to the full track via the streaming service.
If you are actively listening to a song on Apple Music and hear some great lyrics, you can also share what you've just heard with others. The method is slightly different but provides effectively the same result.
How to share lyrics of a song you're listening to in Apple Music on iOS
When listening to a track with lyrics available, tap the Lyric button.
Scroll through and long-press the lyrics you want to share. Select other lines as appropriate.
Tap Messages, Facebook, or Instagram to send the lyrics through that service. Alternately tap the contact if the menu provides the option to do so.
For iMessage, add the contact to the new message, along with a comment, and send it.
For Facebook, edit the Story and then tap Share to Story.
For Instagram, edit the Story, tap the arrow, then select to share the story to a page or a contact.
Limitations
When using the facility, there are a few things to remember. For a start, you can only share lyrics if they have been included with the track and in the time-synced format.
If you've selected a track that doesn't have the lyrics, you may want to check out a different version of the same song by the artist, possibly on a different album.
Also, Apple Music will limit the lyrics you can send at a time to a maximum of 150 concurrent characters. You can only send complete lines, not half a line, and you can't leave out words from the lyric.
If you are sending multiple lines, you are also restricted to sending adjacent lines together. You cannot pick and choose to send individual lines from different points within the same track as one message, but you can as separate messages.
For example, you could send the first, second, and third lines in a single message, but you cannot send the first and third without the second. Instead, you would have to share the first line as one message and the third as another message, if you want to leave out the intermediary second line.
Keep up with everything Apple in the weekly AppleInsider Podcast — and get a fast news update from AppleInsider Daily. Just say, "Hey, Siri," to your HomePod mini and ask for these podcasts, and our latest HomeKit Insider episode too.

If you want an ad-free main AppleInsider Podcast experience, you can support the AppleInsider podcast by subscribing for $5 per month through Apple's Podcasts app, or via Patreon if you prefer any other podcast player.