Apple continues plans for Touch ID embedded within displays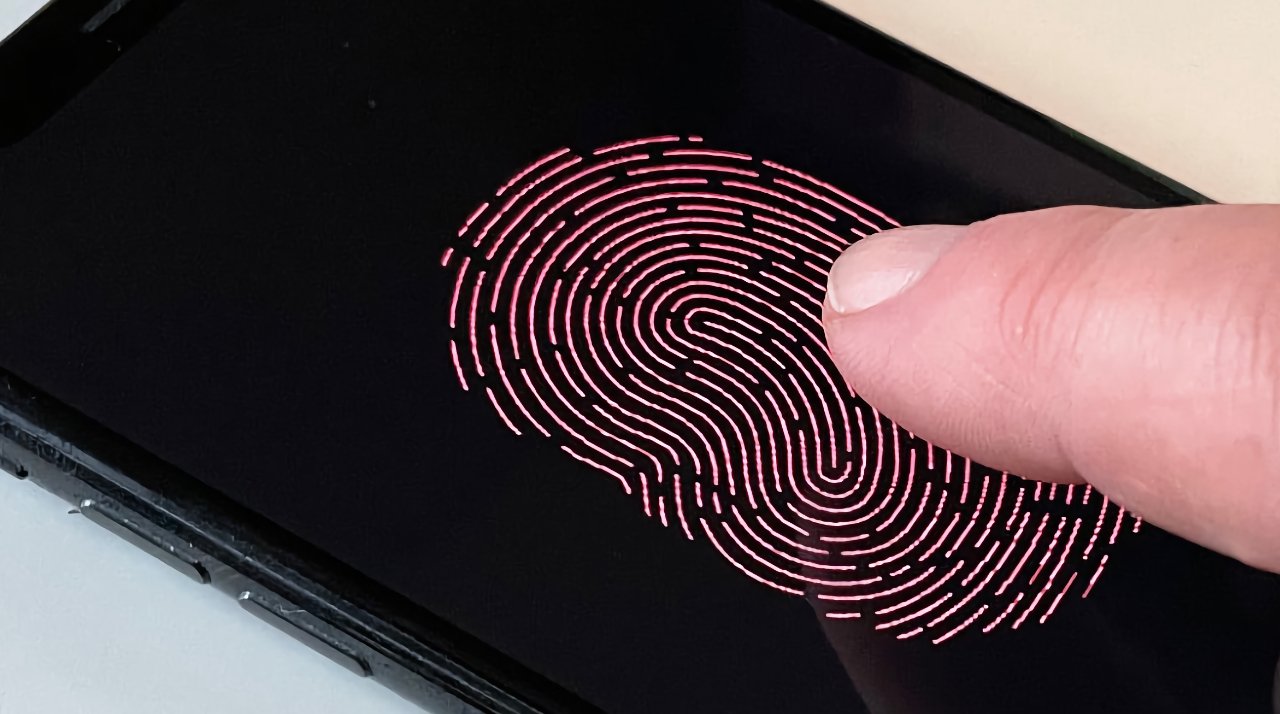 Apple is continuing research on ways for a sensor to be included inside a display, needed to bring back Touch ID without a visible button.
If we don't get an iPhone with Touch ID included within the display, it will not be for want of trying. Maybe there are more Apple patents regarding the "Apple Car," but those for embedded Touch ID must come a close second.
A newly-revealed one comes from the inventors of two previous patent applications on the topic. "Electronic device display for through-display imaging," is concerned with how Touch ID could be achieved through invisible, tiny, notches.
Apple calls this "through-display imaging," and says that a display can include "an imaging aperture defined through an opaque backing." This does involve the display having a gap, or as Apple calls it, an aperture. And the "optical imaging array" which performs Touch ID would be "aligned with the aperture."
However, this is not the same as a notch because the aperture would not be a black, blanked-off, noticeable gap in the screen.
"Above the aperture," continues the patent, "the display is arranged and/or configured for increased optical transmittance."
"For example, a region of the display above, or adjacent to, the imaging aperture can be formed with a lower pixel density than other regions of the display, thereby increasing inter-pixel distance (e.g., pitch)," it says, "and increasing an area through which light can traverse the display to reach the optical imaging array."
The aim is explicitly to get rid of the need for a visible notch — and make the device as slim as possible, too.
"[Currently, an] imaging sensor typically requires a large-area protective cover that extends beyond the periphery of the display stack in order to reserve space to accommodate the imaging sensor," says the patent. "This conventional construction undesirably increases the apparent size of a bezel region circumscribing the display, while also undesirably increasing the size and volume of the housing of the electronic device."
Apple proposes that a display can have a region that has a "lower pixel density" than the rest. It doesn't necessarily mean lower resolution, though.
One possibility is that this region will feature both a regular pixel density, and an option to lower it. So when Touch ID is required, for example, the region could effectively turn off some pixels and increase "an area through which light can traverse the display to reach the optical imaging array."
Unlike a notch, this aperture needn't be capable of working alone. Rather than a single sensor optically reading a fingerprint, the system could be "configured to receive light transmitted through one or more inter-pixel sub-regions." So, the bio sensor could combine what it reads from many such apertures across the screen's surface area, and the data "can be aggregated into an image or sequence of images."
The great majority of the 14,000-word patent is clearly directed at using this idea for the iPhone and iPad. However, there is one drawing that suggests it could also be used on a MacBook Pro, replacing the current Touch ID button.
This patent is credited to Mohammad Yeke Yazdandoost, and Giovanni Gozzini. While Apple has many patents and patent applications regarding Touch ID, these two also worked on related previous ones.