Apple is still working on under-display optical Touch ID reader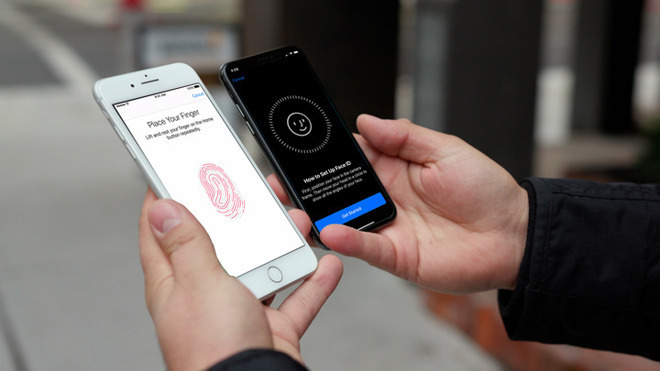 Apple is continuing development of optical under-display fingerprint reading technology, possibly for a future iPhone.
Although Apple's iPhones haven't featured Touch ID for several generations now, there have been ongoing rumors that the company is looking into bringing the technology back. Past patent applications have also hinted at this.
One Wednesday, the U.S. Patent and Trademark Office published two Apple patent applications related to the technology.
The first, titled "Through-Display Optical Transmission, Reception, or Sensing Through Micro-Optic Elements," details optical sensors that are embedded beneath a device's display. It opens with a background stating that it may "be desirable to capture a two-dimensional (2D) or three-dimensional (3D) image of an object or user that is proximate to a device," such as a fingerprint.
With an optical sensor, receiver or transmitter positioned behind a display, the patent says that "light may be transmitted or received through translucent apertures extending from a front surface to a back surface of a display stack of the device."
"In this manner, an optical transmitter, receiver, or sensor may transmit or receive "through" a display," the patent reads.
Display stacks aren't always 100% translucent, and Apple notes a method to deal with opaque components. Specifically, some opaque elements could be opaque to "some wavelengths of light ... but translucent to other wavelengths." Getting around those opaque elements could involve placing translucent apertures throughout a display that extends beyond the opaque elements. From there, light can be collimated and directed through the apertures and toward an optical receiver or micro-lens array.
"For example, in some cases, a micro-lens array may be formed on the back surface of the display stack," the patent reads. "Each micro-lens in the array may have a focal point located with, aligned with, or near one of the translucent apertures."
Combined with a similar optical transmitter, the technology could allow for fingerprint reading through a display surface (and in spite of non-transparent display components).
Its inventors include Tong Chen, Mark T. Winkler, Meng-Huan Ho, Rui Liu, Xiao Xiang and Wenrui Cai. Of them, Chen has previously worked on patents related to laser-powered AirDrop.
In an apparent effort to combat the effects of temperature on OLED-based displays, this patent describes a method to compensate for differences in temperature between signals.
"A temperature compensated signal reading can be produced by subtracting the first reading from the second reading," the patent reads.
Other portions of the patent describe various implementations, voltage specifications and component structures for an optical fingerprint sensor embedded within a display.
As mentioned earlier, Apple has continued its work on potential under-display fingerprint sensing technology since ditching Touch ID on the iPhone X in 2017.
Patent applications are poor indicators of Apple's future product plans, however. They also don't give any sort of timeline as to when such devices could arrive on the market.