Touch ID that spans the entire iPhone display in the works at Apple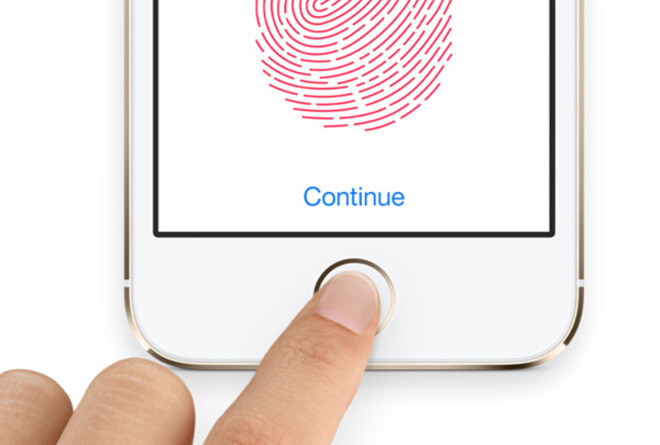 While Touch ID isn't being offered as a biometric authentication method in current-generation iPhones and the iPad Pro range, Apple is still considering the possibility of adding fingerprint recognition to its mobile devices, by using acoustic imaging on the display.
Face ID has been a successful replacement for Touch ID, boasting fewer false positives than the more physical biometric security system while still remaining fast to use. While it has brought some benefits, there are still some advantages to using Touch ID over Face ID, such as in situations where it isn't prudent to use Face ID or to unlock the iPhone while it is still in the user's pocket.
Even so, Touch ID has the major problem of requiring either a section of the front of the mobile device to be used for the fingerprint reader, reducing the potential screen size, or for it to be mounted on the back, a design choice Apple has yet to take. Based on a recently-granted patent, Apple has come up with a way to do Touch ID-style fingerprint reading, but without sacrificing the appearance of the iPhone itself.
The patent titled "Acoustic pulse coding for imaging of input devices," describes how sound could be applied to a surface in order to detect how another object comes into contact with it. In short, this could enable a fingerprint to be read when it is pressed onto a display.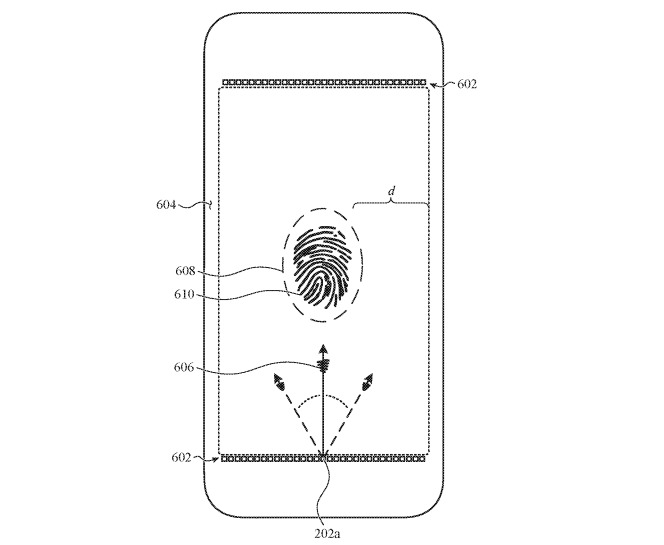 According to the patent, an array of acoustic transducers are positioned in contact with the surface, and can transmit a coded impulse signal, in response to a touch input. By monitoring the reflections from multiple coded signals, an image resolver can receive the reflection data and generate an image based on the input.
In effect, sound impulses are sent out and come into contact with the ridges of the user's fingerprint. These ridges interrupt the impulse's transit and are reflected, with these reflections then interpreted into a fingerprint image that can be analyzed.
Such a technique would provide a number of benefits compared to existing fingerprint reading technology, including a reduced thickness of the components required as the transducers can be placed on the edge and away from other components. There is also a lack of a need for electrodes to be placed on the display, which aside from reducing the complexity of display production, also means a potential speed boost for performing the authentication check in the first place, due to Apple suggesting it requires less processing power.
As it is based on sound transmittance, it could also feasibly allow for fingerprint reading to be performed anywhere on the display of the device, not just one specific point.
Apple files numerous patents on a weekly basis, and while they do advise on areas of interest for the company, it doesn't necessarily mean the ideas disclosed will appear in a future product or service.
This is not the only time Apple has looked at alternative ways to perform fingerprint-based biometrics via the display, without using a designated sensor like Touch ID's Home button. In February 2017, a filing for an "Acoustic imaging system architecture" suggested a similar method of using acoustic pulses and waves from transducers to perform similar reflection-based analysis of objects in contact with the surface.
In August 2017, Apple was granted a patent for a sub-display fingerprint recognition technology that, again, used acoustic imaging. Again, it used transducers to transmit pulses and analyzed the reflections, but with a system of integrated transducer controllers capable of operating in both drive and sense modes, in order to solve architectural flaws relating to high voltage requirements.