How to find local points of interest in a new area using iOS map apps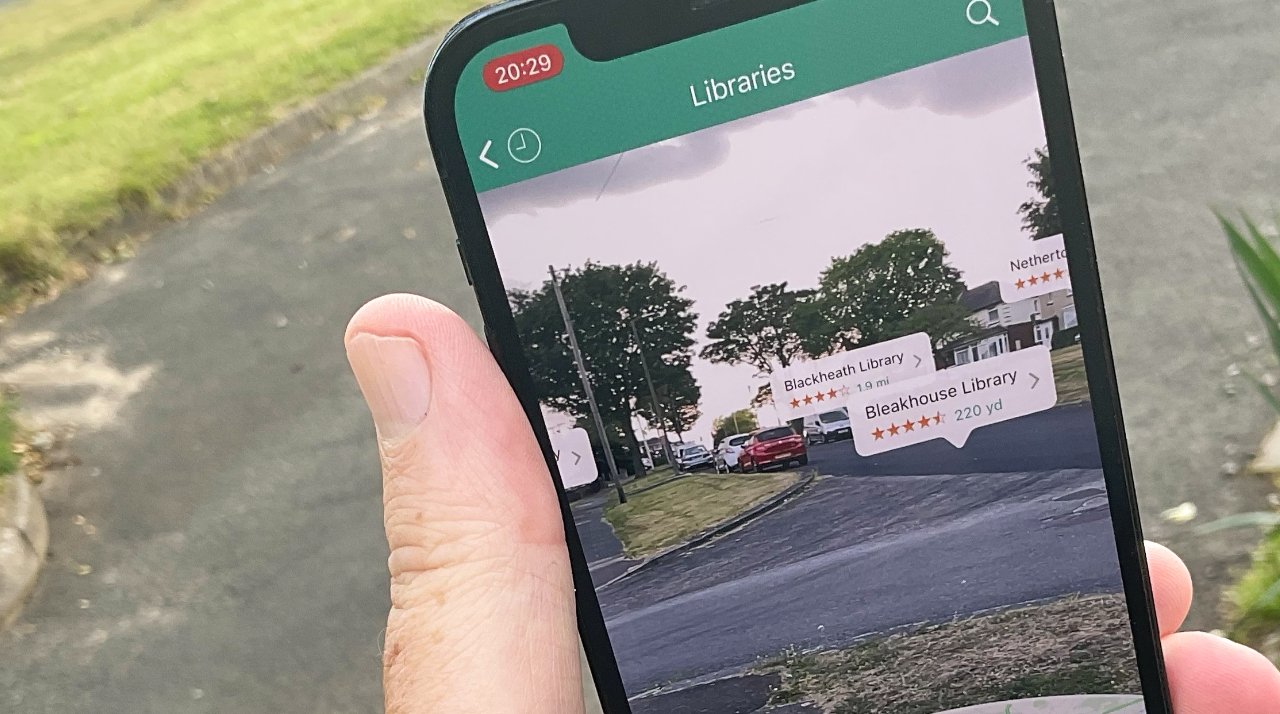 Apple Maps, and third-party apps like the newly updated Where To?, can help you scout out your locale, build up an itinerary, and even use AR to show you to the places you need to go.
Apple Maps, Google Maps, Waze, and all the major mapping apps bring route finding to your iPhone, but they're dedicated to showing you one destination. You can add third-party tools to at least create your own salesperson's journey around many points, but those aren't aimed at the casual visitor who just wants to know what's around.
But as well route finding, you can also get all of these mapping apps to tell you what's in your local vicinity.
How to find point of interest in Apple Maps
Open Apple Maps on any device
Tap on Search Maps and enter a term like "Libraries"
From the suggestions that appear, tap on Libraries Search Nearby
Scroll around the map to see all the libraries near you, or
Swipe up for a list with details
Tap on one you want to visit
This works for wherever you are right now, but you can also use it for anywhere else. Move the map to a town, state, or country you intend to visit, then repeat the search.
It's not a fast job, and there's nothing to prompt you with suggestions of what you might want to look for. So, it's easy to miss significant points of interest.
How to find points of interest in Google Maps
Open Google Maps
Tap on Search Here and enter a term
From the map that appears, tap on any icon, or
Scroll down to see a list of recommendations with details
Google Maps surfaces recommendations for very broad categories. It gives them to you in the form of buttons such as Takeout, Cafe, and so on. Tapping on those really just enters their titles as a search term, and conducts the search.
Still, it can also be quick. It's a one-tap jump to whole categories of places.
Then the list underneath the map and those buttons does have more detail than Apple Maps shows. The first couple of listings are ads, but they're at least relevant ads.
Use a dedicated third-party app
Just as you can get better value out of a specialist third-party app like the salesperson's route finder, though, so you can get a greater snapshot of your local area through an app like Where To?
Where To? was apparently one of the first 500 apps on the App Store, so it's lasted since 2008, while others have fallen away. Vicinity, Localscope, and more, have at times presented superb local information, but have either vanished, or ceased being updated.
Now recently updated to version 11, Where To? lets you do what Apple Maps and Google Maps do. You can search for pizza, you can search for hotels, and so on.
The reason for using it over the alternatives, though, is in the details. Apple Maps and Google Maps aim to get you somewhere, and will tell you about places in the area. Where To? will show you routes, but it's really focused on those places in the vicinity
Where mapping apps expect you to enter a destination, Where To? figures you don't know a destination, you want suggestions about particular types of places. So it presents a series of buttons for Restaurants, Shopping, Entertainment, Emergency Services, and so on.
Underneath each one, there are more options. You can tap to see only Asian restaurants for instance, then just Indian ones.
You can't combine searches, though, so there's no ability to find an Indian restaurant near a library. And the buttons use icons instead of words, which sometimes gives you pause as you try to figure out which is the one you're after.
But once you've found some places, you can build your own Collections. This is much the same as Guides in Apple Maps. It would beat Apple Maps hands down, though, if its new AR feature worked on these Collections.
Use AR to find where you're going
The most visible, stand-out feature of the newly updated Where To? is AR. Choose a single venue, or a category, and Where To? will now show you where these places are in relation to you.
So as you're walking toward a library, for instance, half the screen shows you a map. And the other half is real-time view through the camera, with AR labels atop your destination.
You can also tap on any of those labels to get more details about the venue. Consequently, instead of judging from dots on a map, or reading down a list, you can turn around to see where there's a series of, say, restaurants, grouped together. And start walking toward them.
It's solely of use when you're within a few miles of the destinations. You can use Where To? to search in other cities, for instance, but unsurprisingly the AR feature doesn't work.
Rather than show you an impossibly tiny AR label in the ridiculously far distance, it just says No Results Found instead.
Checking out the area
Where To? is really built to show you around the vicinity, although it can be set to search further afield. That's a little fiddly, though, as you have to go through Settings, Advanced, Default Search Location, and then choose At Last Map Section.
And all the way through that again when you want to just search around you.
Checking out the app
Where To? is now a subscription app that costs $3 per year for the full Where To? Pro. If you previously bought the app, you get all of the new features at no extra charge.
And if you haven't, you can use a lot of the features for free. Just not ones like the great AR view.