Apple TV+ review: 'Ted Lasso' stays charming in season 2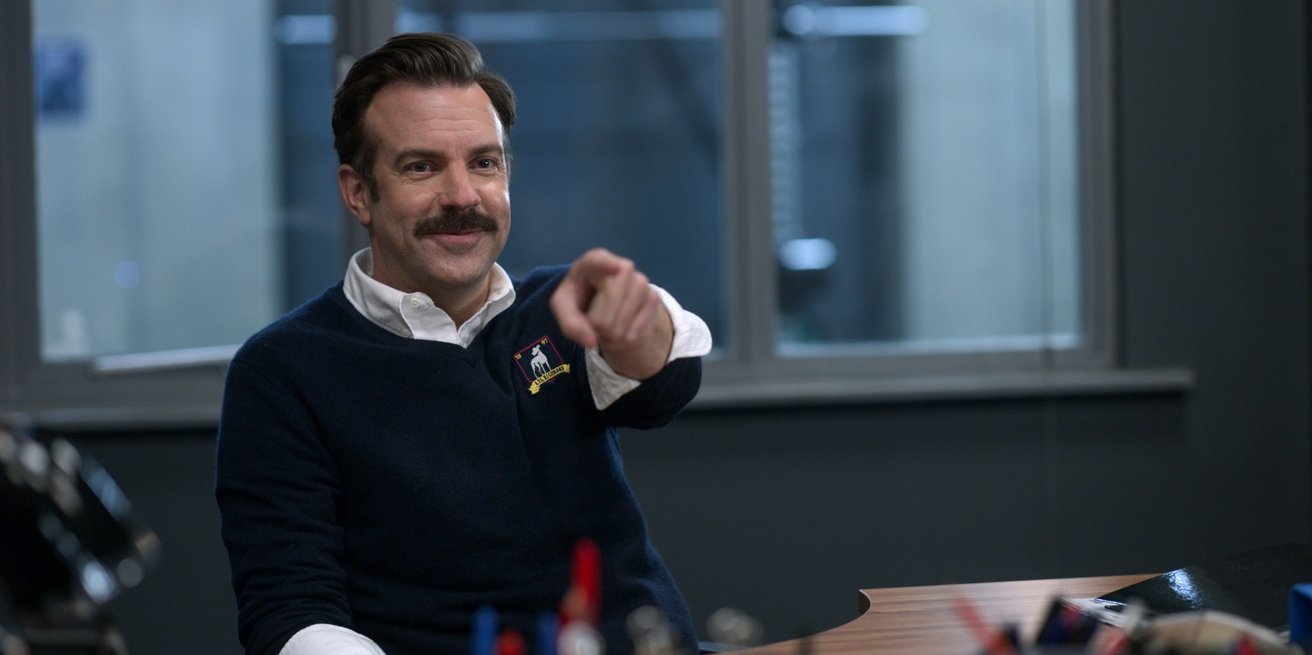 The new season of Apple's signature series keeps up its positive ethos — and is also much funnier.
When Ted Lasso debuted on Apple TV+ in August of 2020, I admit that I was skeptical. In fact, I gave the show a negative review at the time, stating that the show's fish-out-of-water premise wasn't enough to sustain an entire series.
I certainly didn't anticipate the life that Ted Lasso would have over the course of the next year: Yes, it's a popular series, which has collected Golden Globe and Emmy nominations and put Apple TV+ on the map like no other show in its existence to date.
But it's also become a bonafide phenomenon, praised by everyone from politicians to Tim Cook himself, with the show's positivity and optimism providing a much-needed salve for so many people during the pandemic. Not bad, for a series that originated nearly a decade earlier as a series of promos for NBC's soccer coverage.
And now, Ted Lasso is back with another season, and I admit it: That mustached lug and his soccer-playing pals have started to grow on me. Not only is the second season notably funnier than the first, but it makes much better use of its large supporting cast.
Apple reportedly ordered 12 episodes for the second season, with each beginning streaming weekly from July 23, although only eight have been made available in advance to the press; I've seen those eight.
Back to Richmond
The premise of Ted Lasso, if you're not familiar, is that the titular character (Jason Sudeikis) is a bumpkin American football coach who's been brought to England to coach a Premier League soccer club called AFC Richmond despite knowing little about the game.
The original conceit was a riff on Major League, in which the team's female owner Rebecca (Hannah Waddingham) is trying to tank the team on purpose, in order to get back at her ex-husband. But eventually, the show humanized that character, while also showing Ted's embrace of his new surroundings, and introducing a colorful crew of players and team employees.
The new season of Ted Lasso picks up the following soccer season after AFC Richmond was relegated to a lower league. The team begins the year with a long streak of ties, including one caused by a very unfortunate collision between a penalty kick and a dog.
What's perhaps most surprising about the second season is that the Lasso character, while present in most scenes, takes a backseat plot-wise for most of the season's first half, with the other characters getting their own prominent subplots.
Not all of them are great — one about assistant coach Nathan (Nick Mohammed) suddenly becoming a jerk is something of a non-starter — but other subplots are much better, especially the continuing adventures of newly retired player Roy Kent (Brett Goldstein.) Whether he's attempting a monosyllabic, profane turn as a television broadcaster or trying his hand at coaching, Roy delivers big laughs almost every time he appears.
Not far behind is team owner Rebecca's foray into the use of an online dating app, which leads up to a surprisingly satisfying romantic subplot. The app ends up as much more than just an excuse to put iPhones on the screen repeatedly.
The jokes are very strong as well. The presence of a team in the English second division called Sheffield Wednesday occasions a fantastic, "Who's on First"-like run of jokes about "we're playing Sheffield Wednesday Saturday?" And yes, you get to hear the punchline to the "what does the British owl say?" joke from the first season.
Getting serious
But the Ted character moves back to the forefront in a big way around the sixth episode when something surprising happens, and we learn that even the guy spreading positivity everywhere could perhaps use some help himself. Sudeikis has been collecting acting awards and nominations for the first season, and this plot would appear to ensure that similar accolades will continue rolling his way.
Meanwhile, the third episode represents probably the best fictional treatment to date of the recent trend of athlete activism, Nigerian player Sam (Toheeb Jimoh) refuses to wear an airline's logo, knowing that the corporation that owns it had decimated his country.
The show, in that plot and others, really establishes the multicultural state of English soccer, a topic that's especially in the news of late following the recent threats directed at Black players on the English national team who missed penalty kicks in the Euro Cup final. And beyond that, the new season even begins with a character taking a penalty kick. Sudeikis himself was recently photographed in a shirt expressing solidarity with those English players.
Back on the pitch
As in the first season, enjoyment of Ted Lasso doesn't require one to be a fan of soccer or even to have a passing familiarity with the history or culture of the English football system. After all, the hero of the show is a soccer neophyte himself, who often explains things like the FA Cup through expository dialogue.
As someone who wasn't wild about the first season, I can say that Ted Lasso has formed more fully into the show that I was hoping it would be. However, there's not really anything in the second season that will turn off those who fell in love with season 1.