Apple TV+ review: Premise of 'Ted Lasso' can't sustain a whole show.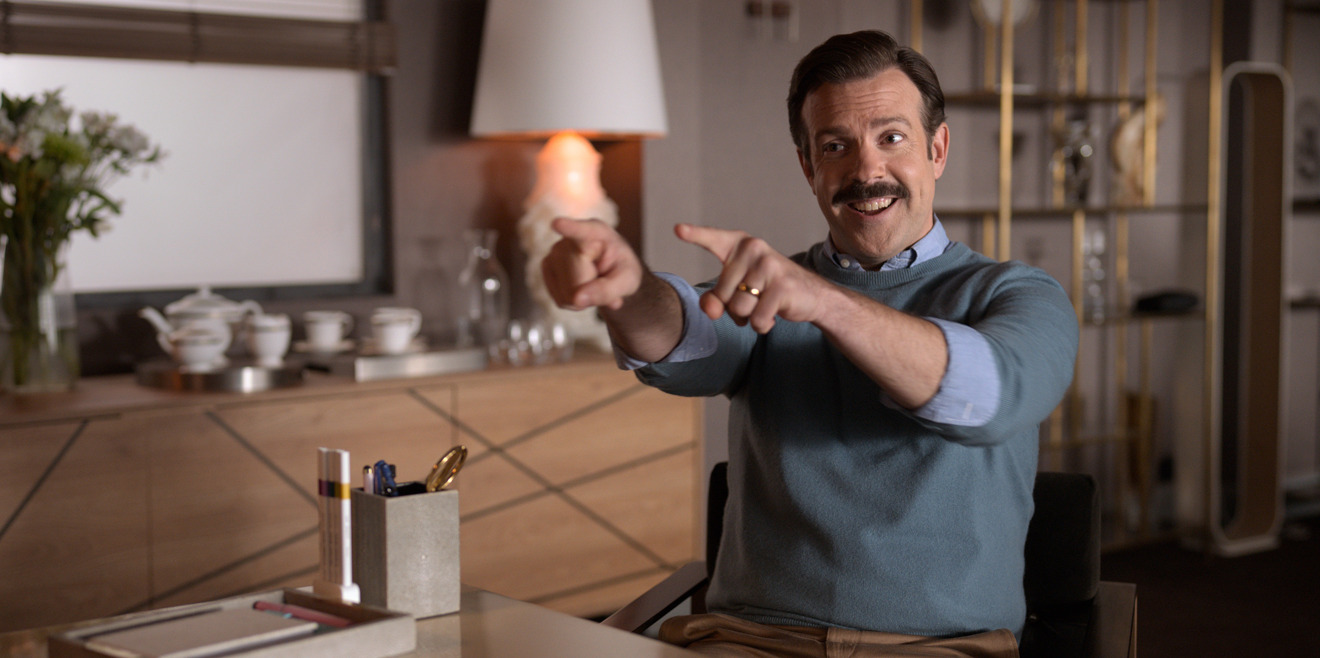 Star Jason Sudeikis is appealing, but the show about an American football coach sent to lead an English soccer team is just too thin, with the laughs too far between.
It derives from a series of promos called An American Coach in London, which was produced when NBC Sports first obtained the rights to the English Premier League in 2013. The promo starred Saturday Night Live alum Jason Sudeikis as Ted Lasso, an American football coach hired to manage a Premiere League soccer club.
Seven years later, the Lasso character has been resurrected as the star of an eponymous show, which debuts on Apple TV+ this Friday with its first three episodes, with one more a week debuting for the next seven Fridays until October 3.
While the premise was sturdy enough to sustain a promo that was essentially a five-minute comedy sketch, it's just too thin for a ten-episode season. It's also, sadly, just not all that funny,.
Ted Lasso, created by TV veteran Bill Lawrence (Scrubs, Cougar Town, contains elements of several well-worn genres, from fish-out-of-water to culture clash to underdog sports comedy.
Welcome to London
The show begins with Sudeikis' Lasso, an American with a Southern accent, arriving in England and introduced as the manager of the fictitious, midlevel Premiership club, AFC Richmond. In the NBC promos, Lasso was the coach of the very real Tottenham Hotspur, although in the Apple show, real names are used of all of the opposing clubs.
Lasso's boss is team owner Rebecca (Hannah Waddingham, the British actress who played Septa Unella on Game of Thrones), who very clearly hired the neophyte coach as part of a Major League-style scheme to purposely tank the team's fortunes. It's part of a feud playing out between the owner and her hated ex-husband, as roughly half of the plots in the show's early going have something to do with British tabloid intrigue.
The other characters include an assistant coach (Brendan Hunt), a sycophantic team employee (Nick Mohammed), and Juno Temple, in a standout turn, as the girlfriend of one of the players, what's known as a "WAG" in the soccer/tabloid parlance of the show. As for the players on the team, most of them have about a single character trait a piece.
Have you met Ted?
Sudeikis, who followed his SNL years with a movie star run that appears to have now passed, plays Lasso as something of an American rube, one who's optimistic and enthusiastic, but still wildly out of place at the helm of a soccer club.
The show might have worked better if the football coach had been, say, a good ol' boy type, or another type of stereotypically ugly American. And when things start to turn around for the team, it can't help but recall one of those takes by American sports columnists, during each World Cup, about how soccer is boring but would be better if it made these ten rule changes.
The premise also leaves some satirical potential on the table, in regards to the differences between football and soccer. As demonstrated by last year's book The Club, the English Premier League was created in the early '90s largely because the team owners wanted to make English soccer more like the NFL, complete with massive stadiums, lucrative TV deals and, at least for a time, cheerleaders.
There was some potential to be gleaned from that, but the show doesn't really do anything with it.
Out of bounds
The show, strangely enough, is on Apple TV+ rather than on an NBC Universal platform, despite having originated as an NBC commercial, although Universal Television is listed in the credits. Apple's presence is much-felt, however, with iPhones and Macs everywhere.
For its new streaming service, Peacock, NBC Universal went with another show about an American out of place in an English workplace, the David Schwimmer vehicle Intelligence. That show, in fairness, is much, much worse than Ted Lasso, although Lasso actor Nick Mohammed not only is on that show, but he created it.
Marcus Mumford of Mumford and Sons contributes a mostly unobtrusive musical score, but the third episode uses that snippet of Vivaldi's Four Seasons that's in movies constantly.
Likable and appealing as both Sudeikis and Temple are, Ted Lasso is clearly laboring to fill out whole episodes. Overall, the show can't quite square the circle of just how ridiculous its premise is, and not enough punchlines land to make that less of a problem.