New Apple Watch Series 7 with more durability, larger screen area revealed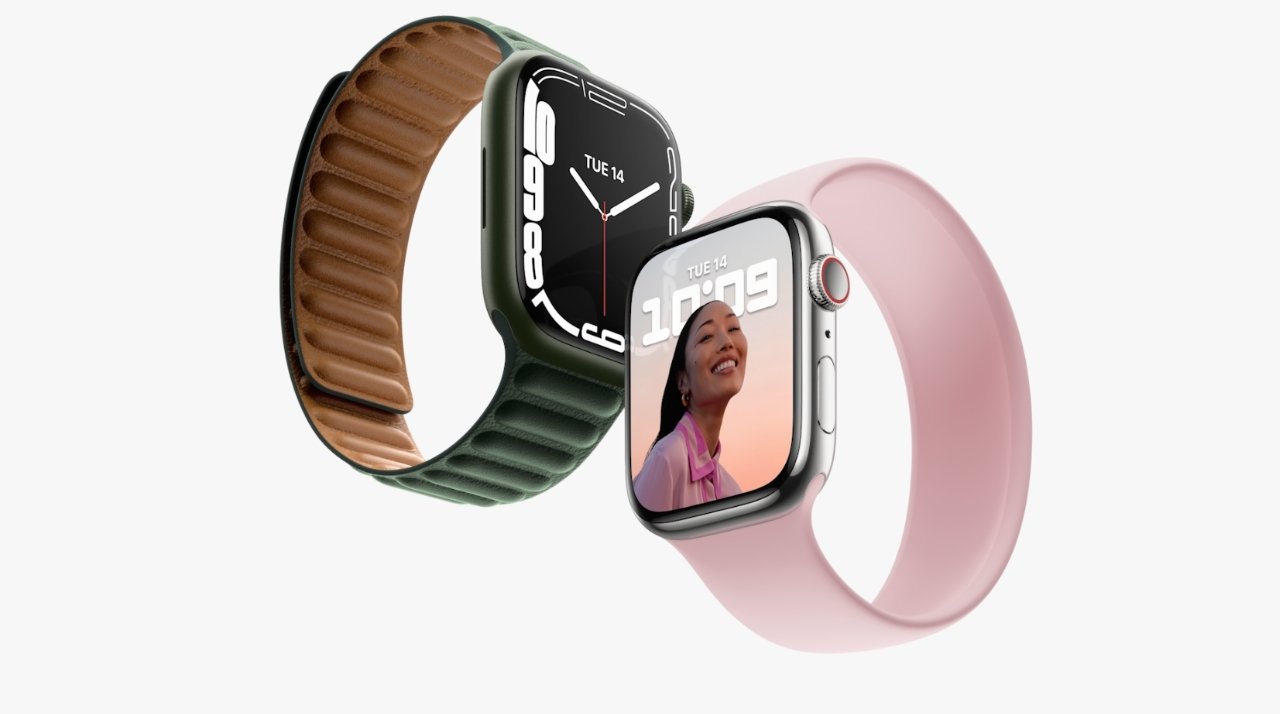 Apple has unveiled the Apple Watch Series 7 at its "California Streaming" event. With a 20% larger screen area than Series 6, the screen is up to 70% bright indoors.
After both great speculation and apparently comprehensive leaks, Apple Watch Series 7 has now been officially revealed by Apple. Available in a 41mm and 45mm sizes, it features a new Always-On Retina display.
"The new Retina display on series seven has nearly 20% more screen area than series six, and it's an even bigger jump over Series 3, with over 50% more screen area," said Jeff Williams, Apple's Chief Operating Officer. "The Series 7 display has been completely reengineer to reduce the borders to just 1.7 millimetres."
"That's 40% thinner than Series 6," he continued. "It's an incredible innovation that maximises the screen area while barely changing the dimensions of the watch itself.
Apple Watch Series 7 does not feature the expected flattened edge design, now familiar with the iPhone and iPad Pro. However, the chassis has been redesigned.
"The shape of the Watch has also been refined," continued Williams. "Both the case and the display of Series 7 [feature] softer, more rounded corners. The new display refracts light in its edges for a subtle wraparound effect, creating a seamless integration with the curvature of the case."
This curvature means that the the screen real estate is larger. Apple says that almost 50% more text can be seen on screen than in Series 6.
There's also a new, full keyboard that users can either tap, or slide from letter to letter.
Apple is again introducing more Watch faces, this time new Contour and Modular Duo faces, specifically to take use of the greater display.
Apple Watch Series 7 has increased durability, including improved water resistance, and crack resistant front crystal. Apple says that the new display is over 50% thicker than in Apple Watch Series 6, adding strength but reportedly not compromising screen clarity.
New health features for bike riders
Apple Watch Series 7, with watchOS 8, has been optimized to work better for bike riders.
"Apple Watch Series 7 will detect when you begin riding and remind you to start a workout," said Williams, "and it will automatically pause and resume if you stop temporarily."
"[Fall detection now covers] cycling, assessing the unique motion and impact of falls when riding a bike," he continued. "And Apple Watch now, better supports e-bikes with an improved workout algorithm that more accurately calculates calories."
Charging and battery life
Charging is now up to 33% faster than with the Series 6, with Apple saying it takes 45 minutes to reach 80% full charge. And 8 minutes of charging will give enough for 8 hours of sleep tracking use.
Apple Watch Series 7 continues to use a proprietary charging puck, but it has now been changed to a USB-C one.
Availability
The entry-level Apple Watch Series 7 in aluminium will now come in five colors, which Apple calls Midnight, Starlight, Green, Blue, and PRODUCT(RED). The stainless steel version will be available in silver, graphite, and gold, plus there will be a space black titanium model.
Leaks ahead of the launch originally suggested that Apple Watch might be delayed over production hold ups, plus ongoing delays caused by the global chip shortage. Perhaps because of that, Apple has only announced that the new Watch will be available "in the Fall."
Apple Watch Series 7 will start at $399, the same as the Apple Watch Series 6. The Apple Watch SE remains on sale, starting at $279, while the Apple Watch Series 3 is also retained, from $199.
This story is breaking. Refresh for the most current information