Amazon unveils Astro smart home robot, 15-inch Echo Show, and more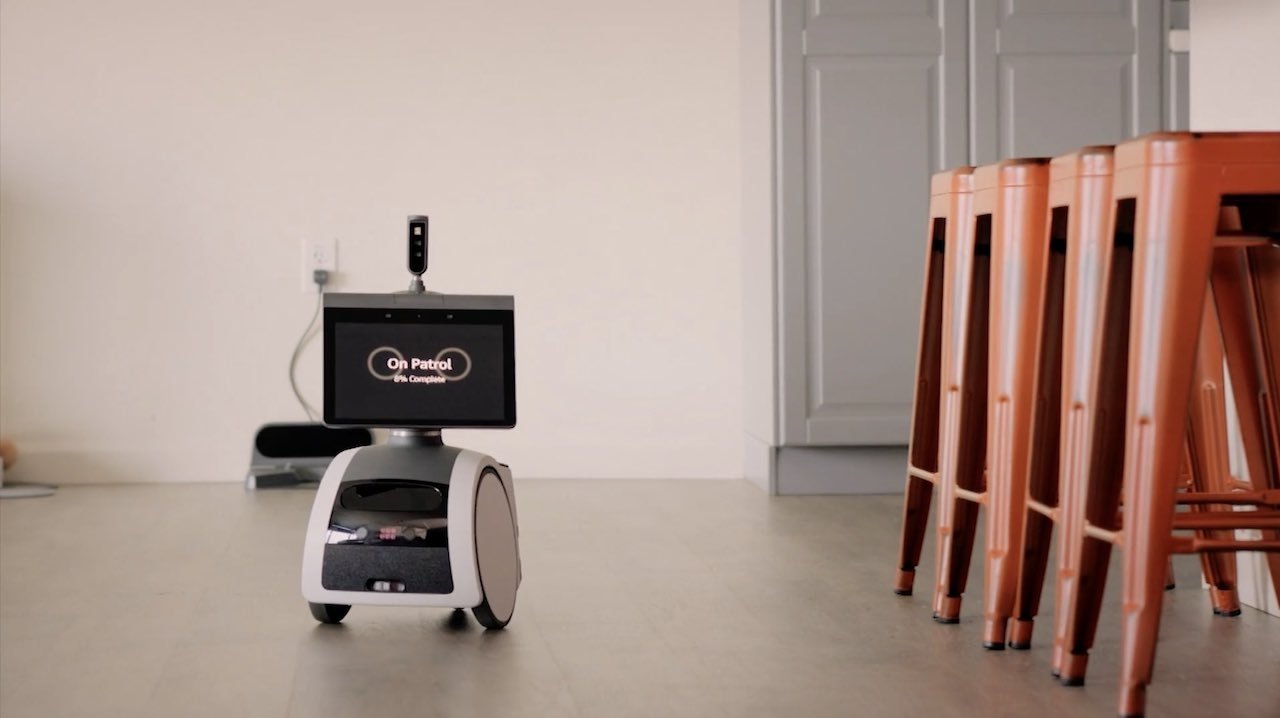 Amazon has unveiled a new slate of smart products, including a home robot named Astro, a TV-sized Amazon Echo Show, and new Halo fitness services and hardware.
The retail giant on Tuesday announced a wide range of new hardware and services at a press-only event. Here are some of the things that Amazon showed off.
Astro home robot
The Astro is a friendly-looking robot designed to roam around an owner's house. It's a wheeled device equipped with a rotating screen, camera, microphone, and motion sensors.
According to Amazon, the Astro can deliver reminders or play TV shows or podcasts. It can only control smart home tasks, including via Alexa voice commands.
The Astro can also serve as a security device, patrolling a user's home and letting them keep an eye on their house when they're away. Like Amazon's Echo products, the Astro can also detect and notify users of broken glass or smoke alarms.
Of course, a mobile robot with cameras and microphones can carry privacy risks. Amazon says users can switch off the camera, microphone, and motion sensors with a physical button. Additionally, users can set "out of bound" zones where the Astro won't patrol.
The Astro will retail for $999.99. It's available via invitation only, though Amazon did not announce a release date.
Halo View
The retail juggernaut also unveiled a new health-tracking smartwatch meant to compete with existing products like the Apple Watch. The Halo View tracker sports a display for the first time, as well as all of the basic fitness tracking abilities you'd expect from a smart band.
Additionally, Amazon is expanding its suite of health-related services. Each Halo View comes with a one-year free subscription to Amazon's Halo platform, which now features fitness video classes.
In addition, the Halo subscription will also include a built-in nutrition trainer that can combine data from grocery lists with meal planning suggestions.
The Halo View will retail for $79.99 and should become available before the holidays.
Echo Show 15 and Amazon Glow
Amazon also unveiled a couple of more traditional smart home devices, including a TV-sized Echo Show product and a video calling device aimed at kids.
The so-called Echo Show 15 sports a 15.6-inch display. It can be hung vertically or horizontally on a wall, and Amazon characterizes it as a "kitchen TV, but much, much smarter."
It can control smart home devices, show security feeds from Ring products, and display how-to videos or recipes. Additionally, the Echo Show 15 can be customized with specific widgets like digital post-it notes, to-do-lists, and more.
The Echo Show 15 will launch later this year for $249.99.
Alongside the new Echo product, Amazon released related hardware called the Amazon Glow. The device is essentially a video calling camera that can project games onto a surface with a built-in projector.
The projected games and videos can respond to touch, and the entire product was created to make video calls more engaging for kids. At launch, the device will feature games made by Disney, Mattel, Nickelodeon, and Sesame Street. It also has a "privacy shutter" that can disable the camera.
The Amazon Glow will cost $249, but it will only be available in an invitation-only testing program to start. Interested users can sign up to try it out today.
Other announcements
Additionally, Amazon is also now inviting users to sign up for the Ring home security drone, which is a previously announced product. Basically, the device is a drone that can fly around a user's home to provide eyes and ears when they're away.
The company also debuted a new Smart Thermostat for $59.99 made in partnership with Honeywell. It competes with the likes of Google Nest.