Woolnut Leather Tech Organizer review: A premium pouch for your go-to gear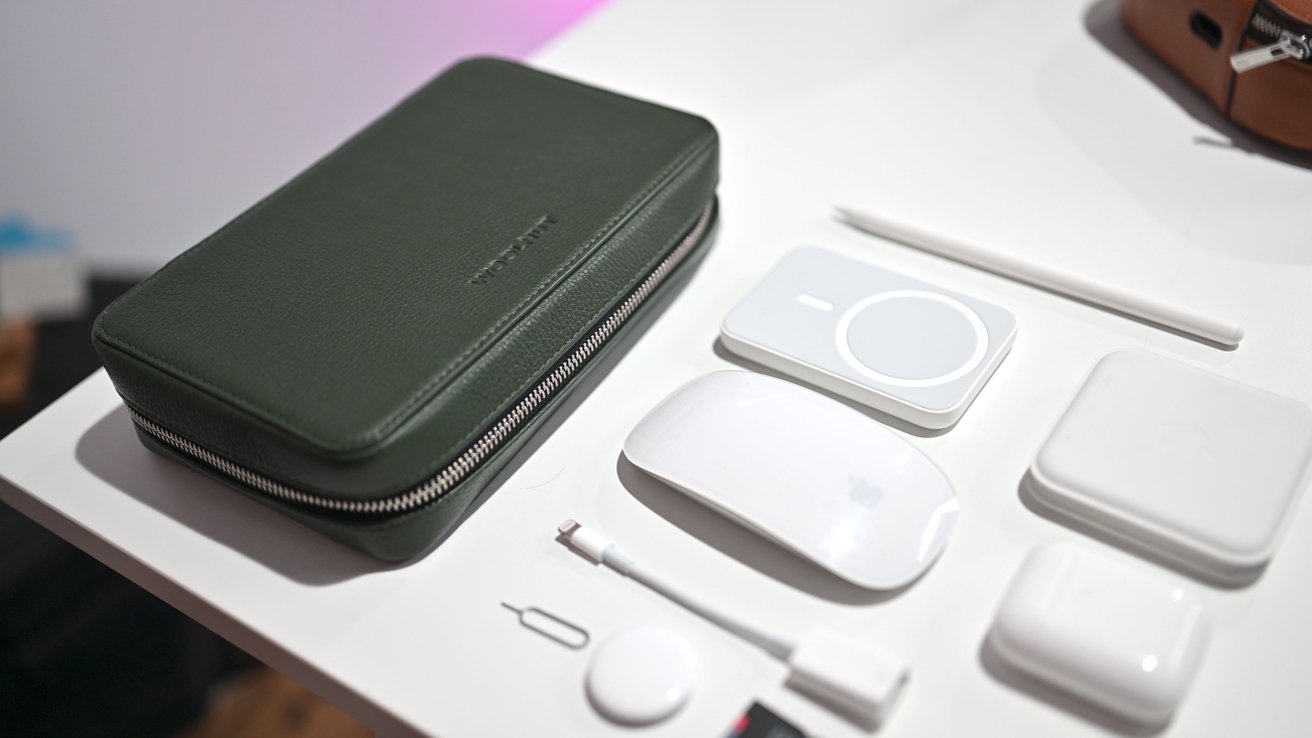 AppleInsider is supported by its audience and may earn commission as an Amazon Associate and affiliate partner on qualifying purchases. These affiliate partnerships do not influence our editorial content.
Woolnut's leather-wrapped Tech Organizer stays true to its name with copious pockets and straps to hold all of your essentials.
High quality leather
We've experienced Woolnut's leather in the past on the company's iPhone cases. They've used the same leather here in the tech pouch.
It's full-grain Scandinavian leather that is very high quality and has a lovely pebbled texture. The finish will protect it, but it doesn't feel as waxy as the leather Apple uses on its leather sleeves.
With use, it will develop a great patina that is unique to you and how you use it day-to-day.
The interior is recycled taffeta polyester that is very slick, making it easy to clean and durable.
Oodles of pockets
A pouch is only a tech pouch if it is filled with a copious number of pockets, straps, and other ways to hold your gear. It's what separates it from a glorified makeup bag.
One side of this pouch has two large elastic pockets situated just below a stitched Woolnut logo. These pockets are large enough to hold portable gear like Apple's Magic Mouse, the MagSafe battery pack, an SSD, a rolled-up cable, or an Apple Mac power adapter.
The opposing side has a large elastic band and two smaller ones to hold additional cables or pieces of your kit. It also has a spot to house your Apple Pencil and a pocket for smaller accessories. This pocket is kind of stiff and narrow, so you can't insert anything too unwieldy. It's also tight trying to reach in and grab small items placed inside.
There's a final elastic strap on the inside of the spine for anything else you need to bring along.
We want a couple of smaller pockets, though, or perhaps a removable insert that could house even smaller things. SD cards or a SIM card tool would be difficult to dig up in any existing pockets.
Should you buy Woolnut's Tech Pouch?
There are quite a few tech pouches on the market, and as long as they have adequate storage and pockets on the inside, it usually comes down to the aesthetics and quality.
There's no arguing with the quality here. Between the leather and the smooth YKK Excella metal zipper, Woolnut has excelled in this regard. The pouch holds its boxy shape so more gear can be tossed inside, or larger objects can be secured, and it can still be closed.
We love this forest green color, and it has a rugged feeling. Our only criticisms are relatively minor such as the pocket being a bit tight. If you like the look of this, it will be a great addition to your kit.
Quality, full-grain Scandinavian leather in multiple colors
Smooth, reliable YKK zipper
Plenty of pockets and storage
Ample space inside
Dedicated Apple Pencil slot
Internal pocket is tight
Limited color options
Rating: 4.5 out of 5
- assuming that your stored bits aren't too small. If you need pouches for lots of easily accessible SD cards or smaller, look elsewhere.
Where to buy