Notes of interest from Apple's Q4 2021 and annual earnings report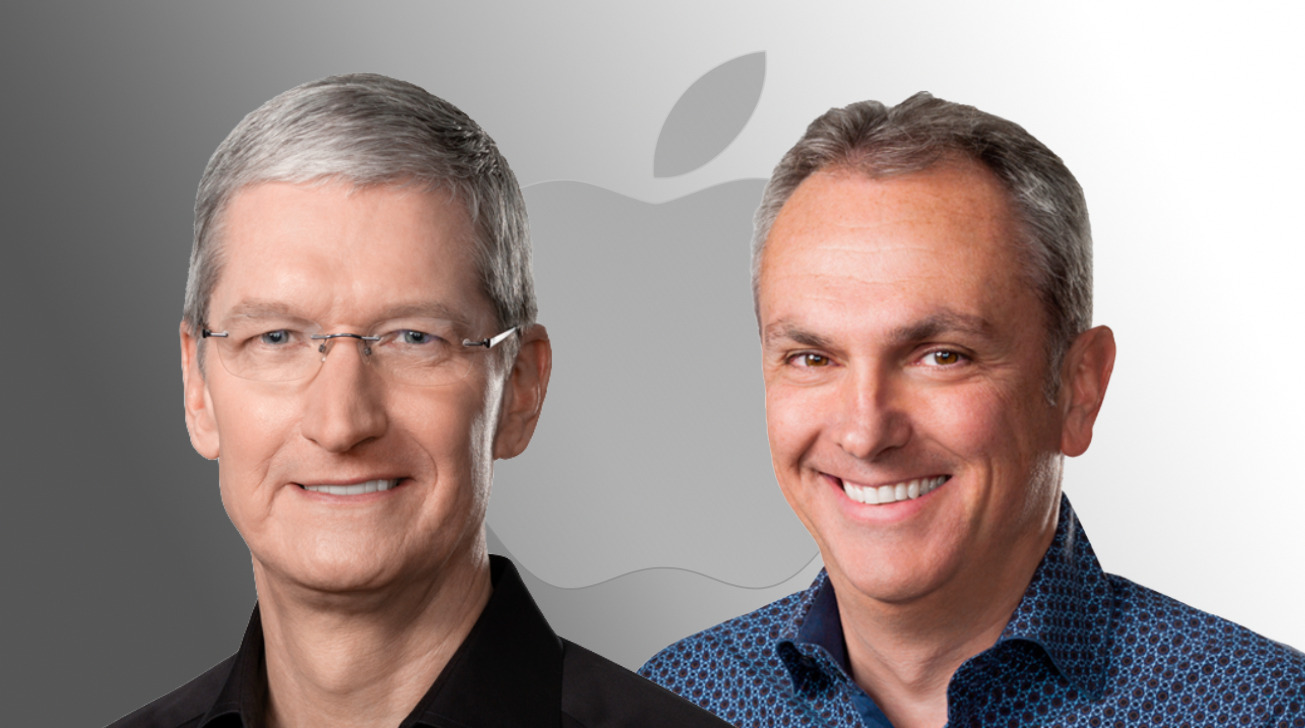 Apple has published its fourth fiscal quarter of 2021 results, breaking all of the company's records for the quarter. Here are some notes of interest from the report, including remarks from Apple CEO Tim Cook and Chief Financial Officer Luca Maestri.
Apple's third calendar quarter and fourth fiscal quarter of 2020 earnings
Apple reported a September quarter revenue record of $83.4 billion, up 29 percent year over year, and quarterly earnings per diluted share of $1.24.
"This year we launched our most powerful products ever, from M1-powered Macs to an iPhone 13 lineup that is setting a new standard for performance and empowering our customers to create and connect in new ways," said Tim Cook, Apple's CEO. "We are infusing our values into everything we make — moving closer to our 2030 goal of being carbon neutral up and down our supply chain and across the lifecycle of our products, and ever advancing our mission to build a more equitable future."
The board declared a cash dividend of $0.22 per share of the company's common stock. The payout will be made on November 11 to shareholders of record as of November 8.
Apple increased iPhone sales value to $38.9 billion versus $26.4 in the year ago quarter. However, the fourth quarter of 2020 didn't have even a few days of iPhone orders, as the iPhone 12 was launched in October 2020. Mac sales were up by about $140 million year-over-year with no new products in the category since the 24-inch iMac release, with the iPad increasing by $1.5 billion after the release of the new iPad mini and ninth-generation iPad. Apple's Wearables, Home, and Accessories category grew by about $900 million.
The important Services category grew by about $3.7 billion from the year-ago quarter to $18.3 billion.
Apple launched its iPhone 13 lineup during the September quarter, as well as new 10.5-inch iPad and iPad mini devices. Although those devices were debuted toward the end of Q4 2021, Apple's revenue appears to have benefitted from strong iPhone and hardware demand that didn't slow prior to the release of new models.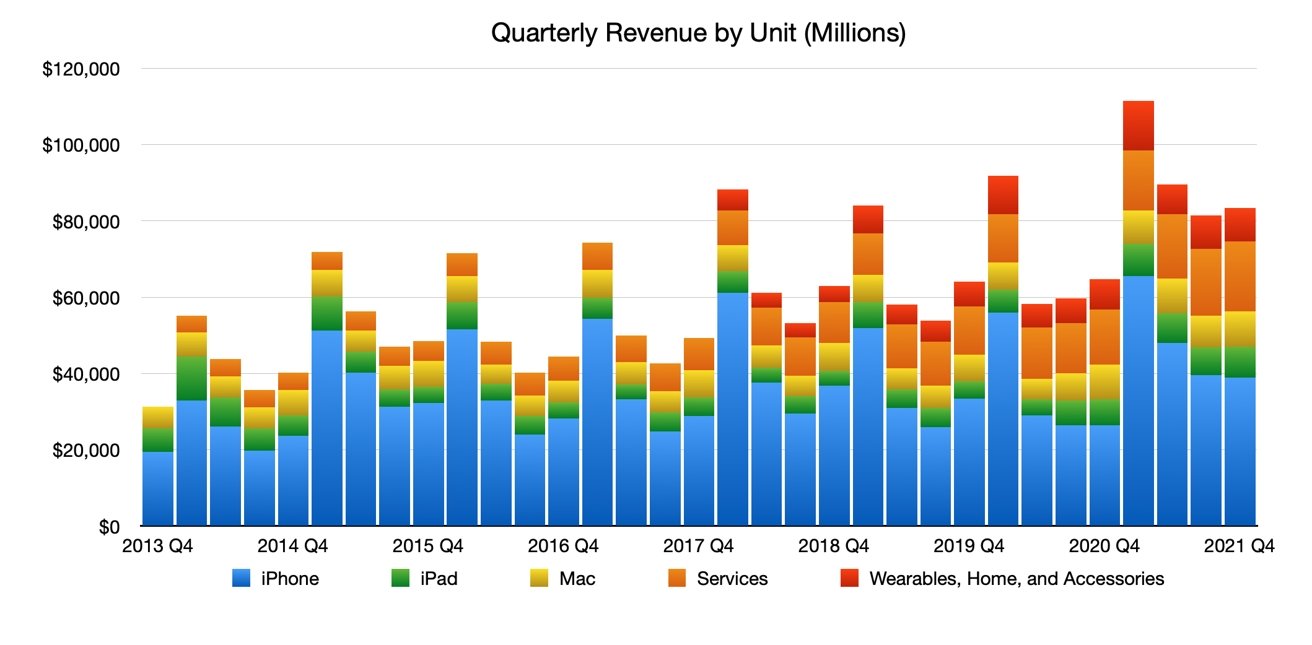 As has been the case since the pandemic, it is unknown if Apple beat its own expectations, since it didn't provide guidance for the fourth quarter. But, Apple CEO Tim Cook did say that it cost the company a significant amount of revenue.
"We had a very strong performance despite larger than expected supply constraints, which we estimate to be around $6 billion," Cook told CNBC. "The supply constraints were driven by the industry wide chip shortages that have been talked about a lot, and COVID-related manufacturing disruptions in Southeast Asia."
Analysts were expecting Apple to report revenue of $85 billion and earnings-per-share of $1.23.
AppleInsider interpretations of the results and observations are notated by initials at the end of the statement.
Highlights from the earnings report, and the following conference call
The commentary from the media is upbeat, with predictions of holiday quarter shortages of hardware
Wall Street expects Apple to still break records in the holiday quarter.
Apple stock is down notably on the earnings report, from $152.52 just before the report to a low of $144.98 within minutes.
Cook also said that Apple now has 745 million paid subscriptions, including first-party like Apple Music, and App Store subs.
Apple's supply issues are on "legacy notes" and not Apple Silicon itself, says Cook
Cook expects "solid year-over-year revenue growth" for the holiday quarter.
$366 bilion in annual revenue, 20% product growth in every product category, and every geographical area
Services performed better than Apple expected
1/3 of Apple's revenue in the quarter from emerging markets, doubled business in India and Vietnam
Cook reminds investors that the iPhone 13 family was only released a few weeks before the end of the quarter
11 Emmy awards for Apple TV+
Maestri: Better than expected product demand
"Enthusiastic" response to iPhone 13 family
iPhone customer satisfaction of 98% of iPhone, installed base reached all-time high (no number given)
Mac demands driven by M1 MacBook Air
Last five quarters for Mac the best ever
Strong M1 iPad Pro demand
Half customers buying Mac and iPad new to the product
Mac and iPad customer satisfaction combined is 97%
SAP planning to add new MacBook Pro to M1 Mac offerings to global workforce
All train drivers on SNCF provided iPad
90% of SNCF drivers purchase devices for personal use after hardware retirement
Apple stock has climbed to about $147 at 5:21 PM ET
Total debt: $125 billion. Net cash $66 billion at the end of the quarter
Return of $24 billion to shareholders in September quarter. $20 billion of that is open-market purchase of shares
No revenue guidance provided for the holiday quarter
Supply chain headwinds will be stronger for holiday quarter, new revenue record will be set anyway
iPad not expected to grow in the quarter year over year because of supply constraints, everything else will grow
Services growth will decelerate
Margin, and tax rate will be about the same as the current quarter
Question: Shannon Cross, Cross Research: Specific supply chain issues? How should we think about products to see impacted
Cook: In Q4, iPhone, iPad, Mac impacted the most.
Cause - chip shortage, COVID-related manufacturing disruptions. Latter has improved, former has not.
Holiday quarter primary cause will be chip shortage. Is impacting everything currently.
Demand is very robust and strong. By the quarter is over, constraints will be larger than the $6B
Q: How will monthly installments from customers impact future revenue?
Cook: iPhone first to sell as monthly, after subsidy world changed.
Predominant iPhone purchases are monthly, most popular method of other products is an outright purchase
Question: Amit Daryanani - Evercore: What are the trajectories for improvement?
Cook: COVID-related factors are improving. Difficult to predict COVID. Better position today than in September and October
Leading-edge nodes are fine (Apple Silicon - MW). Legacy nodes (modems, power regulators - MW) are the main point of competition
Cook "not comfortable" in making a prediction
Q: December gross margins - why is it not going to be higher in December?
Maestri: Period of year of new product launch. Higher cost structures at the beginning of the cycle.
The number is better year-over-year
Question: Katy Huberty - Morgan Stanley: What guidance can be provided as it pertains to iPhone 13 demand, and clarity on channel inventory
Cook: Channel iPhone inventory below targeted range to date.
Cook: Feel very good where demand is, working feverishly on supply side
Q: Surveyed 4000 consumers in US and China, most don't want to pay for services through developers. How to balance regulators demands?
Cook: "Keep our focus on privacy and security." & "Everything else is a distant second"
Apple is working to explain its decisions about privacy and security to regulators and consumers
Question: David Vogt - UBS: How does Apple philosophically handle disruptions?
Cook: Apple aggressively kept order volume, in the face of an industry-wide cancellation. Demand went up more than expected
Cook: Yields mostly manageable over time. Working with suppliers for accurate demand statements, and helping suppliers
Cook: Apple has cut back time from chip fab to shipping product
Q: Has partnerships with suppliers been the key to Apple's success?
Cook: 5G has been a once-in-a-lifetime opportunity, with mutual interests with carriers. Customer benefits from 5G!
Cook: Global model varies depending on country and market. Marriage between Apple and carriers never stronger
Question: Krish Sankar - Cowen and Company: "App Tracking Transparency - how has the feedback impacted search ad business?
Cook: Customer satisfaction is high. Customer choice is determining uptake and impact on third parties.
Cook: Not Apple's role to decide what data by the customer is shared. No other motivation.
Q: Regulations around game time in some geographies (China - MW). Any way to quantify?
Cook: Difficult to measure impact on App Store, if any at all.
Question: Samik Chatterjee - JP Morgan: More granularity on iPhone 13 demand versus iPhone 12
Cook: Too early to judge given less than a month on the market. Grew on upgraders and switchers in double-digits
Cook: Significant momentum in iPhone. Demand is robust
Q: Looking forward, how are costs going to be managed?
Cook: Current thoughts are in gross margin guidance. Significant increase in freight costs
Question: Jim Suva - Citigroup: Services - why so much better than expected? Supply chain - more granularity on headwinds?
Cook: Supply constraints - Amount of Q1 constraint will be larger than $6 billion. Sequential growth responsible quarter over quarter.
Maestri: Services - Results difficult to single out one area. All-time records set across the board
Question: Chris Caso - Raymond James: Does Apple expect similar consumer behavior year-over-year in the holiday quarter?
Cook: Gifts are perishable, but Apple still has a lot of products that people will wait for. Those will be captured in a different time period.
Q: iPhone purchase mix context?
Cook: Too early to make comments on mix at this point, because of constrained environment.
Question: Harsh Kumar - Piper Sandler: Strategic areas. What are Apple's self-throttles on acquisitions and market entrances
Cook: Lot of energy into Silicon, is there a way to do something differentiated. Won't rule anything out, but want a clear path to "materially better."
Q: Wants more transparency on margin
Maestri: We always make our products better, and new technology is more expensive in the beginning of the cycle.
December quarter, so percentage of products is higher versus services than in any other quarter
Question: Wamsi Mohan - Bank of America: Pricing of new products. What are Apple's criteria for price-setting?
Cook: We look at our costs, competition, local conditions, exchange rates. Not a common formula that can be universally applied.
Q: Metrics on new services in terms of paid subs, and how is Apple measuring the investment?
Cook: We look internally, that we don't share externally. No individual services will be shared in anything but the aggregate.
Cook: You can bet that we're measuring at the individual service level
Call concludes, 6:00 PM ET. Apple share price at end of call was $147.00