Compared: iPad mini vs Kindle Paperwhite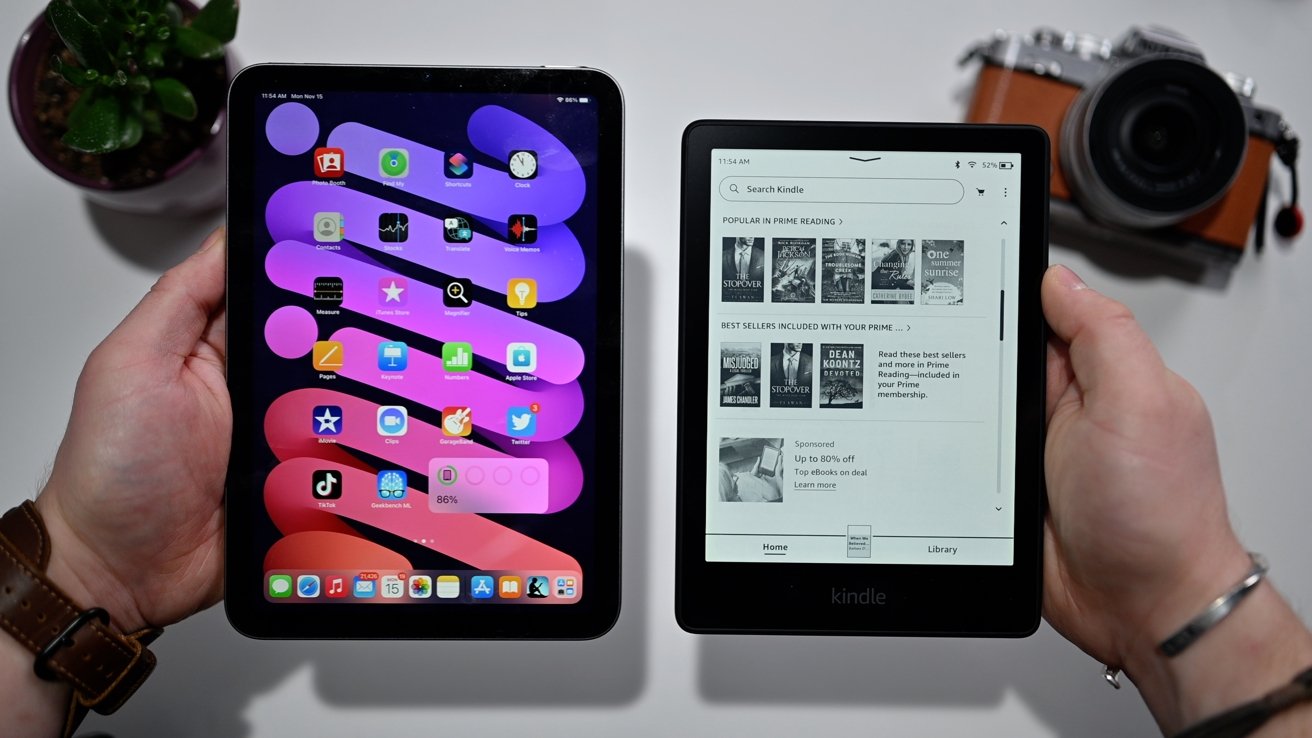 The iPad mini is an ideal companion for avid readers, but Amazon's Paperwhite ebook reader is still a good proposition for bookworms. It all depends on how much you read.
Apple's iPad range is effectively the standard that other tablet computing devices have to beat. For normal tablets, it's a tall order to rival the iPad in most areas, but there are some tasks where a specialist device could fare well.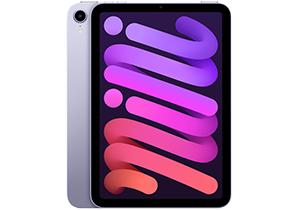 iPad mini 6
---
Equipped with the A15 Bionic chip and an edge-to-edge 8.3-inch Liquid Retina display, the 2021 iPad mini 6 also supports the second-generation Apple Pencil.
One such area is ebooks, as there are still a number of ebook readers on the market. While iPads could be used to read the same content via apps, dedicated hardware like Amazon's Kindle range are built specifically with reading in mind, and as such, offer a different experience.
Given the highly pocketable nature of the iPad mini, here's how Apple's smallest iPad fares against Amazon's main Kindle Paperwhite.
Specifications
| | iPad mini 6 | Kindle Paperwhite |
| --- | --- | --- |
| Price (starting) | $499 | $139.99 |
| Dimensions (inches) | 7.69 x 5.3 x 0.25 | 6.9 x 4.9 x 0.32 |
| Weight (pounds) Wi-Fi only | 0.65 | 0.45 |
| Storage | 64GB, 256GB | 8GB |
| Display Tyoe | 8.3-inch Liquid Retina with True Tone, 500 nits brightness | 6.8-inch Paperwhite glare-free with 16-level grayscale |
| Resolution | 2266 x 1488 at 326ppi | 300ppi |
| Connectivity | 5G (sub-6 GHz), Gigabit LTE, Wi-Fi 6, Bluetooth 5 | Wi-Fi, Bluetooth |
| Battery | Up to 10 hours | Up to 10 weeks (35 hours total usage) |
| Rear camera | 12MP Wide, f/1.8 aperture, 5x digital zoom | - |
| Front camera | 12MP Ultra Wide, f/2.4 aperture | - |
| Connector | USB-C | USB-C |
| Stylus Support | Apple Pencil (Gen 2) | - |
| Audio | Two speaker audio landscape mode | Bluetooth to headphones |
| Biometric Security | Touch ID | - |
| Water resistance | - | IPX8 |
| Colors | Space Gray, Pink, Purple, Starlight | Black |
iPad mini vs Kindle Paperwhite - Physical Details
The latest iPad mini has received a considerable upgrade in its appearance and functionality, but still remains the smallest in Apple's current catalog. Even with a new larger screen, the aluminum enclosure is still an extremely compact 7.69 inches by 5.3 inches, and just 0.25 inches thick.
As an ebook reader, you would expect the Kindle Paperwhite to have a fairly large screen on the front, and to a point, it does. With reasonably small bezels to the sides and top, there is a bit of a chin towards the base of the unit.
It has a smaller footprint than the iPad mini at 6.9 inches by 4.9 inches, making it the same size as a small book. Despite being simpler in terms of technology, Amazon still managed to make the Paperwhite thicker than the iPad at 0.32 inches.
The small size and the plastic housing certainly help the Kindle save weight, with its 0.45-pound mass considerably undercutting the iPad mini's 0.65 pounds.
iPad mini vs Kindle Paperwhite - Display
The iPad mini has an 8.3-inch Liquid Retina display, with a resolution of 2,266 by 1,488 and a pixel density of 326ppi. The IPS panel also includes Wide color (P3) support, and a fingerprint-resistant oleophobic coating to go with its multi-touch support.
Of benefit to readers is the antireflective coating, boasting 1.8% reflectivity, as well as its 500 nits of brightness. There's also TrueTone, where the colors of the display shift to match changes in environmental lighting, so an on-screen image looks the same under different lighting.
There's also stylus support with the second-generation Apple Pencil.
Things are considerably different for the Kindle Paperwhite's display, due to it being an ebook reader, not a tablet. We're talking about a device that prioritizes readability and battery life, and the screen certainly reflects that.
The 6.8-inch Paperwhite e-ink (also referred to as e-paper) display is decently sized, if not as big as the iPad mini, but the Kindle also has a considerable chin towards the base. Amazon doesn't say what its resolution is, but that it is a 300ppi display, which is a little below the iPad mini, but still perfectly readable.
Further drilling home the point is that the display doesn't offer colors at all. Instead, it has 16 levels of greyscale at its disposal, which is good enough for text, less for images.
As an e-ink display used to display text, the refresh rate can be extremely low, primarily with it just showing a page from a book and only changing when the user turns the page, or interacts with the user interface in some way. It's simply not capable of animations or playing back video with a sufficient framerate, but then again, the display's not really intended for that.
Amazon's aim to make it as readable as paper means it's a glare-free display, and one that can be read clearly in sunlight. It does include a 17-LED lighting system for night-time reading, with its color temperature adjustable to make it warmer or cooler, though it's not built to be exceedingly bright.
An up-scale model of the Paperwhite called the Kindle Paperwhite Signature Edition adds in an auto-adjusting light facility, which changes based on the lighting conditions in your local area.
The Paperwhite does use a touchscreen display, which is handy for navigating menus, buying content, and for changing pages when reading a book. There are also gestures like swipes and pinching to change the font size to go along with the tapping.
iPad mini vs Kindle Paperwhite - Capacity
Apple offers the iPad mini in 64GB and 256GB capacities, which is used to hold practically all of a user's digital life. This includes apps, documents, images, videos, and ebooks, of course.
The Kindle Paperwhite is sold with 8GB of storage, which is enough to hold "thousands of books," according to Amazon. This may seem insanely small compared to the iPad mini's lowest-capacity model, but it makes sense.
The small file sizes of primarily-text ebooks certainly means you can load it up with tons of content without worrying too much about storage. Since you're not going to use it to store photographs or videos, or even apps, the worst you'd be using the storage for would be an Audible book.
Those who demand more storage could opt for the Paperwhite Signature Edition, which gives you 32GB of capacity.
iPad mini vs Kindle Paperwhite - Battery Life
There's a considerable difference in how Apple and Amazon define the battery capabilities of their respective devices.
Apple says the iPad mini's battery can last for up to 10 hours of web-surfing over Wi-Fi or watching video, though that dips down to 9 hours when using cellular connectivity.
According to Amazon, the Paperwhite can last for up to ten weeks on a single charge, "based on a half hour of reading per day with wireless off." That works out to be 35 hours of total usage spread across a ten-week period, though it doesn't account for power drain while on standby.
That's even before you consider that the claimed battery life doesn't include Wi-Fi. Obviously, this would be a massive drain on the Paperwhite if used in such a way, but you're not going to realistically surf the web for hours on end on the thing.
Amazon also says it can be charged in 5 hours from a computer using USB, though it can also achieve maximum charge in 2.5 hours using a 9W USB power adapter.
The Kindle Paperwhite Signature Edition also adds in wireless charging, a feature neither the standard Paperwhite nor the iPad mini possess.
iPad mini vs Kindle Paperwhite - Connectivity
Both the iPad mini and Kindle Paperwhite include USB-C connections, allowing them to be recharged, as well as to connect to Macs or PCs for direct data transfers. In the case of the iPad mini, you could also use the same connection with other USB-C hardware, such as cameras and storage.
Both also have Wi-Fi, though while Apple claims Wi-Fi 6 support, Amazon simply states the Kindle "supports 2.4GHz and 5.0GHz networks." There is no mention of what network types are supported, other than those secured with WEP, WPA, and WPA2, or WPS, and specifically not ad-hoc networks.
Bluetooth is available on each device, though once again Apple directly declares Bluetooth 5.0 support, while Amazon says the support exists.
The iPad mini does conclusively go further in connectivity by having optional 5G support.
iPad mini vs Kindle Paperwhite - Audio and Video
Apple gave the iPad mini stereo speakers, one at the top and base of the tablet, giving you clear stereo separation when using it in landscape orientation.
There isn't a speaker on the Paperwhite, so you're stuck pairing speakers or headphones to your device over Bluetooth, a facility also offered by the iPad mini.
For audio recording, the iPad mini has dual microphones. There's no microphone on the Paperwhite.
The video and imaging side is completely in the iPad mini's favor, since it's the only one out of the two that has cameras.
There's a 12-megapixel wide camera on the back of the iPad mini with 4K 60fps recording capabilities, along with a 12-megapixel ultra-wide on the front. These can be used to take photographs, record video, undertake video calls, and other tasks outside of the capabilities of the Kindle Paperwhite.
iPad mini vs Kindle Paperwhite - Capabilities
Normally in comparisons like these, there would be some discussion about the varying levels of performance in the two devices. While this typically would involve a showdown based on benchmark results, that's simply not an option here.
In fact, you have to look at the topic a lot more broadly than normal. Rather than how well each can perform in a given field, you have to instead examine what each can actually do.
The iPad mini, with its A15 Bionic chip, cameras, colorful display, and other features, is capable of doing an awful lot. It can download and run apps with thousands of different purposes, record and store video and photographs, be used for content creation, and so on.
Obviously, the Kindle Paperwhite is considerably more restricted in what you can do with it.
Chiefly, the Kindle Paperwhite is used for reading ebooks, which can be bought from Amazon's storefront directly from the device. You could acquire compatible ebooks and add them to your device in various ways, but it does have to be in specific Kindle-friendly formats.
While you can do this, you can't simply buy books elsewhere from the Kindle itself, as you're limited to directly buying from Amazon's digital storefront. This is a bit of a fuss, especially if you like to shop around for your media.
You can get the Kindle app on iOS, so you could access the same book collection from the iPad mini. However you can also get apps for other stores, other ebook reader apps independent of storefronts, and to enjoy ebooks that have color photographs and other linked content.
You don't have to read books either, as you can use Personal Document Archiving to convert various file types into a Kindle format.
There's also a web browser built into the Kindle, which you'd primarily use to access Amazon, but it can be used to view many other websites. However, it's far from a great experience, and certainly nowhere near to what you may be accustomed to, with its lack of media support outside of images.
It's very much a solution for an emergency situation when there's absolutely no other web browsers available.
You could play back audiobooks, using Audible over Bluetooth. While older Kindles allowed you to play MP3s, that's not a possibility anymore. You can use the text-to-speech feature of the VoiceView screen reader to read aloud some books, but only in English.
One oddity that does play in Amazon's favor is that the Kindle Paperwhite is water-resistant to IPX8, which Amazon refers to as surviving immersion for up to 60 minutes in up to two meters of fresh water, or up to 10 inches of seawater for up to three minutes.
Apple does not make any claims that the iPad mini has any form of water resistance.
The iPad mini can optionally be used with the Apple Pencil 2, enabling it to be used to draw and write on the display, complete with pressure sensitivity. The Kindle Paperwhite will work with simple styluses intended for capacitive displays, but it works effectively the same as a finger, and certainly doesn't offer any drawing or writing capability.
iPad mini vs Kindle Paperwhite - Pricing
Apple sells the iPad mini in a choice of Space Gray, Pink, Purple, and Starlight color options, with the 64GB priced at $499, and 256GB capacity at $649. Adding 5G connectivity brings the cost up to $649 for the 64GB model, $799 for the 256GB version.
Amazon sells the Kindle Paperwhite in only one color option, black, priced at $139.99.
However, that is the ad-supported option which will show sponsored screensavers on the lockscreen when it's not in use. To get it without the ads, that's an extra $20, bringing it up to $159.99.
Both can also be acquired with four months of free Kindle Unlimited, Amazon's all-you-can-eat ebook subscription service, which then reverts to a $9.99 monthly subscription after the trial. This is an optional extra, but it doesn't change the price of the product.
The Kindle Paperwhite Signature Edition is priced at $189.99, without ad screensavers. Again, you can add four months of Kindle Unlimited at no charge.
There is also Kindle Paperwhite Kids, which consists of the same ebook reader, a kid-friendly cover, a one-year subscription to Amazon Kids+ which would normally cost $2.99, and a two-year worry-free guarantee. It's sold for $159, again without ads.
Different devices for different uses
The problem with comparing the iPad mini with the Kindle Paperwhite is that the two are extremely different pieces of kit, that aren't meant to be looked at directly against each other.
On the one hand, you have the extremely capable and practical iPad mini, which works exactly how you'd expect a tablet to function. On the other, the Kindle Paperwhite is an ebook reader, not a tablet.
It's the equivalent of comparing a chef's knife with a multitool. One is certainly better in the task it's designed for, while the other is considerably more practical.
The Paperwhite is ideal as a bookworm's companion, carrying thousands of novels in a compact and easy-to-read device, with heaps of battery life to survive a few weeks at a time.
It certainly excels in that regard, as you don't have the usage time with the iPad mini, nor the ability to read without turning off the backlighting. By no means does this infer the iPad mini can't be used for reading books, as you certainly can, and with far more flexibility in sourcing and buying content for viewing.
In practically any other tablet-focused area you could look at, the iPad mini functions far better, simply because it is a tablet. The Paperwhite may have the same general size and appearance, but it's not a tablet, it's an ebook reader.
For avid readers, the cost of the Kindle Paperwhite makes it a reasonable extra expense, on top of the iPad mini, or possibly as a purchase instead of adding 5G to the iPad. If you're spending hours a day glued to a book, it's justifiable to go down the Kindle Paperwhite route.
Occasional readers will almost certainly be better served by the iPad mini and using the Kindle app, because you can do so much more with it than just read books.
Where to buy