Philips Hue gains trio of HomeKit-compatible outdoor wall lights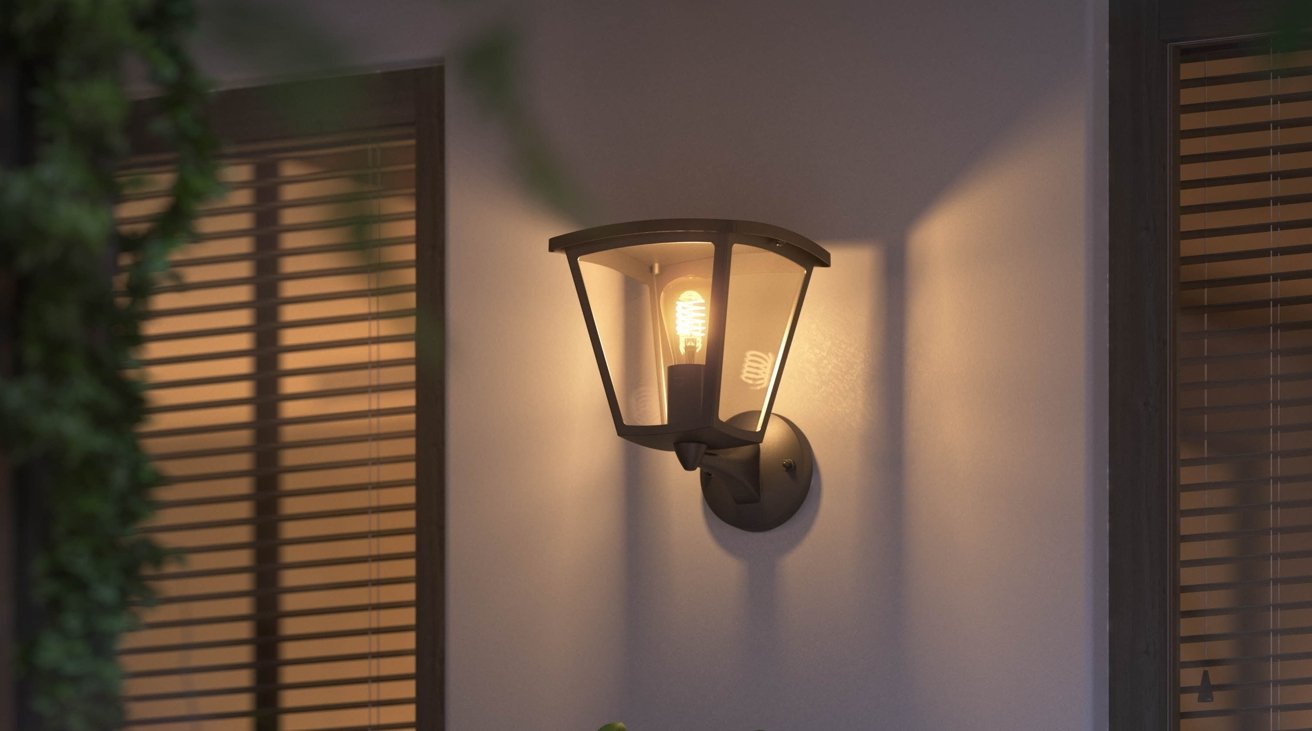 AppleInsider may earn an affiliate commission on purchases made through links on our site.
Philips Hue is expanding its outdoor lighting range with a quartet of new products, with the Resonate and Lucca lights joined by the retro-styled Inara.
Launched on Monday by parent company Signify, the new collection of Philips Hue lights is made up of three wall-mounted lights, all designed for outdoor use. They all provide the benefits of other Philips Hue bulbs and lights, including connection to smart home platforms such as HomeKit, enabling scheduled and remote controls.
The most unusual of the three is the Inara, a vintage-style lantern that uses a filament bulb, providing a dimmable warm light. Though it doesn't have color-changing capabilities, it still offers the usual Hue smart bulb features, despite its retro-inspired appearance.
Sold in black, the Philips Hue Inara Filament Wall Light will go on sale from February 8 in Europe, March 1 in the U.S. and Canada, for $99.99.
A more modern alternative, the Lucca is a round light with black bands, allowing you to see sections of the light lit up by the bulb within. Able to illuminate a wide area, the light offers white, warm, and color-changing capabilities.
Arriving on March 1 in North America, the Philips Hue Lucca will cost $99.99 when it is released.
Lastly, the Resonate lights up sections of wall above and below it, providing a conical effect that could be used to illuminate a room's architectural features or specific objects. The light itself is rectangular, and quite minimalist in appearance.
Shipping March 1 in the U.S. and Canada, the Philips Hue Resonate Wall Light will cost $159.99.
European HomeKit users will gain a fourth product launch in the near future, with the Calla Bollard arriving on February 8. Encased in stainless steel, the Calla stands 10 inches tall and can be placed around a garden or along a path, providing white and colored light wherever it is put.
The Calla Bollard will cost 139.99 euros ($157.80).
Along with the new products, the Philips Hue app will receive an update in the first quarter to add new effects. Candle and Fireplace will mimic the gentle glow of candlelight or a roaring fire.