Compared: New 2022 iPhone SE vs 2020 iPhone SE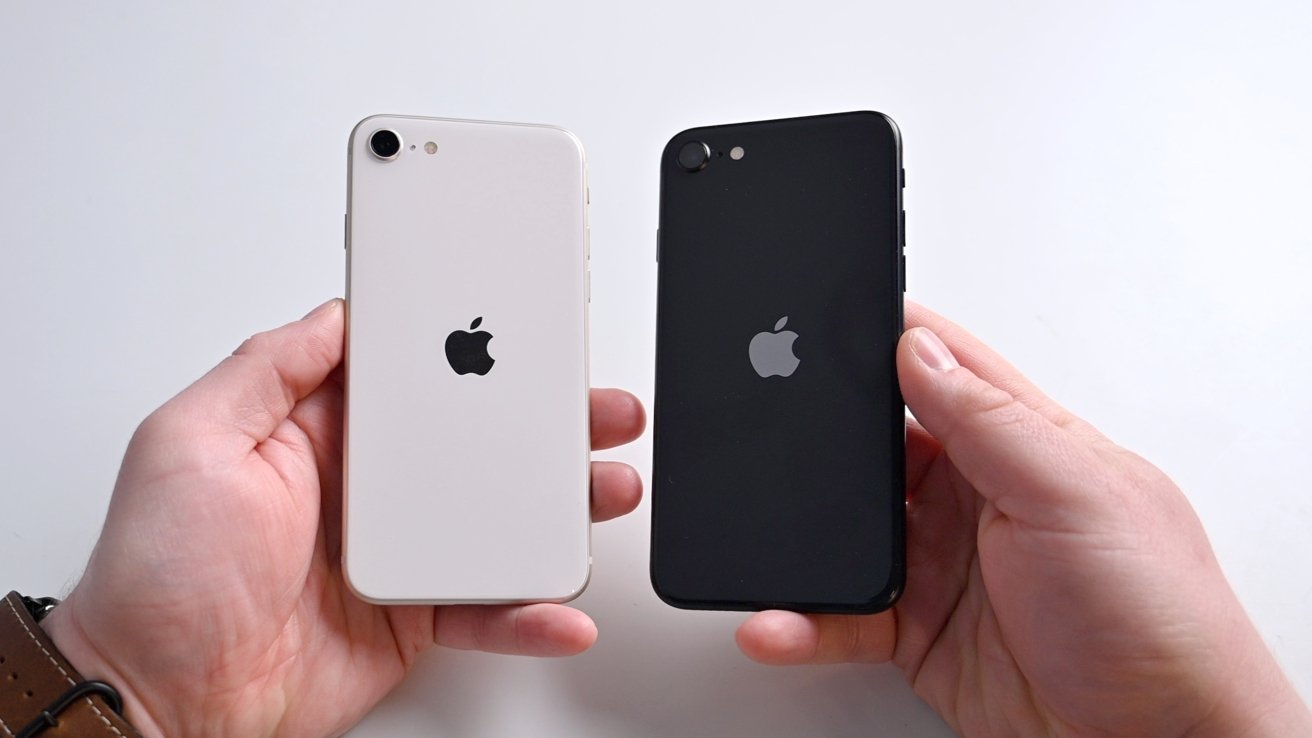 Apple has updated its iPhone SE to a new generation, with the entry-level smartphone now boasting 5G connectivity, but has Apple done enough to encourage people to upgrade to a new model?
The iPhone SE has always held a position of being an entryway into iPhone ownership. One providing consumers with a compact smartphone with most of the modern conveniences of the flagships, but at a very value-oriented price.
For the third-generation model, introduced by Apple on March 8, the company is continuing the tradition of it being an introductory device of sorts. This time, it's a way for people to cheaply upgrade to 5G.
Along with the upgraded connectivity, Apple also made its usual array of upgrades to the internals. This could make the new iPhone SE a good option for owners of the older model, as well as potential switchers.
Here's how the 2020 and 2022 versions of the iPhone SE stack up.
Specifications
iPhone SE (Third Generation)
iPhone SE (Second Generation)
Price (starting)
$429
$399
Dimensions (inches)
5.45 x 2.65 x 0.29
5.45 x 2.65 x 0.29
Weight (ounces)
5.09
5.22
Processor
A15 Bionic
A13 Bionic
Storage
64GB,
128GB,
256GB
64GB,
128GB
Display type
4.7-inch Retina HD
4.7-inch Retina HD
Resolution
1,334 x 750 at 326ppi
1,334 x 750 at 326ppi
True Tone
Yes
Yes
Biometrics
Touch ID
Touch ID
Connectivity
5G (sub-6GHz),
LTE Advanced,
Bluetooth 5.0,
Wi-Fi 6,
NFC
Gigabit-class LTE,
Bluetooth 5.0,
Wi-Fi 6,
NFC
Rear Camera
Single-lens 12MP Wide camera
Single-lens 12MP Wide camera
Video
4k 60fps,
1080p Slo-mo
4K 60fps,
1080p Slo-mo
Front Camera
7MP FaceTime HD
7MP FaceTime HD
Battery Size (Video playback time)
Up to 15 hours
Up to 13 hours
Wireless Charging
Qi
Qi
Colors
Midnight,
Starlight,
(Product)Red
Black,
White,
(Product)Red
iPhone SE Gen 3 vs iPhone SE Gen 2 - Physical Dimensions
While considered a small iPhone, the second-generation iPhone SE wasn't the smallest in the range. The iPhone 13 mini takes that spot by fractions of an inch, but the iPhone SE isn't too far from it.
The Gen 2 model is 5.45 inches tall and 2.65 inches wide, while also measuring 0.29 inches thick. As for its weight, it tips the scales at a respectable 5.22 ounces.
The design of the second-generation SE reused design cues from the iPhone 8, rather than incorporating design ideas you'd see from flagship versions like the iPhone 13. This includes thicker bezels and the top and base, since it doesn't use an edge-to-edge screen.
Apple retains the same device design for the third-generation model, with no discernible external changes on view. It's also precisely the same 5.45 inches tall, 2.65 inches wide, and 0.29 inches thick as its predecessor.
The newer model is, however, a little lighter at 5.09 ounces.
The price of the iPhone SE means Apple won't use more premium materials like stainless steel. Instead, the second-generation model uses aluminum, along with glass panels on the front and back.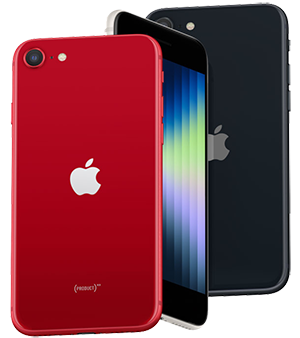 iPhone SE 3
---
The 2022 iPhone SE starts at $429, but wireless carriers are offering aggressive incentives on the budget-friendly smartphone with 5G support.
This tradition continues with the third-gen model.
The iPhone SE isn't meant to be a flagship. Apple's targeting a low price, so you're aren't going to get the company's latest design ethos from the model.
iPhone SE Gen 3 vs iPhone SE Gen 2 - Display
The lack of an edge-to-edge display in the iPhone SE Gen 2 and Gen 3 and the inclusion of a Home button means the screen size is very small compared to the size of the body. Apple used a 4.7-inch Retina HD display in the second, which it retained for the third.
Unsurprisingly, this means you get the same display specifications across both models, including the resolution of 1,334 by 750, a pixel density of 326ppi, a 1,400:1 contrast ratio, and 625 nits of brightness.
Features like True Tone and Wide color (P3) support persist across both models without changes.
iPhone SE Gen 3 vs iPhone SE Gen 2 - Processing performance
While aiming for a low pricepoint, Apple does tend to include a fairly recent A-series chip in the iPhone SE. For its early 2020 launch, Apple included the A13 Bionic, the same chip as used in the current-generation iPhone 11.
That chip is a 7nm hexa-core SoC with two high-performance cores accompanied by four energy-efficient cores. It also used an Apple-designed four-core GPU, as well as an eight-core Neural Engine, and had a total of 8.5 billion transistors.
In 2022, the third generation moves on to the A15 Bionic, as used by the iPhone 13 range. It uses two performance and four efficiency cores with an updated GPU and a 16-core Neural Engine.
Obviously, the A15 is faster than the A13, and you can see this in Geekbench scores for the second-gen iPhone SE versus the iPhone 13.
The Gen 2 SE manages a single-core score of 1,312, the multi-core test gets to 2,818, and it also achieves a Metal score of 7,285. The iPhone 13 scores 1,671 and 4,480 for the single-core and multi-core tests, respectively, and 10,805 for Metal.
Though we may see different results when the third-gen SE gets benchmarked, it's not going to be far off the iPhone 13.
Face it. It's a newer chip. It's going to be faster.
iPhone SE Gen 3 vs iPhone SE Gen 2 - Cameras
Since it is a price-conscious device, Apple put a single camera on the back of the second-generation iPhone SE, rather than opting for a dual-camera arrangement. The iPhone SE Gen 3 effectively has the same camera with minimal changes.
The 12-megapixel Wide camera for both models has an f/1.8 aperture, with optical image stabilization, a 5x digital zoom, and a True Tone flash. Support for Smart HDR photos and Portrait mode with Depth Control and Portrait Lighting are also included.
The only differences here stem from Apple's switch to the A15, which brings with it improved image signal processing. This includes Deep Fusion computational photography enhancements and an upgrade to Smart HDR 4 and Photographic Styles.
For video, the second-gen model could film in 4K at up to 60fps, with 1080p slo-mo at 240fps. Video also benefited from optical image stabilization and a 3x digital zoom, as well as stereo recording.
There are no changes for the third-gen in video, so you're not going to get the iPhone 13's Cinematic Mode here.
Around the front of the second-generation version is a FaceTime HD camera, offering a 7-megapixel resolution, an f/2.2 aperture, Retina Flash, and 1080p30 video recording .
The third-gen, again, uses the same camera, but the image signal processing changes buoy it. That equates to Smart HDR for photos, Photographic Styles support, a 120fps 1080p Slo-mo, and Deep Fusion.
Apple may not have upgraded the cameras, but for the third-gen iPhone SE, it improved what it does with them.
iPhone SE Gen 3 vs iPhone SE Gen 2 - Connectivity
A key feature of the third-gen iPhone SE is 5G, with it providing support for sub-6GHz bands. This does technically mean it connects to 5G networks, but it crucially lacks support for mmWave.
To consumers, they may feel short-changed by the decision. 5G is chiefly marketed with its high-speed connectivity, which means devices have to support what is referred to as mmWave.
Typical 5G networks use mmWave alongside sub-6G bands, with the latter roughly equitable to LTE in terms of range and speed and the former being high-speed but low-range and prone to disruption.
Apple does expressly state the iPhone SE now has 5G, which is true. It can connect to 5G networks, which are faster than LTE. Just not at the advertised blistering pace and not massively quicker than the second-gen could perform.
Why has this been included? Aside from being a marketing point, it's most likely there for future-proofing reasons since LTE networks will eventually die off.
That won't be for quite some time, but for people who use smartphones for many years at a time, it could be a comfort to know it'll keep on working.
Given the nature of 5G rollouts, customers may not have a 5G signal where they live, and mostly likely won't see mmWave. It isn't a problem, as both offer LTE connectivity, with the newest model boasting LTE Advanced support.
On a more local connectivity level, both iPhone SE models support Wi-Fi 6 with MIMO, Bluetooth 5.0, and NFC for Apple Pay. GPS support extends to GPS/GNSS on the second-gen, while the third supports GPS, GLONASS, Galileo, QZSS, and BeiDou.
For physical connectivity, both iPhone SE models still use Lightning.
iPhone SE Gen 3 vs iPhone SE Gen 2 - Battery and Charging
Apple introduced wireless charging in the second-generation iPhone SE, with it compatible with Qi chargers. However, it doesn't use MagSafe, Apple's preferred wireless charging system with a higher charging rate, so it can only do so at up to 7.5W.
Despite the lack of MagSafe, it still offers Qi support and runs at the limited 7.5W.
Naturally, both can also be charged using Lightning. This includes a fast-charge capability, where it can gain up to 50% of its capacity in 30 minutes using a compatible 20W adapter.
For battery life, Apple claims the second iPhone SE can provide up to 13 hours of video playback, up to 8 hours when streamed, and up to 40 hours of audio playback.
On the third, battery life is upgraded to 15 hours of video playback, 10 hours streamed, and up to 40 hours of audio.
iPhone SE Gen 3 vs iPhone SE Gen 2 - Other Features
As they lack a TrueDepth camera for Face ID biometric security, both models use Touch ID via the Home button at the bottom of the display.
Apple rates both models' splash, water, and dust resistance at IP67, equating to being submerged for 30 minutes at a depth of three feet.
iPhone SE Gen 3 vs iPhone SE Gen 2 - Capacity and Pricing
Since launch, the second-generation iPhone SE was offered in a choice of two capacities: 64GB and 128GB. Apple charged $399 for the 64GB version, $449 for the 128GB.
Seemingly acknowledging how users can easily fill up storage, Apple adds a third 256GB option to the existing 64GB and 128GB options for the third-gen. The 64GB model costs $429, the 128GB is $479, and the 256GB is $579.
In effect, Apple has put the prices up of the third-gen iPhone SE by $30 for the 64GB and 128GB models.
Apple offered a choice of three colors for the second-gen model, with White and Black accompanied by (Product)Red. There's no real change here for the third-gen version, except the names are now Midnight, Starlight, and (Product)Red.
Better, but not massively
Apple's update of the iPhone SE is a textbook demonstration of a specifications bump. You're not getting anything new on the outside at all, with all of the fundamental changes happening internally.
This certainly makes sense for Apple to do this for the iPhone SE, as it saves money on not redesigning something that already works.
For what changes there are, they're relatively minor. Switching to the A15 from the A13 will undoubtedly be welcomed by app power users, along with the image processing upgrade that enables computational photography on the model.
The highlight feature of it being the 5G iPhone SE is technically correct but far from the high-speed vision many would have expected. Yes, it does get you onto 5G networks, but aside from signal support, you're not going to see any real benefit here.
Battery life extensions are always welcomed, though there is the feeling that it is more from changing to a more energy-efficient chip than from adding a larger battery.
The lack of MagSafe may be a missed opportunity. But then again, how many people buying the cheapest iPhone in the range will care about getting MagSafe accessories to go with it?
It's hard to recommend the third-gen iPhone SE as an upgrade for second-gen owners. There are a few changes, but it's not really worth the switch unless you want basic 5G connectivity, faster processing, and computational photograph adjustments.
While it's not a massive upgrade from the second-generation version, the third-gen keeps the iPhone SE updated and relevant as the entry-level iPhone on the roster. This is especially true for those upgrading from very old iPhones or tentatively switching from Android.
It's not a seismic shift for the iPhone SE. It's just keeping things modern enough to be useful.
Where to buy
Apple's iPhone SE 3 starts at $429 and is available at wireless carriers, with many offering incentives, such as free gift cards and device credits.
Several also carry the iPhone SE 2, with closeout iPhone deals also in place.
Pick up Apple's compact iPhone at: