macOS 12.3 update causing problems for some PCI-E GPU owners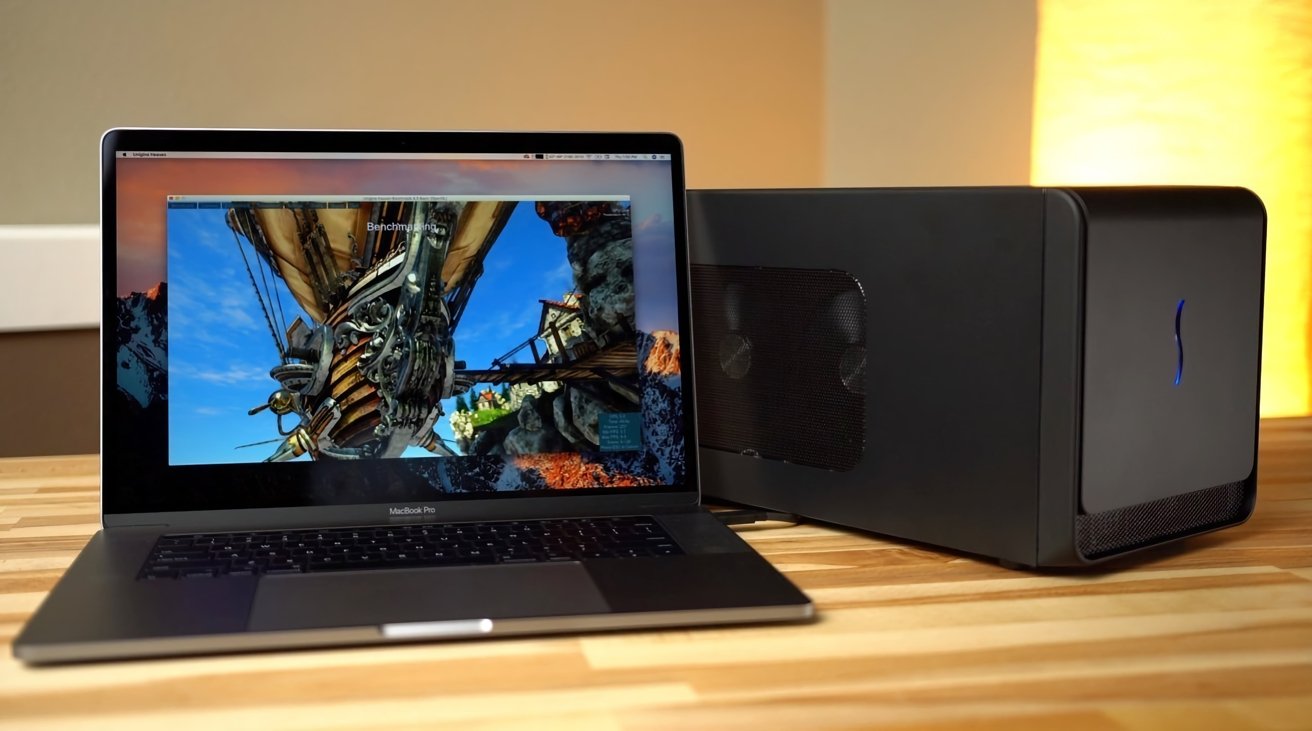 Apple's update to macOS Monterey 12.3 is causing problems for handful of Mac users, with some PCI-E GPU cards not delivering the speed that they used to in not just eGPU enclosures, but in the Mac Pro as well.
Following Monday's update of macOS to version 12.3, AppleInsider received emails from readers complaining that the operating system had stopped working optimally with their graphics card.
One email claimed that following the update, their Mac's processor's integrated graphics ran faster than their "$2,800 W6800X card." In another case, a user found their unidentified AMD RDNA card decreased in performance in a benchmark by 94% after the update.
The issue has seemingly existed throughout the beta process of macOS Monterey 12.3, with a MacRumors forum thread that started on February 2 seeing some users reporting problems. The issues seem to manifest with PCI-e cards both in eGPU enclosures, and some Mac Pro setups.
While a problem for some power users, it doesn't seem to be a widespread issue among those using AMD graphics cards in their workflow, nor with integrated graphics found in the iMac. There are relatively few forum posts and complaints about it, indicating it is only affecting a very small number of users at this time.
Testing by AppleInsider reveals that the performance drop does occur, but not in every instance. Testing in various combinations of GPUs and eGPU enclosures found performance drops in some cases, but not others.
If a PCI-E card is operating at full speed, it will continue to do so regardless of whether it is in a Mac Pro or eGPU enclosure. Varying the enclosure does not make a difference in speed.
After checking with one contact, it was found that Apple's own W6900X MPX module worked fine in their Mac Pro, however, a Sapphire AMD Radeon RX 6900 XT worked at about half-speed in the same system.
Further points of contact have said that their RX 6900 XT cards were functioning fine.
Apple provides the drivers for AMD video cards, not vendors. The testing and results strongly suggests there is some form of driver issue occurring with the latest update. This would be something that could potentially be solved in a software update, though Apple has yet to acknowledge the problem exists.
AppleInsider recommends that, if you use a Mac with a graphics card in some form, and employ that card in a mission-critical working capacity, to hold off from the macOS 12.3 update until Apple addresses the issue, or until more data is collected about what is impacted.