Hands on: Tandem t:slim X2's iPhone connected insulin delivery feature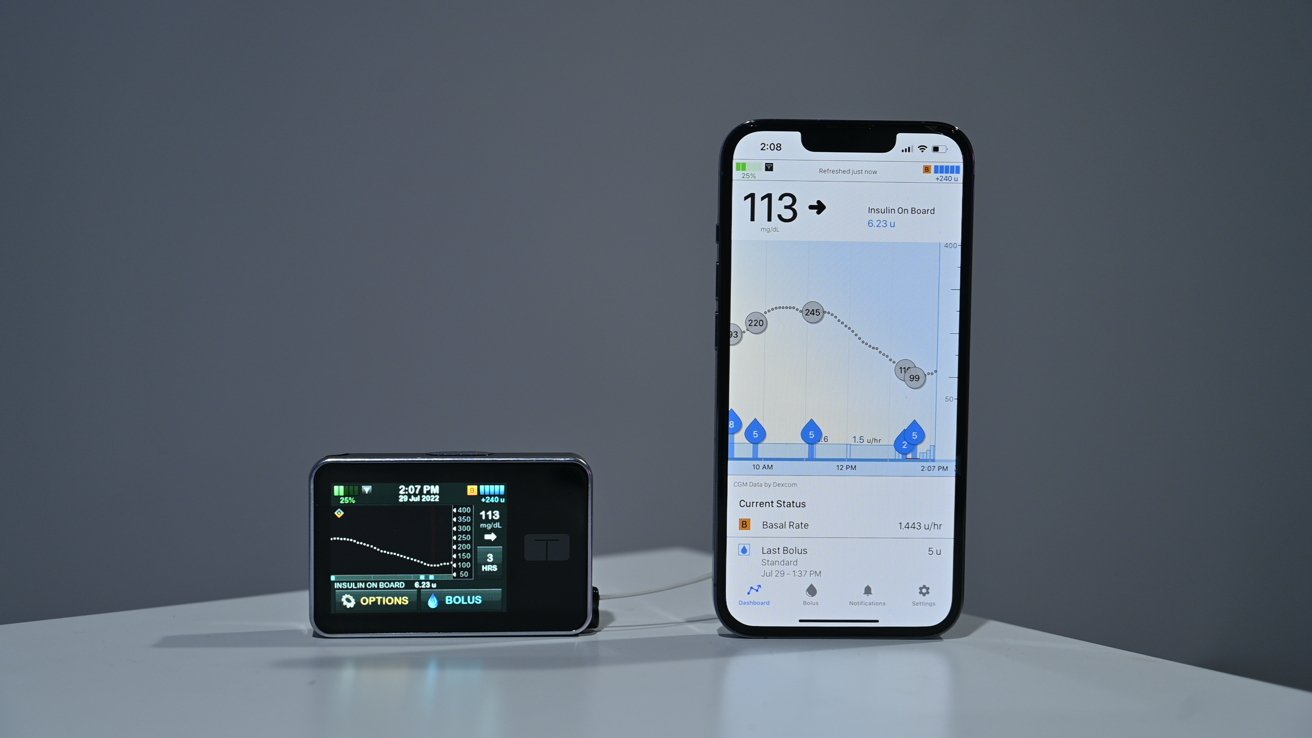 Tandem has finally made its long-awaited app-based Mobile Bolus feature available to insulin pump users thanks to a newly-released set of updates. We tried it ourselves to see how the first app-connected insulin pump works.
As highly-regulated, life-saving devices, insulin pumps tend to be a bit behind the times. They're utilitarian devices and didn't get full-color touch screens until just a few short years ago.
The ability to view your blood sugar, your pump status, and — if necessary — deliver a manual insulin bolus from your phone has been a long time in the making. It's a big step into modern life.
After being first approved by the FDA in February of 2022, the update is now available to users.
Our devices
I've been a Type-1 diabetic for roughly a decade. I thought I was in the clear, not showing symptoms of this generic disorder until I was in my early 20s. Type-1 diabetes is usually called juvenile diabetes and has a much higher chance of inflicting kids than adults.
It's Type-1 diabetics like me that most commonly rely on insulin pumps as we're almost entirely insulin dependent. My pancreas creates little-to-no insulin, forcing me to dose insulin by manual injection or via an insulin pump.
I've been using the Tandem t:slim X2 insulin pump which is — so far — the only compatible model with Tandem's new Mobile Bolus feature. Tandem has announced its new Mobi pump that will have no screen and rely entirely on the mobile app to deliver insulin due in late 2022 or early 2023.
I'm also using my iPhone 13 Pro for this testing. Many recent iPhones are supported, all the way back to the iPhone X. For Android users, it is a bit grim. Only select Samsung devices released in the last couple of years have support.
Updating our devices
To use the new Mobile Bolus functionality, you need the Tandem Mobile App version 2.1.3 (or newer) and version 7.6 of the t:slim X2 software.
The T:Connect app update is free from the App Store, but you need to complete a series of training modules before the pump update will become available.
These modules walk you through everything you need to know about the Mobile Bolus feature. How to update your pump, how to deliver a bolus, how to stop a bolus, and plenty more. This is crucial and likely required for regulatory reasons so that anyone who uses this has a solid understanding.
I don't think about being tethered to a pump 24 hours a day, seven days a week anymore, but it's crucial to remember that insulin is critically important. Too little or too much can have life-endangering impacts.
Once I finished my training, Tandem emailed me a unique verification code tied to my pump's serial number. I then entered that into the Tandem updater app for Mac and it was on its way.
It's worth noting that during the update process the t:slim X2 restarts multiple times and you'll have to use a new cartridge when you restart it.
Finally, the ability to deliver insulin from our iPhone
I've been waiting for this day for a long time. My Dexcom G6 continuous glucose monitor (CGM) — a longtime stage partner of Apple — has worked with my iPhone and Apple Watch for years and I've been eagerly waiting for the day when I could manage my pump from there as well.
Having to use the pump by itself has always been cumbersome. It isn't always easy to get the pump from your pocket and it can be conspicuous to use.
With the new update, you can deliver insulin direct from the app. You tap the bolus button and can set exactly the amount of insulin you need to deliver, like before a meal.
If using the Dexcom CGM with the t:slim X2, the Tandem mobile app will automatically pull in your current blood sugar reading. It will then use this to calculate any correction whenever you give yourself insulin.
For example, if your blood sugar is trending low and you are about to bolus for a meal, the Tandem will decrease the amount of insulin to help prevent further lows.
Alerts from your pump are displayed on your phone too. If there is an occlusion, your insulin runs low, the battery is low, or ControlIQ has increased your insulin due to high blood sugar you can see the alert from your phone, rather than having to dislodge your pump from your pocket.
You already have your phone readily available alongside your Apple Watch. The combination of Mobile Bolus, notifications, and pump information provides a far better experience than the pump alone.
Everything isn't perfect with this new implementation. You still have to clear alerts directly from the pump, and extended boluses also aren't able to be programmed from the phone.
But this new update shows a ton of progress that diabetics can feel legitimately feel excited about.
Tandem t:slim X2 cost and availability
The Tandem t:slim X2 has been on the market for a few years and has continued to receive software updates. Without insurance, the retail out-of-pocket cost with a prescription is around $4,000. What you pay out of pocket varies, based on the coverage you have — or don't have.
For existing Tandem t:slim X2 owners, the online portal has the training for the update.