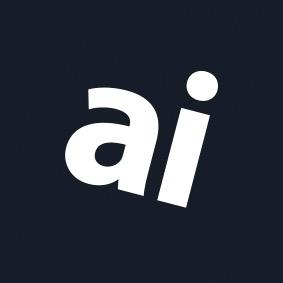 Why you can trust AppleInsider
Eve Aqua (3rd-gen) review: Upgrades all around for this Thread-enabled spigot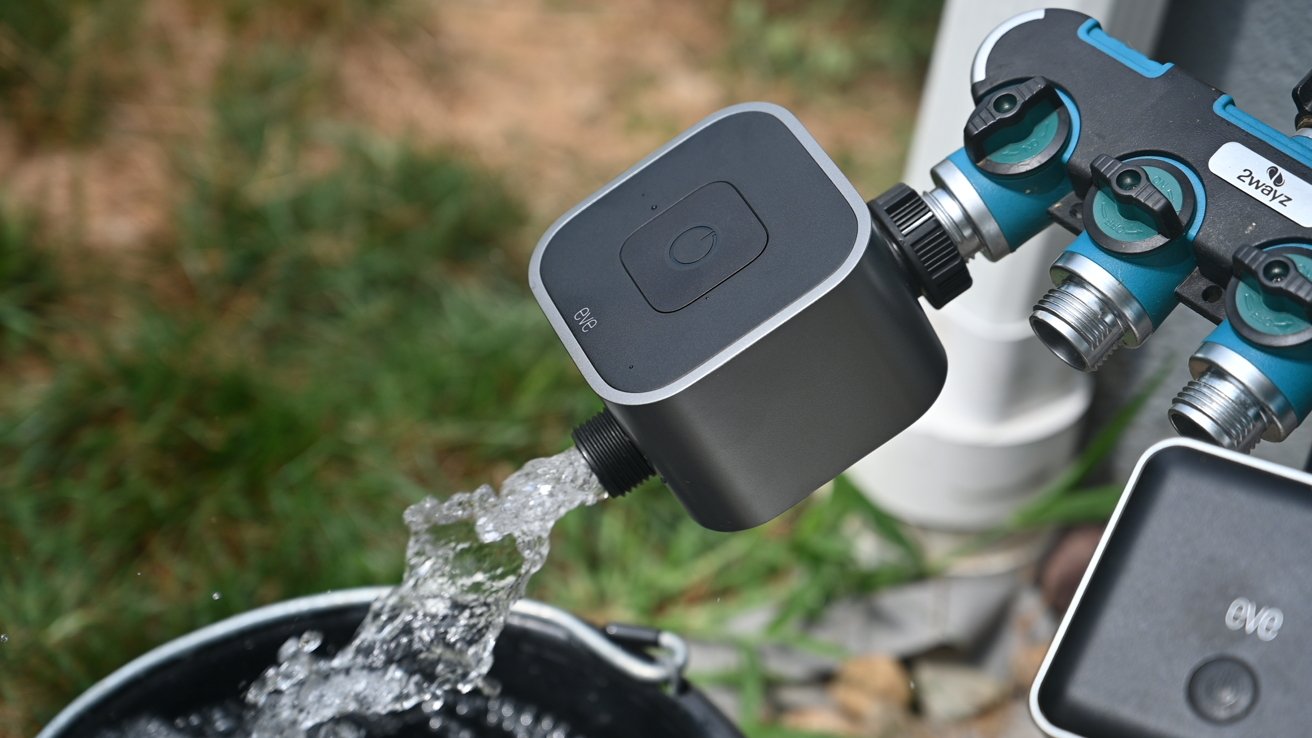 Eve Aqua (3rd-gen)
4.5 / 5
---
The new third-generation Eve Aqua has a fresh design, Thread support, and works exclusively with HomeKit. Here's how it works, and how it's different than older models.
Recently, Eve has been on a roll. It has been hard at work updating its portfolio to support Thread as well as refreshing its more dated products.
The second generation of the Eve Aqua supported Thread as well but the new model has a new look, silent magnetic valve, improved durability, and other improvements.
Updated design
Eve has refreshed the design of the Eve Aqua, keeping roughly the same shape but otherwise overhauling the entire thing. It has a sleek space gray finish with a matte black front.
A single button sits on the front for manually water control. The button looks large, but it is only outlined by a large square and the button is much smaller in the center.
One of the bigger design changes was moving away from the aluminum body of the first and second generation devices for plastic. The space gray coat isn't metal, but painted plastic.
Looking at it on its own, it looks great but when you hold it, the plastic feels notably cheaper than the metal. It doesn't feel as solid or as premium as it used to. If you were familiar with the old units, it may feel a little disappointing in comparison.
While the body migrated from metal to plastic, the fitting has went the opposite way. The cheap plastic connector that would slip is gone and has been replaced by a strong brass fitting instead.
The new fitting still has a plastic exterior, but the all-important interior is metal. This should allow a stronger fit on your faucet. In our testing, it went on easier and stronger but our backyard spigot still had the occasional drip.
A pair of AA batteries runs the Eve Aqua, located on the inside. There's no button to press, the top and bottom simply I slip apart from one another.
There is a column in the middle with a cover where the batteries live. It was a bit difficult to open this cover and the graphical instructions printed on the cover didn't help much.
We had to both lift it up and pull forward before we could slot the batteries in place. Once they were in, it was trivial to place the cover and put the two halves back together.
When the device is open, you can see how much smaller the control system was. Eve says they have a new magnetic mechanism that is dead-silent when operating. As we operated the switch, we didn't hear a thing.
Thread support
This isn't the first Eve Aqua to support Thread. Eve released a second-generation version in 2021 with Thread support but no design changes.
With Thread connectivity, your devices create a singular mesh network across your home. The network is able to self-heal itself in the event that a device should go offline.
The more Thread devices you have, the most robust and reliable your Thread network should be. Thread devices can be categorized as one of three types. They can be border routers, routers, or endpoints.
In Apple Home, your Apple TV 4K or HomePod mini will act as your border router, connecting your Thread network to your home's network. Standard Thread devices typically have a wired connection to power and repeat the Thread signal, extending the network. Endpoints are often battery powered and connect to any of your Thread routers.
The Eve Aqua qualifies as a Thread endpoint. It is powered by those AA batteries so it doesn't have the power capabilities to be a router.
Most users won't need to see the details of their Thread network but you can via the Eve app. Inside of the Eve settings, you can see all the Thread devices on your network and the role they play.
We can see our Eve Aqua is connected to our HomePod mini which is the closest routing device. The signal is able to connect, even through the brick walls of our home.
For an outdoor device, Thread is ideal. Wi-Fi struggles going through walls and may not reach your exterior devices — depending on you router placement. Bluetooth is a poor solution as well as it needs to reach your Home Hub and can't be extended.
In our testing, we never had a connectivity issue plague the new Eve Aqua or the last-generation Thread version.
HomeKit control, as always
Like the entirety of the Eve lineup, the new Eve Aqua supports Apple Home exclusively. Soon, that will expand to support Matter as well, but as of now it's only for users in Apple's ecosystem.
By supporting Apple Home, the Eve Aqua can be controlled from any Apple device. You can turn your water spigot on and off from your iPhone, Apple Watch, Apple TV, HomePod mini, iPad, or Mac. This includes your voice by summoning Siri.
The Eve Aqua can also be built into any smart home scenes or automation routines that you have. You may not have the need to tie your Eve Aqua into any scenes involving lights but you could synchronize all your sprinklers together.
With one scene, you could water your front yard, back yard, raised gardens, and flower beds all at once with each Eve Aqua running for a different duration.
The Home app is fairly limited when it comes to watering devices. You're able to to turn it on and off as well as adjust the default run duration. Beyond that, you'll have to turn to third party apps, such as Eve's.
Extra features of the Eve app
We mentioned this as much in our recent Eve Motion review, everything that Eve does is done via Apple's HomeKit framework. No outside servers or services are employed.
There are several features in the HomeKit framework that Apple doesn't expose in its own Home app, for one reason or another. Luckily third party apps and accessory makers can add these features into their own apps while staying completely compatible with Apple Home.
In the case of the new Eve Aqua, the biggest addition to the Eve app is the ability to create schedules for routinely watering your plants. This app also shows you your estimated water usage and when it was last run.
You can create up to six watering programs with multiple watering periods within each. Maybe water every other day in the morning for 10 minutes and water every other evening for 5.
Each watering program can have seven water periods contained inside of it. In total, that would allow the Eve Aqua to water your plants up to 42 times in a week.
Many watering systems allow the ability to tap into the weather to automatically delay your watering schedule. The Orbit B-Hyve for example will pause your watering for the day if rain is expected in the next 24 hours.
Apple Home doesn't natively support this and would require external servers to pull off. To skirt this, Eve has come up with a great way for you to suspend your schedule.
Apple Shortcuts
By installing a custom Shortcut, you can manually or automatically suspend your schedule for the day or the following day. The Eve app allows a one-tap method of installing these Shortcuts.
Once installed, you can run this Shortcut by adding it to your Home Screen, creating a widget, using Siri, or tying it into an automation. This includes combining it with other Shortcuts you already have.
We use a "good morning" scene in our home that will open shades, turn on the lights, and lets us know if we have anything on the calendar. We just tied this new Shortcut into that one so our Shortcut will now do all of that, as well as possibly pause our garden schedule.
If you don't want to manually run it, you can also schedule a Shortcut to run at a predetermined time each day.
This isn't as easy as automatically happening in the background, but at still accomplishes the same thing.
Should you buy the Eve Aqua?
There are a ton of use cases for the Eve Aqua. We use several here at our home to automate all of our watering.
We control soaker hoses throughout our front garden beds to ensure our plants that we spent ours putting in don't dry in our dry summer. We also run a set of custom sprinklers above our raised fruit and vegetable garden beds. Then we have a Gardena drip system for our herbs.
There are other timers out there but very few that support Apple Home and even less that support Thread. If you want the best wireless connection alongside a sleek design and rock-solid HomeKit support, then Eve Aqua is your answer.
Eve Aqua (3rd-gen) pros
Sleek, space gray appearance
Support for Thread and HomeKit
Will be updated to support Matter
Silent operation
Brass fitting is more secure than old plastic one
Easily available AA batteries
Weather resistant
Gradena adapter included
Unique ability to pause watering schedule via Shortcuts
Eve Aqua (3rd-gen) cons
Ditched aluminum for plastic
Not cheap
Fidgety battery compartment
Rating: 4.5 out of 5
Where to buy