Apple's privacy features enabled its ad sales to rise as Meta's fall
As Facebook saw its share of advertising revenues drop to 28% of the market after the launch of App Tracking Transparency in iOS 14, Apple's own ad share rose to 15%.
Advertisers have already said Apple's ad sales team is benefiting from the company's privacy features. Plus it's been reported that Apple is looking to almost double its number of ad sales staff, even as the rest of the firm slows down recruitment.
Now a new report from performance marketing analysis firm Appsumer, has broken down the figures for Apple's first year since the introduction of App Tracking Transparency (ATT). The report compares ad sales data for Meta, Google, and Apple's Search Ads (ASA).
"The key headline is the comparison between Meta and Apple Search Ads' (ASA) advertiser adoption and share-of-wallet changes YoY," says the report. "ASA joined the duopoly of Meta and Google at the top table of advertiser adoption as it grew adoption nearly four percentage points YoY to 94.8%, while Meta adoption declined three percentage points to 82.8%."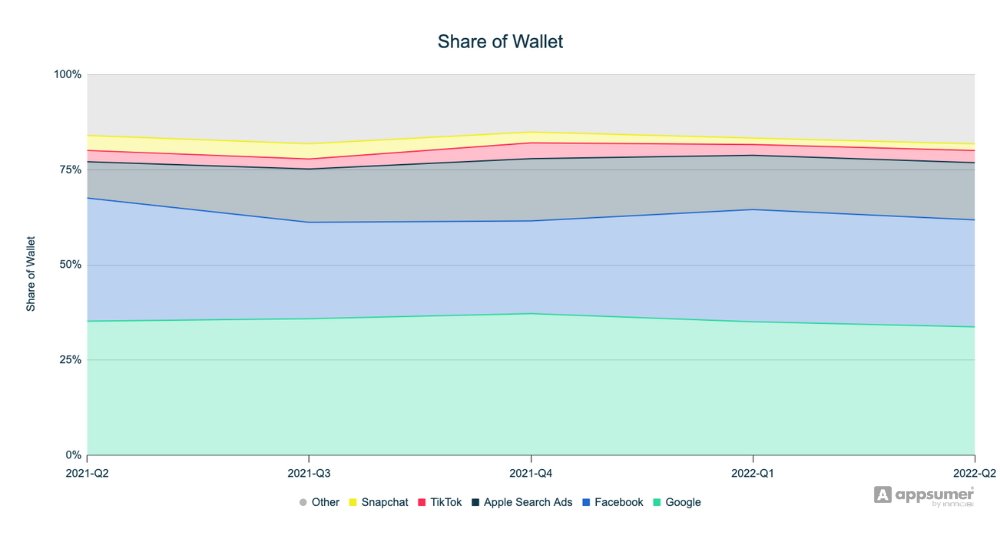 Appsumer also tracked what is described as "share of wallet." This is the amount that a current customer spends regularly on one particular firm, rather than always shopping around.
"This trend also played out with share-of-wallet as ASA gained five percentage points YoY reaching a 15% share," continues the Appsumer report. "Meta declined four percentage points YoY, still finishing significantly ahead with a 28% share."
The report notes, though, that "Meta also recovered share-of-wallet when comparing Q4 21 to Q2 22," and suggests that this means the company is "starting to recover from initial ATT headwinds."
There is also an issue of how Apple can continue to grow its advertising business when it is chiefly limited to search ads. This is an issue because opportunities for advertising sales are constrained because they depend on showing ads only when a user searches the App Store.
"ASA is constrained in inventory by search volume on the App Store," says Appsumer. "However, it's worth keeping an eye on rumors that Apple could soon be launching their own [demand-side platform], which would provide more inventory with the benefits of Apple's first-party data for targeting and measurement."
A demand-side platform is a system by which ads are not sold at a fixed amount, but rather bid on by advertisers based on what it knows about what the viewer in question wants to see. Google also offers a demand-side platform.
This would give Apple more potential spaces for adverts, and with advertisers having to bid to get those slots, is likely to be highly profitable. A separate report recently predicted that by 2025, Apple's advertising business could rise to $6 billion from the estimated few hundred million dollars in the late 2010s.