Spigen's MagFit collection will protect your iPhone 14 with style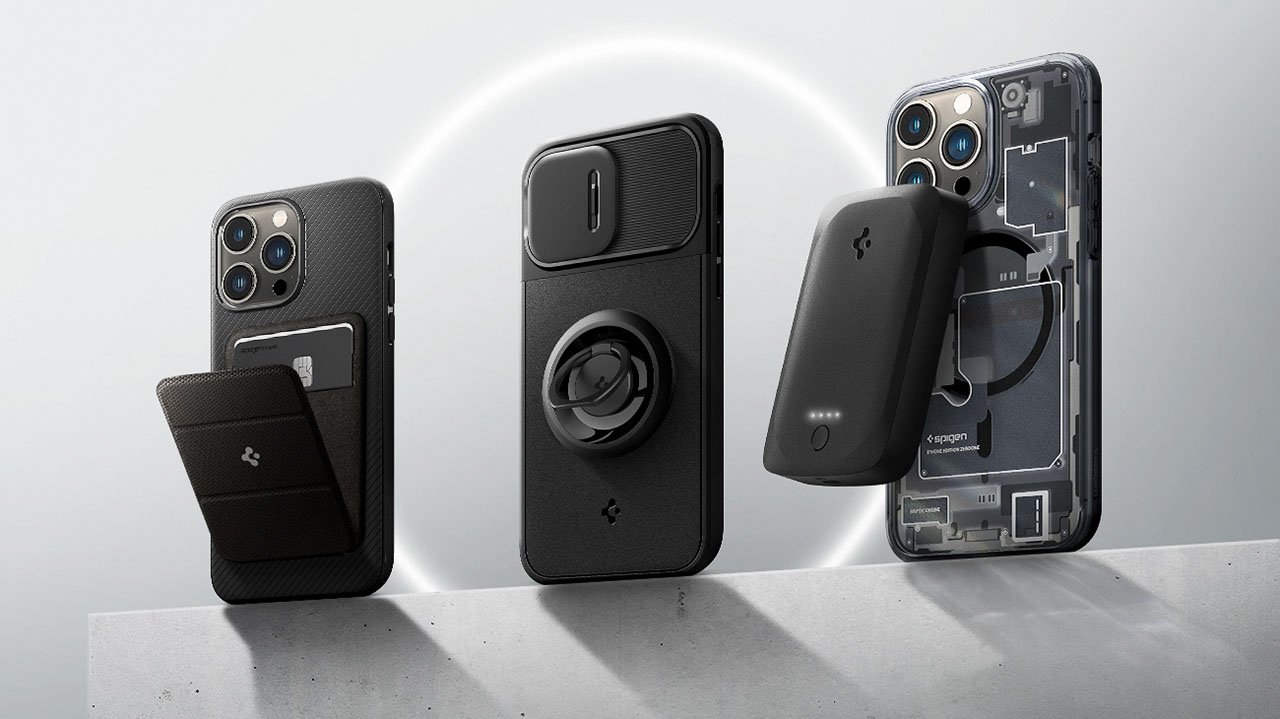 AppleInsider may earn an affiliate commission on purchases made through links on our site.
Spigen's new lineup of iPhone 14 cases combines classic covers with a new MagFit Collection, offering clean designs while opening up a new level of functionality to users.
With Apple's unveiling of a new generation of iPhone models, Spigen has introduced a new range of accessories tailored for the iPhone 14 series of devices.
For 2022, the collection focuses on MagSafe, with many new and revamped accessory additions designed to be as sleek, smart, and functional as possible.
MagFit: The Cases
Spigen has almost a decade and a half of experience making cases for smartphones, allowing it to optimize its expertise and distill its knowledge into a diverse range of cases. A collection that will help unlock the world of MagSafe for users.
Ultra Hybrid MagFit Zero:1
Intended to be a fan favorite for iPhone users wanting to show off the performance of their iPhone, the Ultra Hybrid MagFit Zero:1 offers an aesthetic that gives a glimpse into the insides of the iPhone.
Coming soon, the unique design gives the appearance of a transparent iPhone back cover, an excellent option for those who want to display their Apple affiliation proudly.
Tough Armor MagFit
Spigen's most iconic case, the Tough Armor MagFit offers robust protection using its Extreme Protection Tech while keeping its sleek form factor.
As well as being impressively protective, it's also extra helpful by including a built-in kickstand for impromptu Netflix sessions.
Rugged Armor MagFit
If you want a case that will protect your iPhone from most everyday hazards, the Rugged Armor MagFit will be for you. The case offers a more robust look and feel for its 10th-anniversary release, using the same Extreme Protection Tech as the Tough Armor to absorb and dissipate shock, as well as new reinforced corner bumpers.
Using a matte black aesthetic to make it look more impressively tough, the case continues to use the carbon-fiber accent that has been part of its design since the start.
Optik Armor MagFit
Arriving soon, the Optik Armor is joining Spigel's iPhone 14 case lineup for the first time, with the express goal of saving the camera. Key to this is a sliding cover that moves over the entire camera bump and lenses, which can slide out of the way for taking photos and video. Rather than just protecting the body, it also does the same for the camera system, something many other cases barely consider.
MagFit Ecosystem
One of the critical features of MagSafe is its ability to attach accessories to the case or the iPhone magnetically. MagFit's ecosystem takes this onboard, with Spigen creating several accessories designed to take advantage of the system and provide extra functionality.
MagSafe Wallets
Aimed at reducing the bulk of user pockets, Spigen's MagSafe Wallet collection is designed to attach to the back of the iPhone, so you don't have to cart around a hefty wallet in your pocket.
The Smart Fold Wallet draws inspiration from Spigen's iPad collection, with the magnetic wallet using a trifold cover. With some folds, the cover element can turn into an iPhone stand for both portrait and landscape orientations, with the latter able to do so while holding the iPhone off the surface entirely.
The Rugged Armor Wallet uses the signature carbon fiber look of the case series but fashions it as a sleek and sturdy card holder. With strategic slots for your fingers, you can quickly slide your payment cards out of the wallet, whether it is attached to an iPhone or not.
O-Mag Ring
A new addition to the lineup for 2022, the O-Mag Ring is a magnetic phone grip you can attach to the back of the iPhone. Using sturdy magnets, it can securely hold onto the iPhone but still remains removable at any time.
The O-Mag Ring makes for a steady finger grip that also doubles as a kickstand, with a flat edge allowing you to place it on a table or surface in landscape orientation.
ArcHybrid Mag
We could all do with more power for our devices, and while the iPhone can last an entire day of typical use, sometimes you just need to go for longer.
The ArcHybrid Mag is a portable battery pack that attaches to the back of your iPhone. Sticking in place and using a rubber coating for traction, the unit transfers power to the iPhone using its MagSafe connection, enabling you to keep the iPhone topped up throughout the day.
Beyond iPhone
While MagFit is centered mainly around the iPhone and MagSafe, Spigen's accessory range covers more of Apple's ecosystem. With the Apple Watch Series 8 announced at the same time as the iPhone 14, this is a perfect time to get an accessory for the smartwatch.
Tough Armor Apple Watch 8
Matching the mobile case, the Tough Armor provides heavy-duty protection for the Apple Watch Series 8. Using double-layered material and tempered glass, it can save the Apple Watch from scratches, knocks, bumps, and other impacts.
It's also a natural way to coordinate your iPhone and Apple Watch with a similar appearance. All you have to do is add an EZ Fit Screen Protector to your iPhone, and you're good to go.
Spigen's extensive MagFit collection is available to browse now, including options to purchase and preorder from Amazon. Check out the collection and other Spigen accessories that will work with the rest of the Apple ecosystem now.