Hands on with the Oceanic+ app and Apple Watch Ultra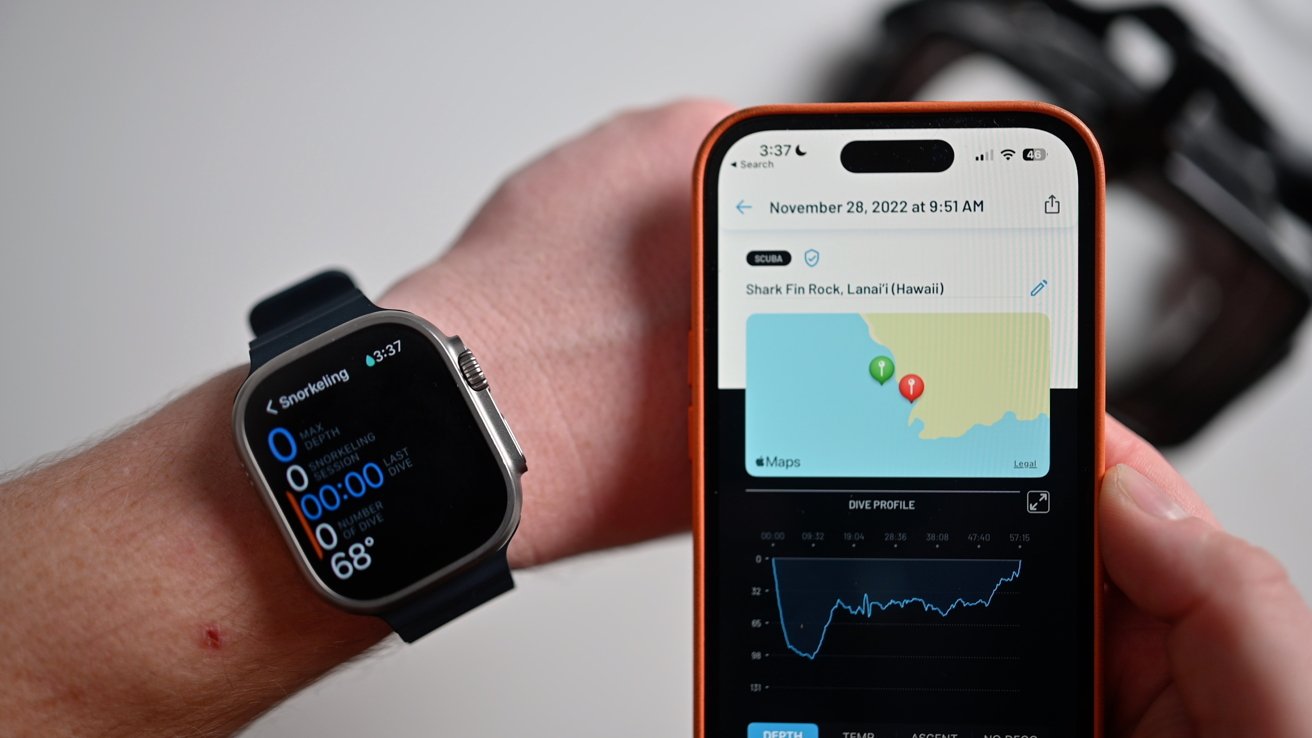 After being announced on stage alongside the Apple Watch Ultra, the Oceanic+ app is now available on the App Store to download. Let's go hands-on to test it out.
One of the more unique aspects of the Apple Watch Ultra is its ability to function as a full-blown dive computer for recreational divers. Apple didn't undertake the software side of this, instead relying on third-party devs to deliver this experience.
The first of which is the Oceanic+ app. It was unveiled during Apple's fall event with a promise that it would hit the App Store before year's end — and the company has followed through.
With a maximum working depth of 40 meters, the Apple Watch Ultra is designed to handle the increased pressure that recreational dive computers have to feel. No other Apple Watch has this functionality.
Before even getting into the app, Oceanic+ offers seven different complications that can be added to a watch face. There are different styles of complications, some that only work in certain positions.
The complications can show time to fly, max altitude, launch Oceanic+, planner, settings, and surface time. Some support the small complications, while others support corner complications.
Once you launch the app, you can use it for snorkeling for free. It will display how many dives you did that session, the water temperature, the total duration, and your max depth.
For snorkelers, this will be a helpful accompanying app to get data that many dive computers would overlook, such as how many times you dip down. There's only a fee if you'd like to use the Oceanic+ app for diving.
Oceanic offers three subscription options for users. There is a one-time-only day pass for $.99 to try out the app, a $9.99 monthly choice, and a variable-rate yearly option.
The monthly option will be most common for your typical diver who only makes it out a few times a year. You can subscribe during vacation and stop your subscription when you're done rather than pay all year long.
The yearly sub is $79.99 for a solo user or $129.99 for family sharing. This is going to be ideal for avid divers who are constantly hitting the water.
Be prepared
Ahead of any dive, a degree of planning takes place. Oceanic+ aids with that.
One thing that needs planning is the location. With Oceanic+, you can put in your planned dive location to see all the relevant information for your dive.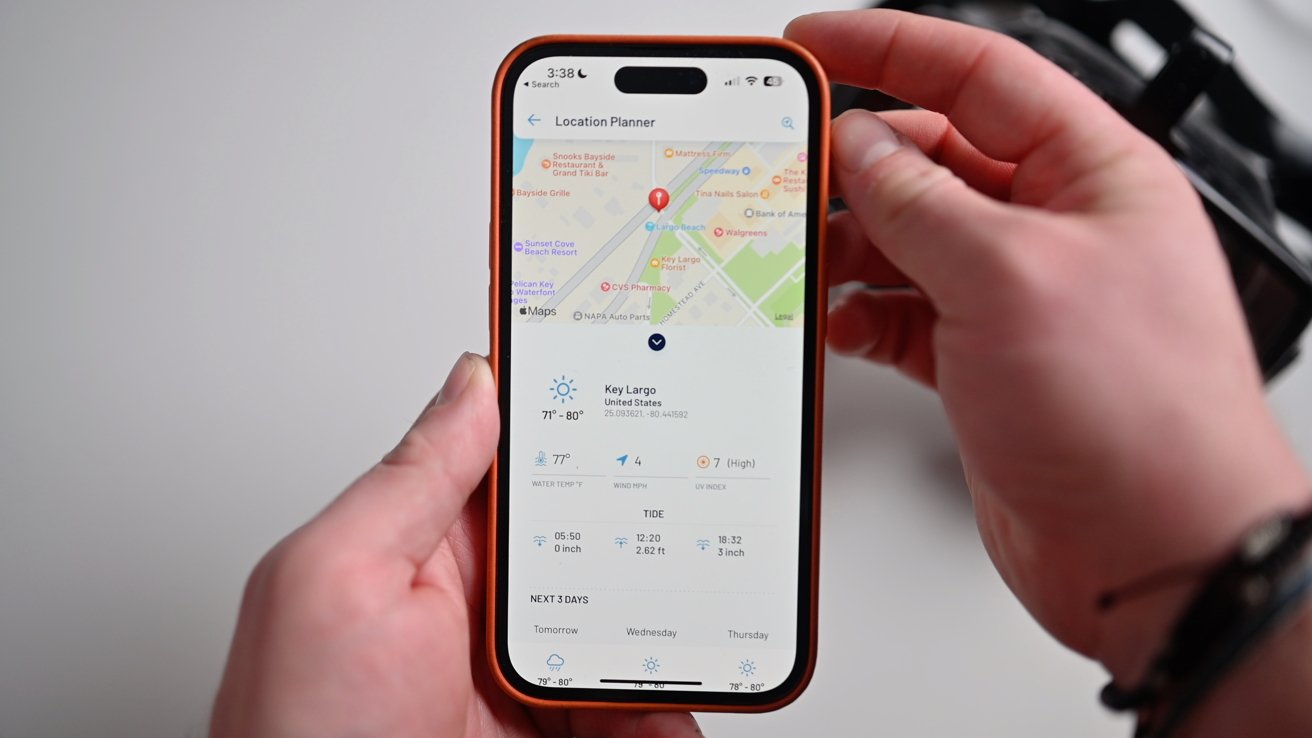 It can display the water temperature, wind speed, UV index, tide, and a three-day forecast. If you aren't diving near where you live, this is essential to make sure you don't have an unexpectedly bumpy ride to your dive site.
Then there is your no decompression limit planner. The no decompression limit is how long a diver can stay at a given depth, so inputting your next dive and how deep you plan to go will let you know how long you can stay down.
For example, we can stay at 60 feet for 42 minutes without a recent dive logged. Once you log a dive, the algorithm will consider that — alongside your air type — when calculating your bottom time.
During your dive
The Oceanic+ app can automatically start logging a dive as soon as you jump into the water. This is a setting you can toggle on at the first launch of the watch app.
Experienced divers will be familiar with all of the info Oceanic+ will show during a dive. You'll see your depth, no decompression limit, dive time, min to the surface, and water temperature.
There's also a built-in compass. The compass has 3D tilt compensation, so regardless of how you're oriented underwater, it will still point you in the right direction.
For alerts, the app uses both colors and taptic feedback to get your attention. It can alert you for a too-rapid ascension rate or your safety stop.
If a safety stop is required, it will tap you at the 15 feet depth and count down your three-minute duration. If you rise too quickly, an alert will appear, and it will vibrate your wrist.
The only problem we see is if you have something thick, like a 7mm wetsuit or long gloves over top of a wetsuit. The Apple Watch Ultra doesn't have a strong enough Taptic Engine, so a wetsuit will greatly inhibit your ability to feel them.
Post-dive check-in
Once you've emerged from the water and gotten to a dry enough shelter where it is safe to retrieve your iPhone, you'll see your dive sync to the accompanying iOS app.
It will be recorded into your dive log and automatically pull in much of the info you'd typically have to enter manually. At the top will be a map — using Apple Maps, of course — showing your entry and exit points from the water.
Below you'll find four charts that profile your dive. One chart shows depth, a second shows the water temperature, a third ascension rate, and the last with your no decompression limit.
All are shown throughout the dive. It's cool to see, as an example, how the temperature drops as your depth increase. The thermocline will do that.
Your dive profile also records your dive duration, max ascension rate, minimum temperature, and maximum depth.
Your log allows you to record other relevant dive info. There are three sliders to record visibility, surface conditions, and the water current. It even has a list of possible dive types to categorize it, such as wreck, wall, freshwater, et cetera.
Huish Outdoors, Oceanic's parent company, also includes a lengthy list of dive gear you can specify. The issue is the list is a bit limiting, not including every brand or piece of equipment on the market.
It only allows you to include other pieces of kit that are explicitly mentioned. So if you wore something like the Scuba Pro computer with the heads-up display, you couldn't include it in your gear list.
Finally, you can log any notes or dive buddies you may have had.
Available now
Some have balked at the idea of a subscription model compared to a standalone dive computer. This is understandable, as many don't like how apps are monetized.
Huish Outdoors does not benefit from the Apple Watch Ultra hardware sale. Putting a high price tag on the app would limit casual divers from trying the app out. It also isn't ludicrously priced.
Many dive computers are sitting between $300 and $400 as a one-time purchase — but can't be worn as daily watches. They may lack Bluetooth connectivity features and aren't as convenient as the device already on your wrist.
You could buy a regular Apple Watch and dive computer — starting at almost $800 — or you could buy just the Apple Watch Ultra and pay for the app when needed.
Comparable dive computers to the Apple Watch Ultra include the Garmin Descent MK2, priced at $1,400. You could purchase an Apple Watch Ultra and pay for eight years of the Oceanic+ app for less than the MK2.
Regardless, the app is well-designed, easy to use, and provides a wealth of information for novice and frequent divers alike.
The Oceanic+ app is available now for free from the App Store.