Apple Watch Ultra
Apple Watch Ultra is Apple's new high-end wearable built for extreme activities in harsh environments. It has a titanium body, dual-frequency GPS, a depth gauge, and a rugged design. This watch offers everything an explorer, diver, or long-distance runner may want in a wearable.
● 49mm display
● Titanium
● Dual-band GPS
● Action Button
● Alpine Loop, Ocean Band, and Trail Loop
● Available for $799
---
Get Apple News Directly in Your Inbox
---
Apple revealed the Apple Watch Ultra during its Far Out September event in 2022. It acts as a new product class above the Apple Watch Series 8, with features and design aspects that set it apart.
It was built with harsh environments and extreme activities in mind. Diving into the ocean, climbing the face of a freezing mountain, or hiking through a desert were all shown as expected niche use cases for the rugged watch.
While some rumors speculated Apple would position this device as a pro watch for anyone, it is clear that this watch was developed with a heavily defined audience. While anyone can buy the Apple Watch Ultra and take advantage of the features, most people will never stress-test its limits.
Rumors have already begun about the second-generation Ultra. It could be the first Apple product to get MicroLED, which is a technology more advanced than the OLED used today. Less reputable leakers suggest Apple could increase the display size to 2.1 inches, but that seems unlikely in a second-generation product.
Apple Watch Ultra Features
Apple differentiated its extreme Apple Watch with a large titanium case, several new sensors, and a large 49mm display. While it is more expensive and targets a specific audience, it is still a fully functional Apple Watch with all the same health sensors as Apple Watch Series 8.
Design
The Apple Watch Ultra has a titanium enclosure available in only one color — a natural silver tone. The Action Button is international orange, and the Digital Crown has an orange ring.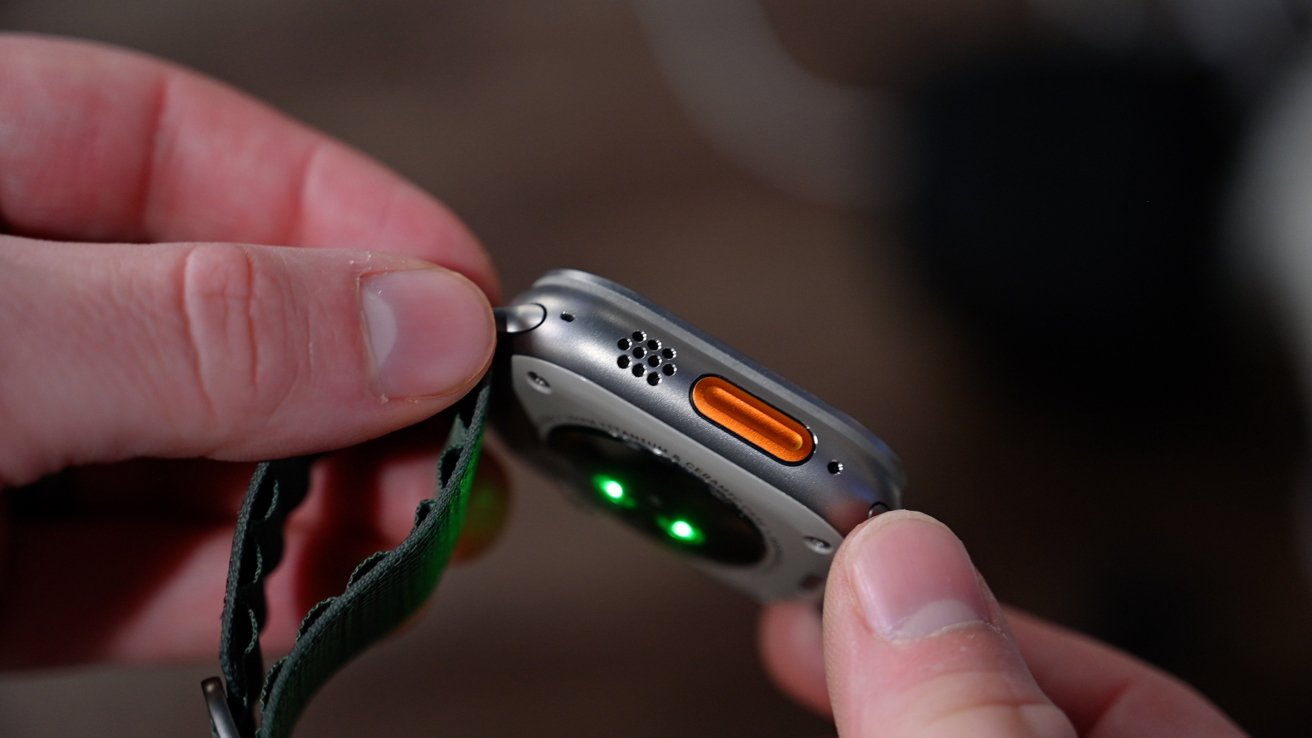 A raised surface protects the display, with the raised material acting as an antenna band. The 49mm display is protected by sapphire glass that is resistant to impacts and scratches.
The Digital Crown is bigger with large grooves, and the Side Button sticks out from the case. This ensures easy-to-use controls even when wearing gloves.
The watch can withstand a wide range of temperatures from -20 degrees Celsius to 55 degrees Celsius. It also has a deeper dive certification of 100 meters.
It meets the MIL-STD 810H certification standard. Apple tested it against subsections for altitude, high temperature, low temperature, temperature shock, immersion, freeze/thaw, shock, and vibration.
Display
The 49mm watch has a 410p by 502p display covered with sapphire glass for protection. It can get up to 2000 nits of brightness to ensure content is visible in direct sunlight or deep underwater.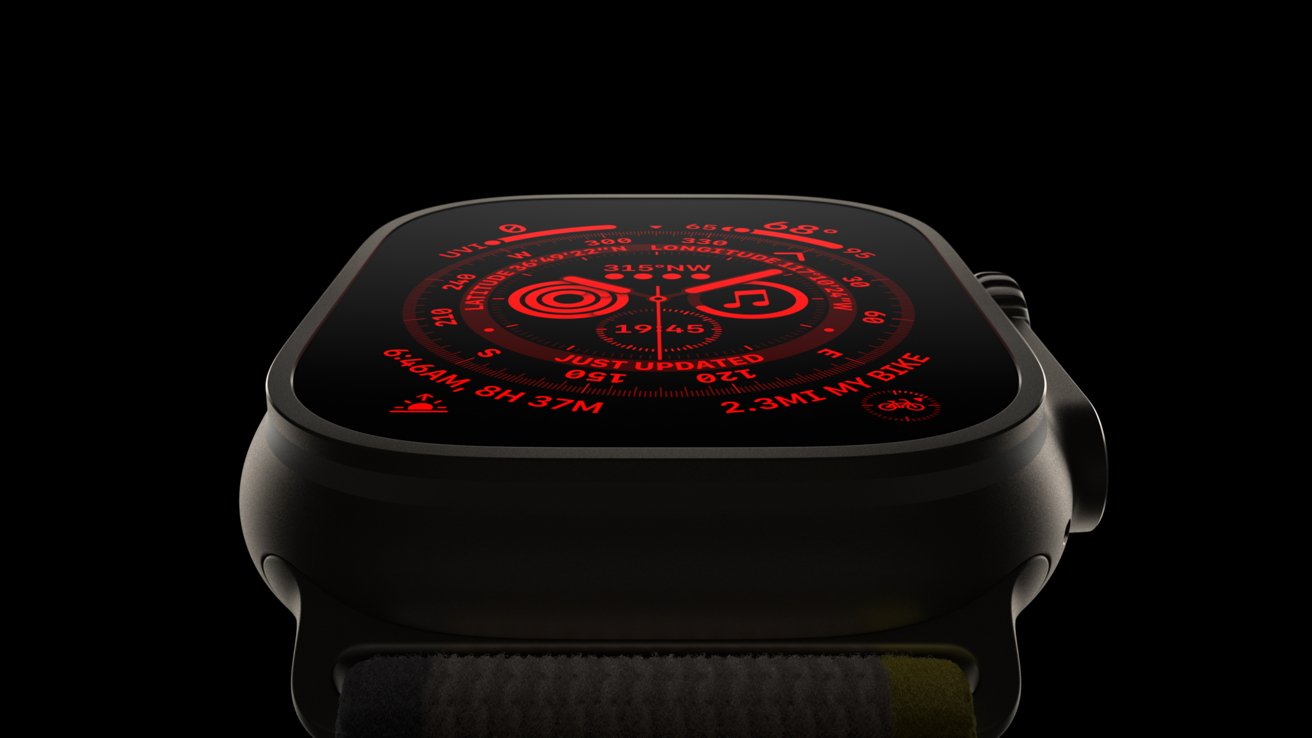 Apple introduced the Wayfinder watch face, which can be customized depending on the activity being performed. Turn the Digital Crown to activate night mode when using the Wayfinder watch face.
Night mode turns the elements on the watch face to a bright red color and removes anything that would emit harsh blue light. Red keeps the user's night vision from being impaired, so their eyes don't have to adjust when looking at the Apple Watch or away.
It still has an always-on display that keeps content visible even when the Apple Watch isn't being interacted with.
Action Button
The Action Button is a user-defined function button across watchOS. For example, press the Action Button to mark a lap or set complete during a workout.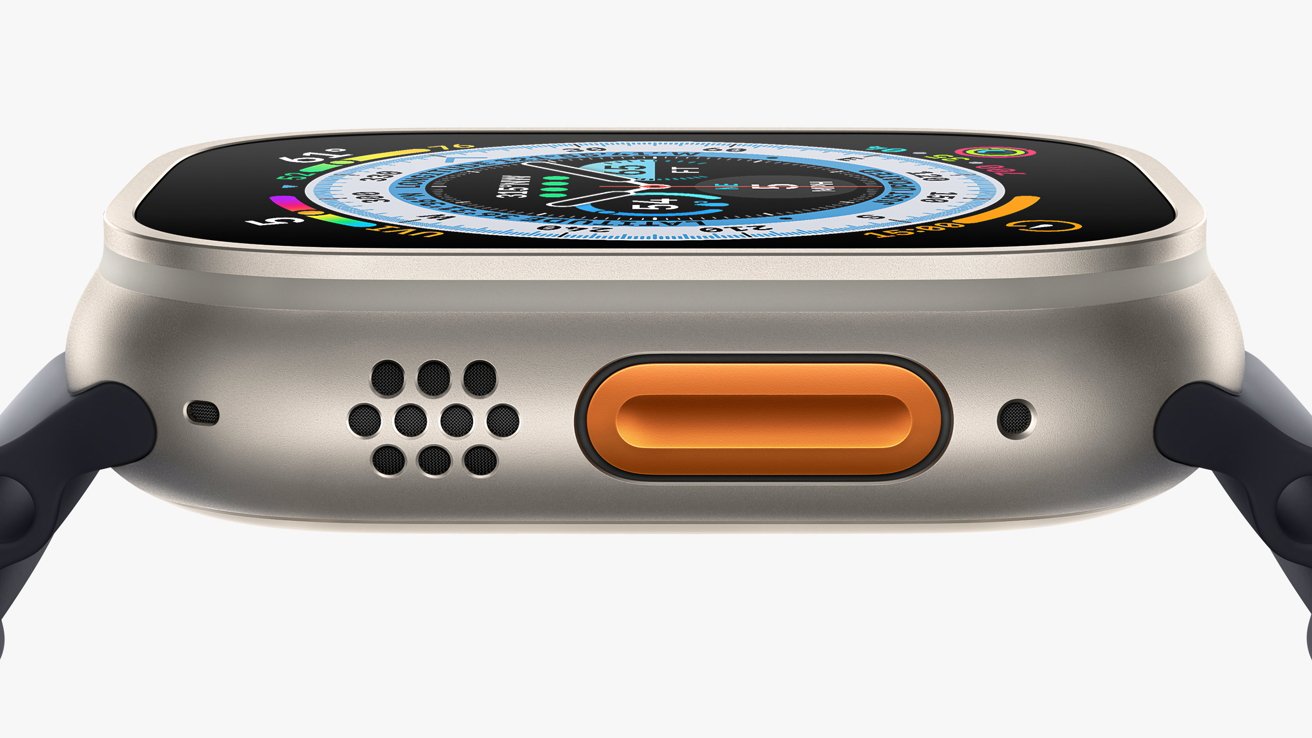 This button can be customized based on the app or the activity being performed. Apps will be able to provide different actions for users to choose from.
Press and hold the action button to activate an 86-decibel siren. It has a unique sound pattern that makes it audible up to 600 feet away.
Customers have praised this button as an essential Apple Watch interaction that should be introduced across the lineup. The bright orange color has also inspired new third-party accessories for the rugged device.
Sensors
In addition to all of the sensors already in regular Apple Watches, the Apple Watch Ultra gets a handful of exclusive sensors to aid users in complex environments. It also has dual speakers, an 86-decibel siren, and a three-microphone array.
GPS
Apple included a dual-frequency GPS solution that takes advantage of L1 and L5 frequency bands. The basic L1 frequency can easily lose signal in more challenging locations like in a city.
The L5 frequency, however, is a new band used to overcome L1's limitations. Apple built an advanced algorithm to make the dual-frequency GPS bands work together to better locate the user.
Water depth and temperature
When submerged past a certain depth, the Apple Watch will automatically display the water depth, temperature, and length of submersion. It is certified to EN13319, an internationally recognized standard for dive computers and gauges.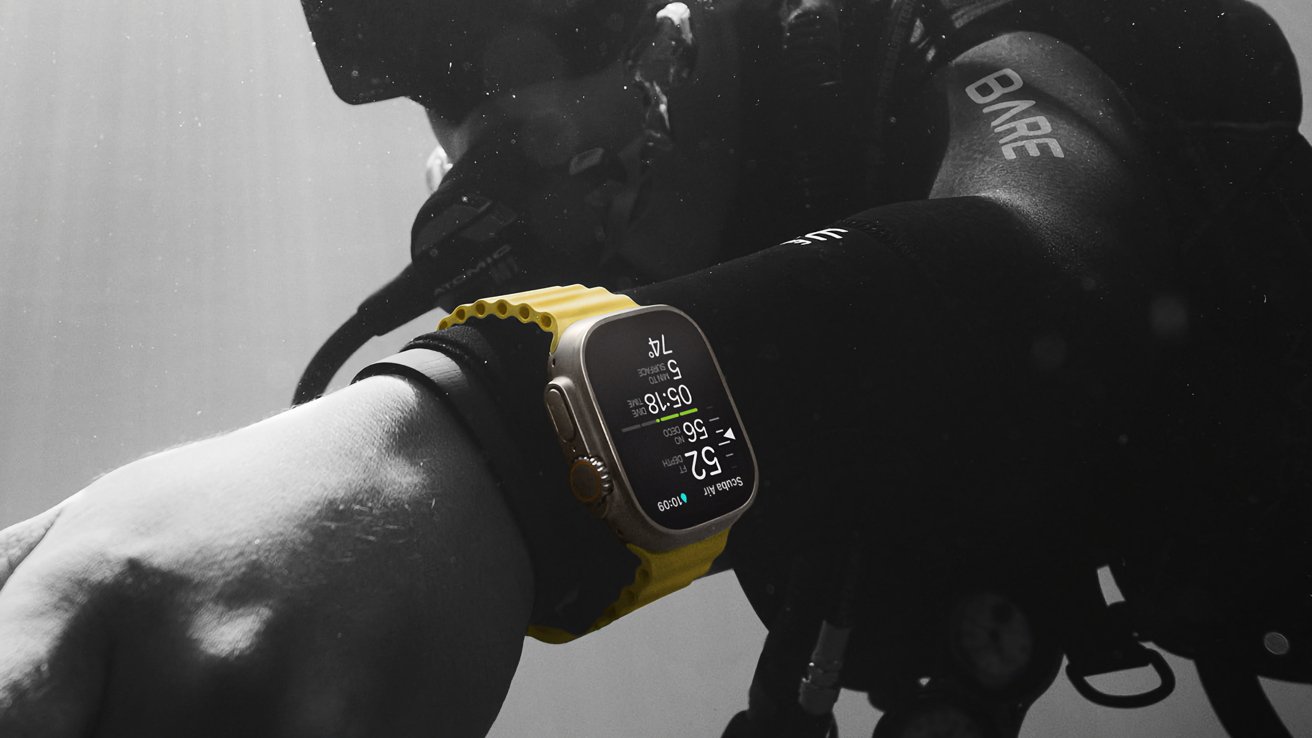 An app from Huish called Oceanic+ transforms the Apple Watch Ultra into a diving computer. It shows needed information like depth levels, tells users when to take safety stops, and much more.
The Oceanic+ app for pairing with diving equipment launched in November 2022.
Health
All the health sensors in Apple Watch Series 8 are available in Apple Watch Ultra. It can be used for sleep tracking, workout measurement, and notify users of abnormal heart rates.
The heart rate sensor, blood oxygen sensor, ECG app, and temperature sensor are all used the same way. Apple reiterates that Apple Watch is not an alternative to medical equipment or visiting a doctor. However, it can be used to catch symptoms early.
The temperature sensor is new for the latest generation of Apple Watch. It is primarily used at night to track the user's body temperature and help determine when a person may have ovulated.
The external temperature sensor is also used when diving.
Battery
Apple Watch Ultra has a 36-hour battery life during regular use. When performing workouts, however, the battery life usually takes a hit.
Apple added a low-power workout mode that still tracks specific metrics and provides GPS while minimizing battery usage. This feature is key for triathlon runners who spend hours in workout mode.
With low-power mode enabled, users can expect up to 60 hours of battery life. It also supports fast charging with the updated Apple Watch charger.
Watch bands
The Alpine Loop was developed with explorers in mind. It has a titanium g-hook that securely fastens through reinforced top loops. The top loops and band are woven together without stitching.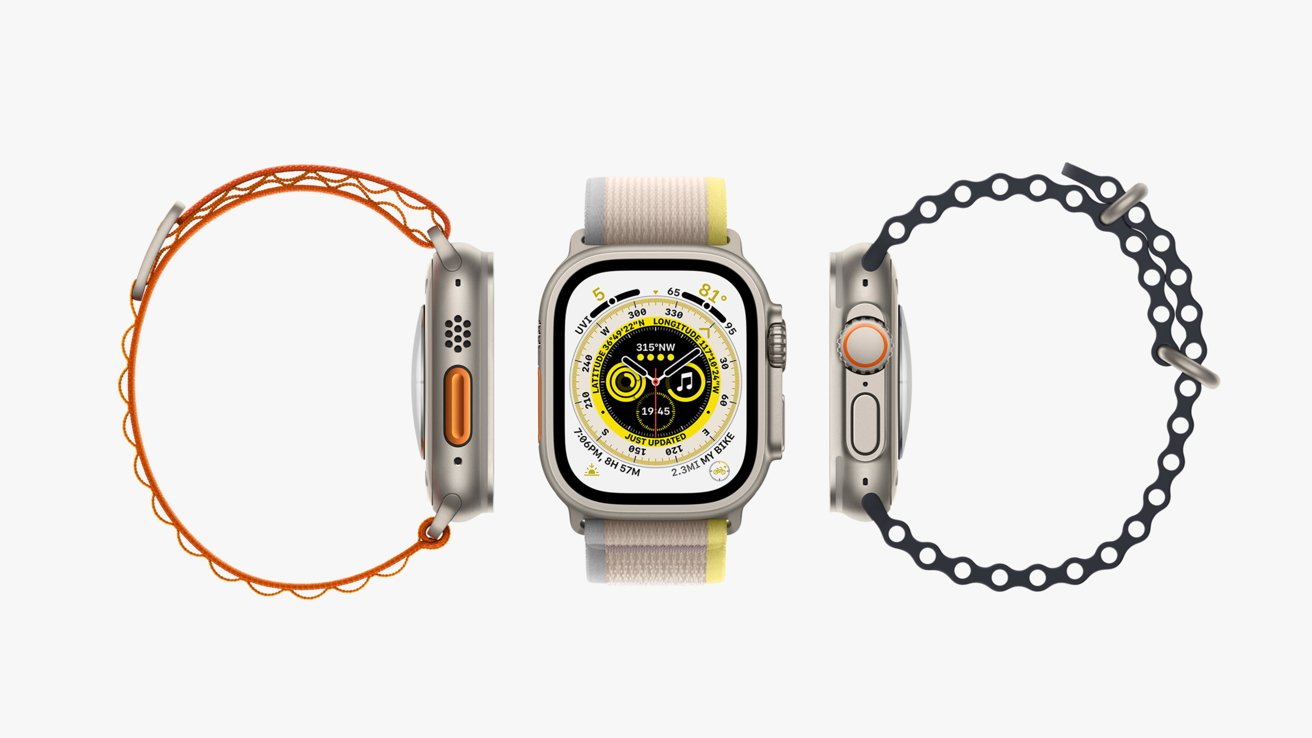 The Ocean Band is made from a high-performance elastomer, purpose-built for deep sea diving. A titanium buckle secures the band through integrated loops to keep the Apple Watch secure even in high-speed conditions.
Endurance athletes can use the Trail Loop that was built with maximum comfort in mind. It is Apple's thinnest band made from an elastic textile. A small loop can be used for quick adjustments.
Apple Watch Ultra review
The Apple Watch Ultra packs in a bunch of features tailored for athletes and extreme conditions, but it still has room to grow. It has a new, rugged design with a large 49mm display.
This large size may be too big for petite wrists, but it looks better in person than expected. The added Action Button is also easy to press accidentally since muscle memory expects no button to be there.
The display can reach 2,000 nits of brightness, the case is made from titanium, and the screen is protected by sapphire. It can survive a 100M dive or temperatures from -20 C to 55 C.
We found that the Apple Watch Ultra is a good entry-level dive watch for recreational use, but it will need enhancements in future versions for more serious activities.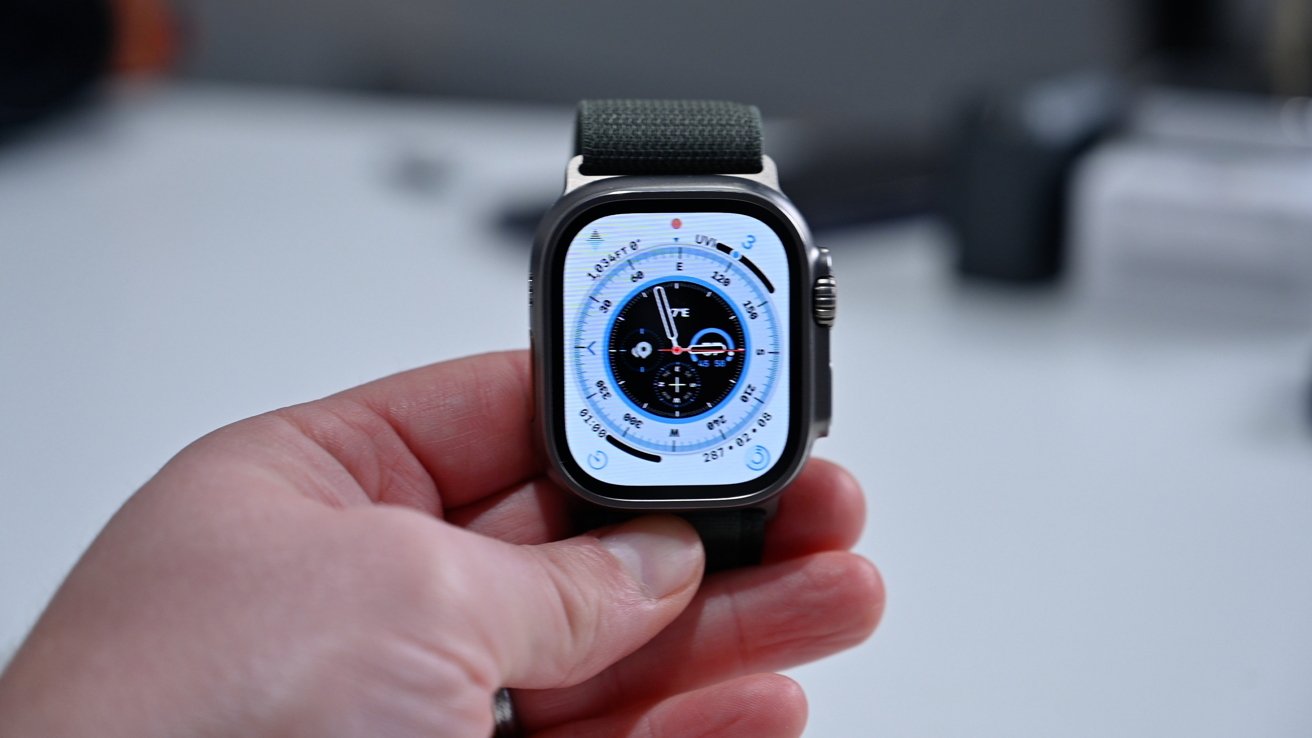 This rugged watch draws obvious comparisons to competitors like Garmin. While it has a 36-hour battery life, it still isn't close to the week-long battery found in some Garmin watches.
There's a lot to love about Apple's newest Apple Watch model. It has some high ambitions to meet users' aspirations, and in many ways, it delivers.
Apple Watch Ultra price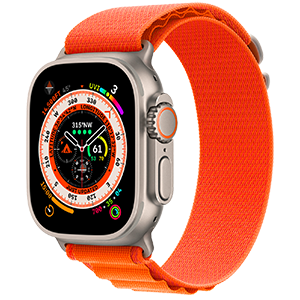 Apple Watch Ultra
---
The premium Apple Watch Ultra has a 49mm titanium case and up to 36 hours of battery life during normal use.
Customers can order the Apple Watch Ultra for $799. It was released on September 23, 2022.