Scosche announces slate of new charging products for 2023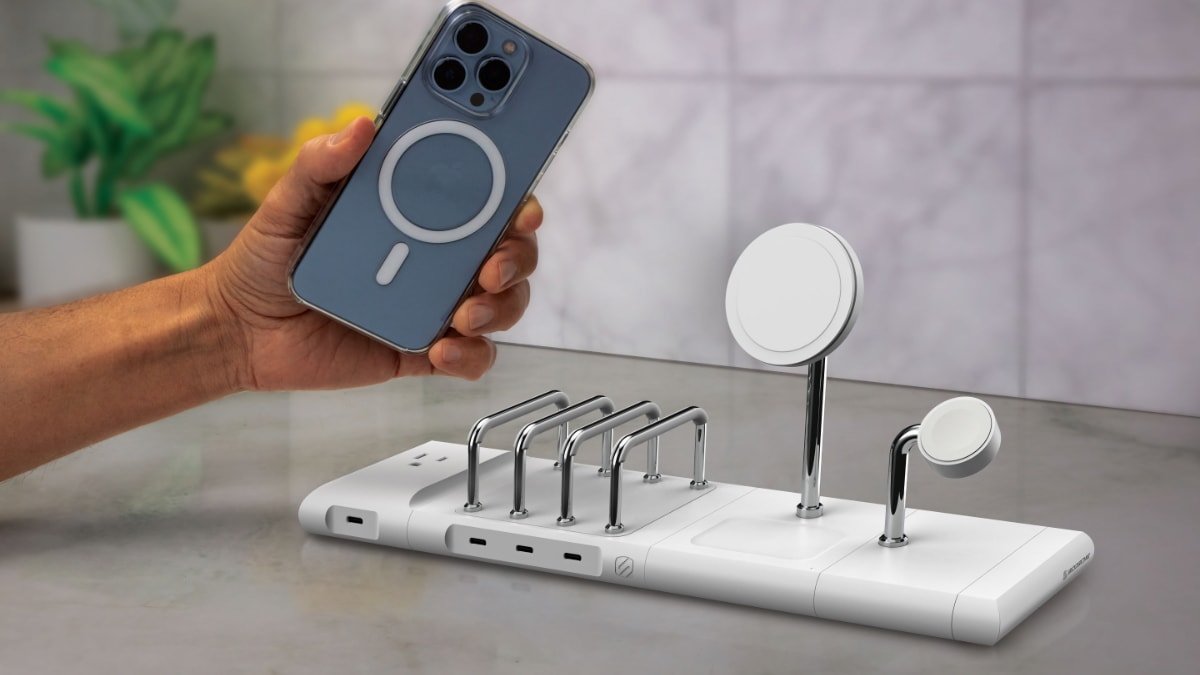 AppleInsider may earn an affiliate commission on purchases made through links on our site.
Scosche has released the latest in Power Delivery, MagSafe and wireless charging, and mount design. Wall chargers with gallium nitride (GaN) technology and 2-in-1 charging cables are just some new products.
PowerVolt PD35 & PowerVolt PD65
Robust and adaptable, each charger can power smartphones, tablets, laptops, and other products, charging compatible iPhones up to 50% in as little as 30 minutes.
Both chargers are compact, with convenient folding prongs, making them perfect for travel and taking up minimal space on a wall socket or power strip. In addition, Scosche PowerVolt GaN chargers have built-in safety circuitry that protects from overcharging and overheating and is safe to use with smaller devices.
Both chargers deliver smart shared power, which means if users plug one device into the PowerVolt, the entire 35W or 65W is available to charge that one device. Likewise, if users connect a second device, the charger will automatically share the power between the two devices.
The PowerVolt PD35 will be available in spring 2023 on Scosche.com and at select retailers at $39.99. The PowerVolt PD65 will be available summer of 2023 on Scosche.com and at select retailers at $59.99.
Magnetic Phone Mounts
Scosche has also announced two magnetic charging phones for smartphones.
First, the MagicMount Elite2 Magnetic Phone Mount is a contemporary, compact, low-profile vehicle mount. Thanks to a smooth ball joint, the mount is fully adjustable for phone viewing in portrait or landscape mode.
Using a MagicRing adapter sold separately, the Elite2 can also hold an extra smartphone.
Available in two mounting options - Vent and Dash, the Vent mount secures quickly to most vehicle air vents and is easy to transfer between vehicles. The Dash-mount attaches to the dashboard's top or front using the included automotive-grade adhesive.
The Vent and Dash options of the Elite2 mount will be available in summer 2023 on Scosche.com and at select retailers at $39.99 each.
MagicMount MS Hydro
Another new product from Scosche is the MagicMount MS Hydro, an insulated water bottle featuring a built-in MagSafe mount. It securely holds iPhone 12 and later and adjusts to fit the phone in landscape or portrait orientation and at the perfect viewing angle.
Powerful Neodymium magnets in the mount will secure the full water bottle to a metal surface. The MagicMount Hydro is the perfect take-along item for the gym, yoga studio, sporting event, beach, and car cup holder to help people stay hydrated and connected.
BPA-free and resistant to bacteria and odors, the water bottle has double-wall vacuum walls to insulate liquids for over 12 hours for hot beverages and over 24 hours for cold drinks.
The 24oz MagicMount Hydro will be available in spring 2023 on Scosche.com and at select retailers at $39.99.
MagicMount Pro2 MSC
Designed to work with the new Apple macOS Ventura Continuity Camera feature, the MagicMount Pro2 MSC attaches to the back of a MagSafe iPhone and secures it to the top of a Mac laptop, iMac, or Studio Display.
It also functions as a convenient kickstand, phone grip, and even a place to wind a charging cable neatly. The MagicMount Pro2 MagSafe Camera Mount will be available winter of 2023 on Scosche.com and at select retailers at $19.99.
Home, office, & travel charging
BaseLynx 2.0 Modular Charging System
The BaseLynx 2.0 Modular Charging System builds on the success and popularity of the original system but is smaller, sleeker, and more powerful.
Modules quickly snap together utilizing magnetic connectors, including a 2-in-1 charging stand with MagSafe, magnetic charger for Apple Watch, vertical multi-device charging station, and a powered end cap featuring GaN technology with a USB-C port and 120V outlet.
Once the modules are connected, the system requires only one power cord. People can use all modules alone or as part of a system except the powered end cap.
The white BaseLynx 2.0 will be available at Apple.com and in select Apple stores in spring 2023 at various prices ranging from $49.95 to $69.95.
The black BaseLynx 2.0 modules will be available in summer 2023 on scosche.com and at select retailers, with prices ranging from $49.95 to $99.95 for individual modules.
BaseCharge MS power stand
The BaseCharge MS wireless charging stand with a power bank is a second new product. It's a 3-in-1 practical and elegant charging solution with a small footprint that looks great in a home, office, or a hotel nightstand.
The MagSafe compatible stand displays and wirelessly charges iPhone 12 and later, adjust up to 180 degrees, and folds flat for travel. AirPods can be simultaneously wirelessly charged below the iPhone on the removable power bank.
It has a 15W USB-C output to charge a third device, and the BaseCharge comes with a 48W power supply with a 5 ft. AC power cable. The BaseCharge MS also comes with a removable 5,000mAh Lithium-Ion power bank.
The BaseCharge MS with Power Bank comes in black or white and will be available in spring 2023 on Schosche.com and select retailers at $139.99.
It has a sister stand called the BaseCharge MS 3-in-1 Magnetic Wireless Charging Stand. It's identical to the BaseCharge MS with Power Bank, except with a wireless charging pad in the base in place of the removable power bank.
That product will be available in spring 2023 on Schosche.com and select retailers at $99.99.
BaseCharge MS Fold-N-Go
Next, the BaseCharge MS Fold-N-Go - Foldable 2-in-1 Wireless Charging Phone Stand is designed for travel but will also charge and display an iPhone and AirPods on a nightstand or desk. Made from lightweight, yet resilient, soft-touch PU leather material, the Fold-N-Go can be used flat or as a 2-position stand.
It magnetically holds and wirelessly charges an iPhone 12 and later at 7.5W, as well as an AirPod Gen 3 or Pro case at up to 5W simultaneously. It comes with a four-foot braided power cable and a 20W Power Delivery wall charger.
The BaseCharge Fold-n-Go will be available in black or white in summer 2023 on Scosche.com and at select retailers at $79.99.
MagicMount Elite Charge
Finally, the MagicMount Elite Charge Premium Wireless Charging Stand can be folded flat and used as a wireless charging MagSafe compatible puck, charging iPhone 12 and later at 7.5W.
Unfolded, it transforms into a convenient stand to view, charge, and use an iPhone in portrait or landscape mode. The MagicMount Elite stand has an attached 6 ft. USB-C power cable is perfect for a desk, nightstand, or kitchen counter.
The MagicMount Elite Charge Stand will be available in fall 2023 on Scosche.com and at select retailers at $49.99.
AppleInsider will be covering the 2023 Consumer Electronics Show in person on January 2 through January 8, where we're expecting Wi-Fi 6e devices, HomeKit, Apple accessories, 8K monitors and more. Keep up with our coverage by downloading the AppleInsider app, and follow us on YouTube, Twitter @appleinsider and Facebook for live, late-breaking coverage. You can also check out our official Instagram account for exclusive photos throughout the event.