We tried Tesla's wireless charger — but we can't show you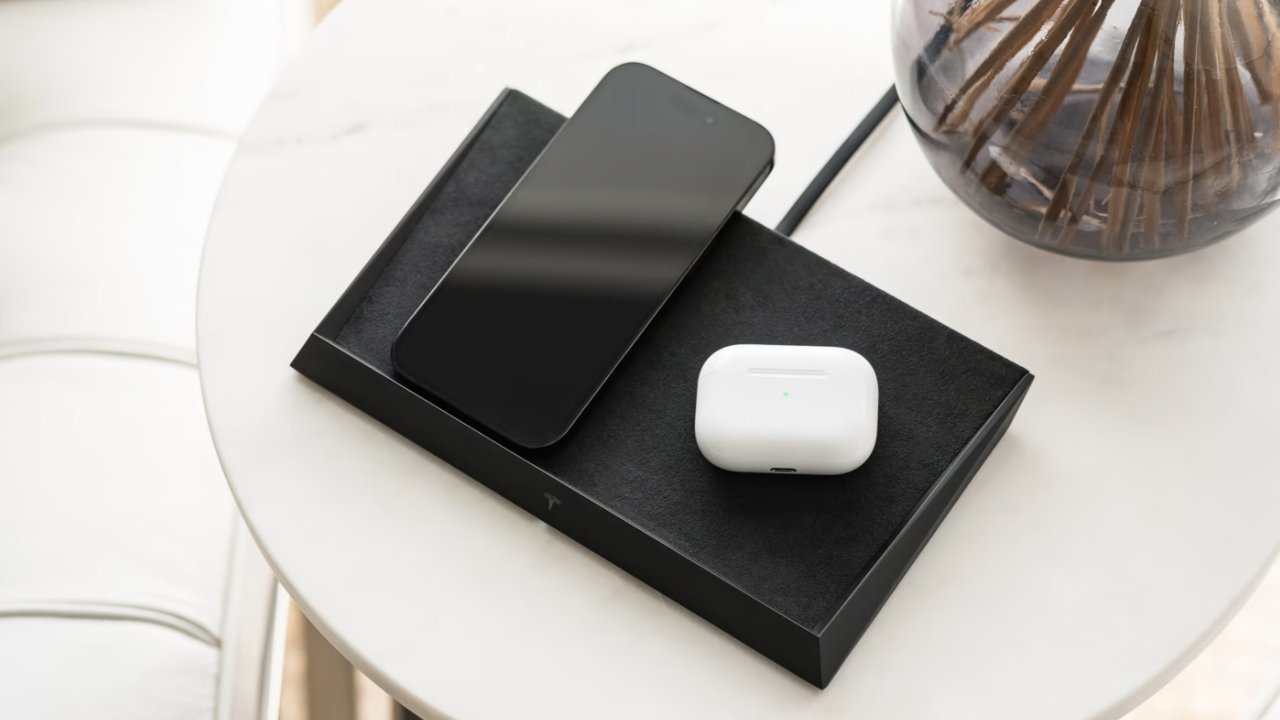 While attending CES in Las Vegas, tucked away in a remote corner in a coffee shop, AppleInsider got a first look at Tesla's free placement wireless charger. Here's what we saw.
Tesla is notoriously secretive, shunning press efforts that it does not have total control over, when and where it can. It doesn't have a history of launching consumer electronics products — but its tactics for its new Wireless Charging Platform have remained the same.
Freepower, the company behind the free placement tech inside the charger, let us try the device out but barred us from capturing photos or videos of the product itself. So while we can't show you a closer look at the device, we can describe what we experienced.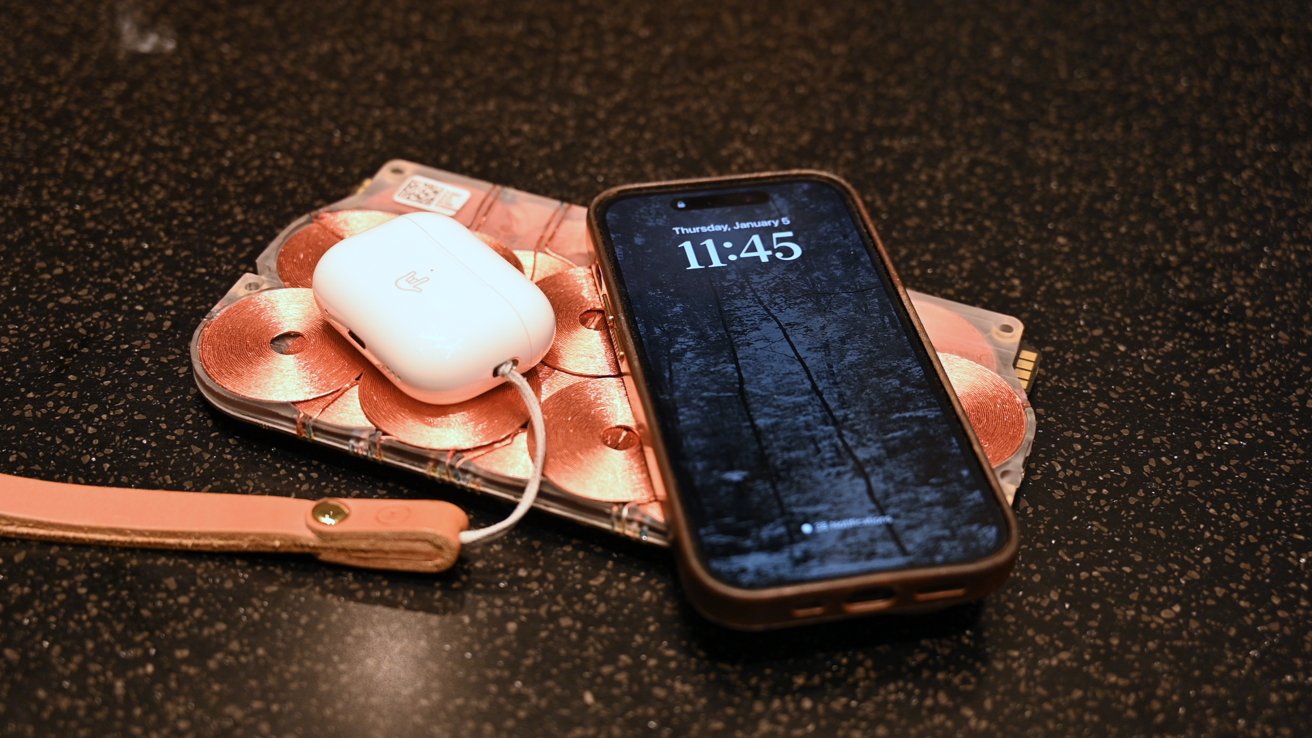 The photos of the finished device were sourced from Tesla's website, while the other shots are AppleInsider's from our hands-on experience highlighting Freepower's internal technology.
The Tesla Wireless Charging Platform is a wireless charging pad for your home or office. It has a premium metal body with a charging surface blanketed in Alcantara material used in Tesla's vehicles.
A single LED status light is on the front, angled down, and conveys different messages. When a device is set on the charger, it will light up brightly before dimming. It prevents the light from being a problem if used bedside while still updating you on the device status.
When you pick up your device, the light will light up to signify it has stopped charging and then again dim if still charging other devices.
Technically, the charger is a three-device charger though it can only practically charge two phones simultaneously. We were able to place two iPhone 14 Pros as well as a set of AirPods.
If you had smaller iPhone 12 minis, you might be able to fit three phones on the pad. Freepower sees this as a bedside charger for one or two users' daily devices.
The charger comes in two pieces, one the charger itself and the other an angled base. The base is also metal and has internal magnets that properly align it when you bring the two together.
If the base is on, it slightly angles the charger so you can see the phone at your desk or by your bed. If you don't need the base, you can remove it and store it away.
Tesla opted for a permanently connected USB-C cable that is flat and black and can connect to the bundled Tesla-designed 65W USB-C wall charger.
We have a slight issue with the cable being permanently affixed, as it gives users no recourse should anything happen. The USB cable is the most likely piece to be damaged, by furniture, something falling, or an overzealous pet.
If that cable breaks, your $300 charger goes out the window. You also can't swap it for a longer or shorter cable that may fit your usage better.
Freepower technology may sound familiar to some as it was the same tech that made its market debut in Nomad's Base Station Pro.
The ill-fated Base Station Pro struggled as Apple's MagSafe technology debuted shortly after and caused interference and hampered charging performance. Freepower has been hard at work since designing a more robust system, fully compatible with MagSafe-enabled devices.
The new technology has ditched the printed circuit board for more traditional stacked copper coils. Thirty coils in the Tesla Wireless Charging System will automatically detect where your device is placed and will optimize the charging for the fastest speed.
Apple devices can still charge up to 7.5W per device. Android devices — or select other Qi devices — can handle up to 15W of power.
Tesla is aiming for the premium market with its first branded wireless charger, which is no surprise considering the brand's vehicles.
Using the charger was near-seamless and would pick up our devices quickly when placed on the fabric-wrapped surface. The metal gives the charger a substantial weight, lending it a more premium feel.
It also conjures questions that, as of yet, go unanswered. This free placement charging technology feels ideal for vehicle use, and Tesla seems like a fantastic first partner.
Freepower is mum on future plans, but such a partnership seems like a natural evolution. Only time will tell if that's what the pair have in mind.