All the Find My gear at CES 2023 - hands on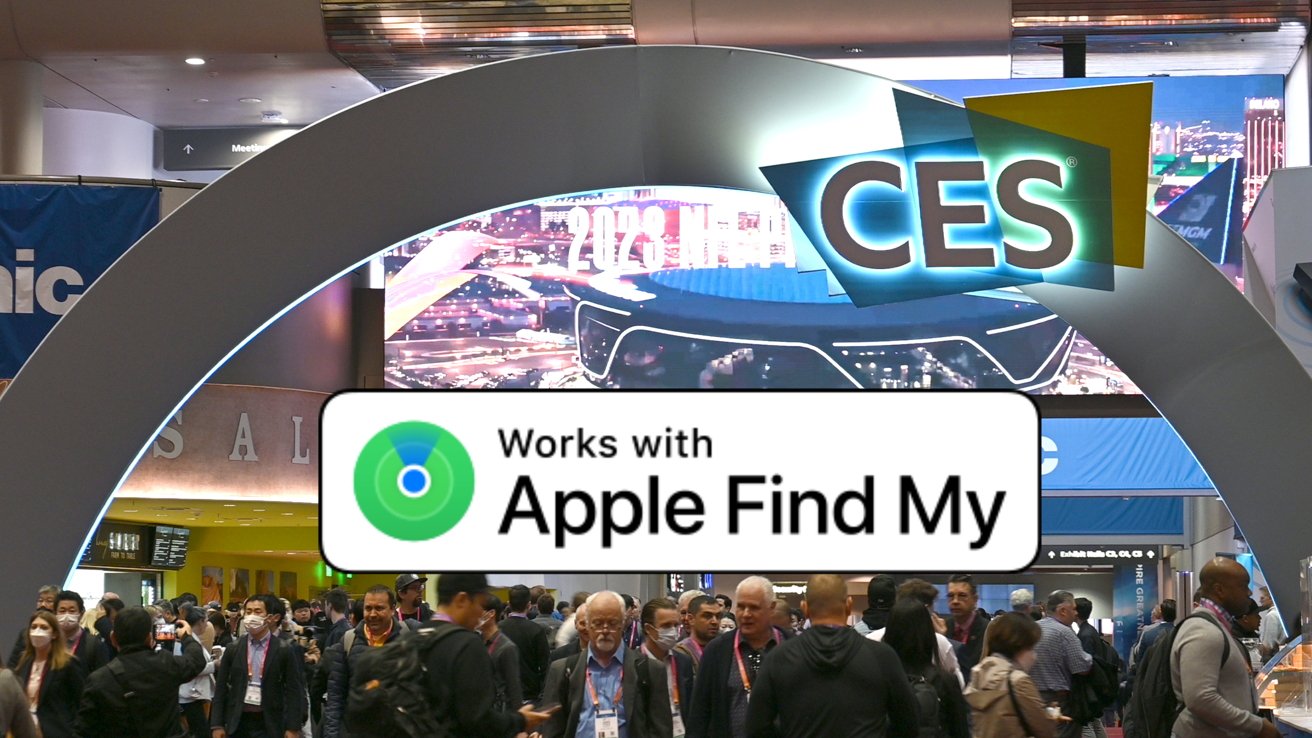 AppleInsider may earn an affiliate commission on purchases made through links on our site.
We tracked down all the gear integrating with Apple Find My app while at CES — with or without an AirTag. Here's what we found.
With Find My support, you can leverage the massive Apple community to track lost or missing items. They include anti-stalking measures, "left behind" alerts, and lost mode to be notified when someone comes within range of your item.
Apple announced support for third-party accessories in the fall of 2021 that work similarly to its own AirTag.
STM bike light
STM has a whole lineup of AirTag holders that look great. There is an adhesive version that can stick onto nearly any semi-flat surface. Another silicone version lets you wrap it around posts or handles.
Our favorite was its all-new bike light. This light semi-permanently mounts to your bike's handlebars with a screwdriver, though the light twists off.
When you remove the light, it can go with you inside and charge over USB-C. It also exposes a reflector when the light isn't attached, providing safety features.
Inside the fixed mount is a hidden AirTag. No one would realize an AirTag is inside and can't be removed without a hex screwdriver.
While Apple doesn't advocate using Find My to track down stolen items, it's possible. Or, you can at least find your way back to where you parked your bike.
Ember
Ember makes heated coffee cups for your home, office, and car. At CES 2023, they exhibited an updated travel mug that bakes in Apple's Find My tech natively.
If you leave your coffee cup in your car, gym, or office you'll get a "left behind" alert. If you lose it somewhere, as it falls out of your bag, you can also track it down.
Hyper
Announced in December, Targus-owned Hyper was at CES 2023, demoing its new Hyperpack Pro. It's a 22L backpack that is great for Apple users and content creators.
There's plenty of space inside and tons of pockets, compartments, and other nice touches. A battery can fit into the main body of the backpack and route charging cables to the front compartment, the side pocket, and the back compartment.
The back panel is large enough to hold documents, a 16-inch MacBook Pro, and an iPad Pro. The devices hover in the pocket, so they don't make content with the ground if your bag falls.
It has a nylon exterior, water-resistant security zippers, and can slip over the handle of a roller bag. The Find My module is at the top of the bag on the outside, making it easy to hear when you ring it from the Find My app.
Rolling Square
After failing to ship the original AirCard last year, Rolling Square is back at CES 2023 with two new models for us to try.
The new AirCard E has an all-aluminum silver body and three replaceable CR2016 batteries on the inside. You open it with a small lock on the front of the card.
Rolling Square's standard AirCard has a black aluminum back, and a 9H hardened glass front. There are no replaceable batteries here, but they will last for two and a half years, at which point you can return them for recycling and get a 50 percent discount on a new card.
It's unique, not just because of the clear front, but because it has a digital business card built in. NFC on one side can be tapped to bring up something like a Linktree, or you can scan the QR code on incompatible phones.
ESR
We can't show you ESR's upcoming Find My-enabled wallet, but they did tease the product on an exclusive live stream they did with AppleInsider during the show.
Without giving much away, ESR will likely say true to its original MagSafe wallet, pictured above, but building in the new Find My system. This isn't just putting in an AirTag, but actual Find My native integration.
ESR has had a popular MagSafe wallet, and we haven't seen a MagSafe wallet natively integrate before. We're excited for ESR to share more about this future product.