First new iPhone 14 reviews try to benchmark yellow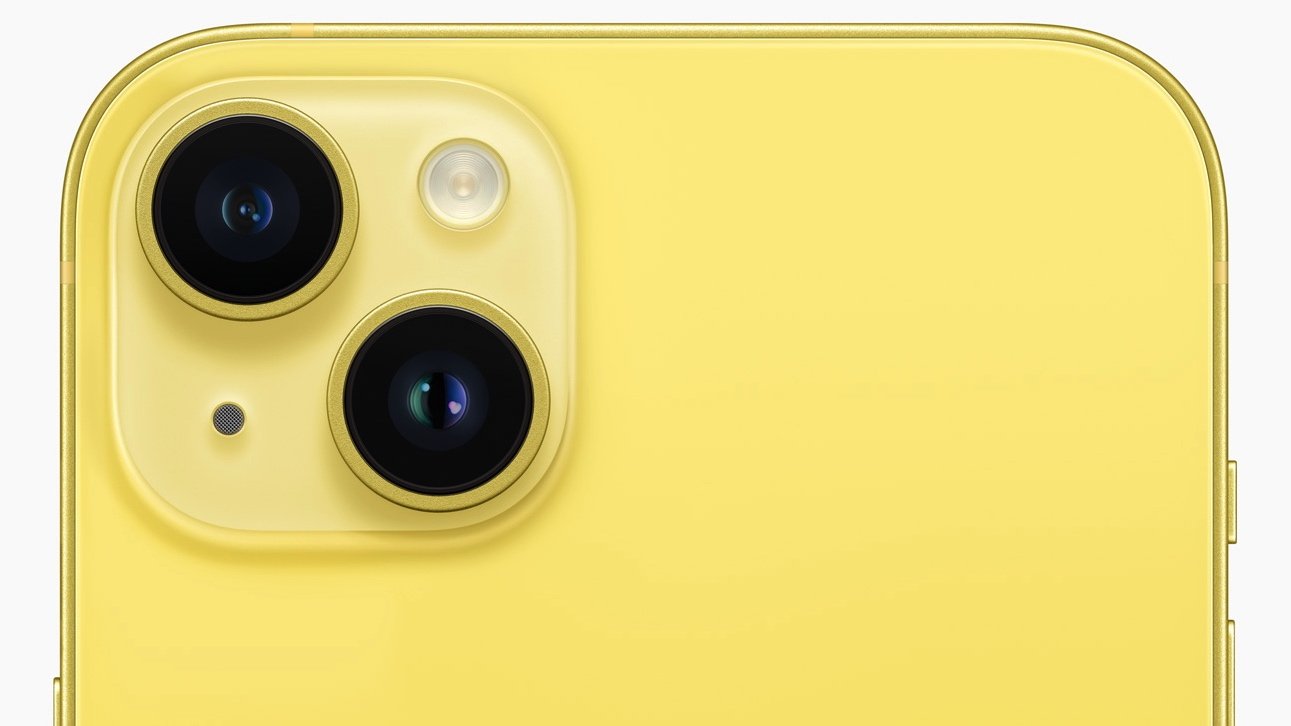 With no other difference between the original and the new iPhone 14 models other than their color, YouTubers are trying hard to define just how yellow they are.
The new Geekbench 6 has only been out for a few weeks, but maybe it's time to add an entirely new metric to its benchmarking. For without that, most YouTubers with early reviews of the new iPhone 14 and iPhone 14 Plus are reduced to holding the phones up next to every other yellow thing they can find.
MKBHD does that, too, but in a YouTube short — he doesn't think it warrants a whole video — he also uses an app to check out the hexadecimal color value. It's #FCE472.
Consequently he wins for most informative definition of yellow, but then he also compares it to other yellows because there is nothing else to do.
"So Apple's been doing these mid cycle new colours just to keep the iPhone fresh and talked about," he says, "[but] there haven't been that many yellow phones over the years."
"This one is a surprisingly polarizing yellow: like some people in the studio love it, some people hate it," he continues. "Basically this one is a really safe light, pale yellow, it's lighter than almost anything I've compared it to."
Those comparisons include the yellow iPhone XR, Snapchat's Pixie Drone, and a Big Bird plush "which came straight from Sesame Street, so it must be accurate."
Mellow yellow
YouTuber Brian Tong points out that the look of the new phones, "definitely comes off as more of like a pastel canary yellow colour."
"You'll see the gold band right the the metal frame around here," he continues, "but the actual colour [is] a little more subdued."
Buy a yellow iPhone to cover it up
CNET also only gives the new iPhones a YouTube Short, and notes that the sole difference to the previous models is the color.
"The yellow itself is a nice pastel colour and especially looks good on those aluminium sides," it says. "Now, of course most people are going to put a case on their phone and Apple anticipated this. That's why they also sell a yellow silicone iPhone 14 case."
Meanwhile, Karl Conrad is one of the few to note that the color refresh does differ this year. "We have the iPhone 14 and iPhone 14 Plus," he says, "but unfortunately we didn't get a 14 Pro."
"So if we look at the 13 lineup from last year," he continued, "we had the 13 Pro come of course in this new Alpine green... and the standard 13 also came in a green as well."
You know, springtime's right around the corner, so this thing has got perfect timing," says UrAvgConsumer in another YouTube Short. "And of course you know this thing has its own matching wallpaper."
"So if yellow is your color and you've been waiting for it on the iPhone 14," he continues, "then this might be the one to get your hands on."