Photoshop Web beta hands on: Nifty, but no match for the competition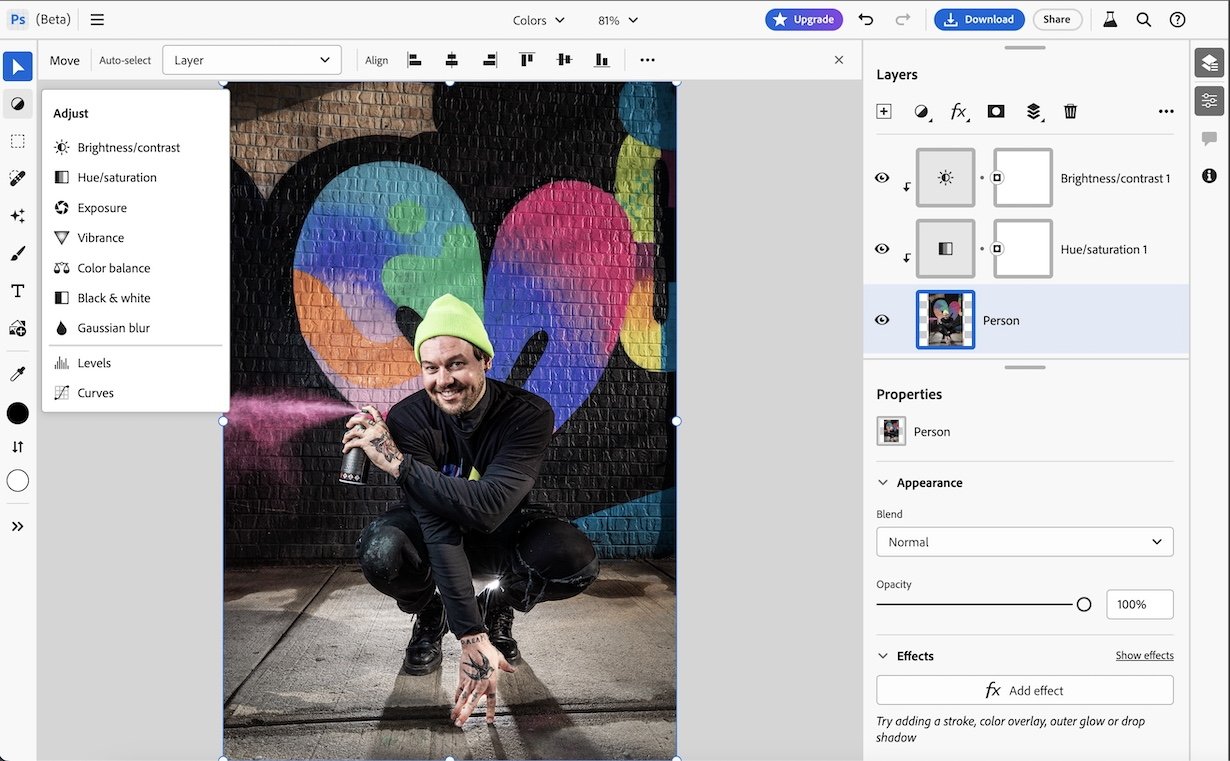 Currently free, the Photoshop on the Web beta is an impressive feat — but seems aimed at casual users who need quick fixes and a simpler toolset, at least for now.
In one of Adobe's more ambitious experiments, its engineers have been working on web-based versions of both Photoshop and Illustrator since they were announced in October, 2021. The Photoshop beta is currently open to anyone with an Adobe account and the right browser/machine combination, and is free for now.
The dream behind it is to make some of the most commonly-used tools of the legendary photo editor available to anyone on any device, but at present it's barely able to match the iPad version of Photoshop. If you have the current Mac or PC application, you should certainly use that — it is far more versatile and feature-rich.
That said, this lighter but not quite platform-agnostic web version can come in pretty handy when you are away from your home computer, but still need to make quick fixes to images you have with you or stored in a cloud service. It's a testament to the power of HTML5 and Adobe's engineers that it offers a fair bit of the core functionality of the original.
System Requirements
Apple users often grumble that Photoshop — which was originally (and for years afterward) exclusive to the Mac — has become distinctly more Windows-centric, as Adobe has chased the largest possible pool of users. This definitely continues with the web beta, as it presently requires either Microsoft's Edge browser or Google's Chrome browser — though if you have these browsers on a Mac, the latest versions (102 or higher) will work fine.
There's no obvious reason why the web version of Photoshop wouldn't work on the Mac version of Safari or other browsers, but it doesn't right now. The choice to support Chrome makes sense, as it is far and away number-one browser in use worldwide — but leaving off Safari in favour of Edge leaves kind of a bitter taste in an Apple user's mouth.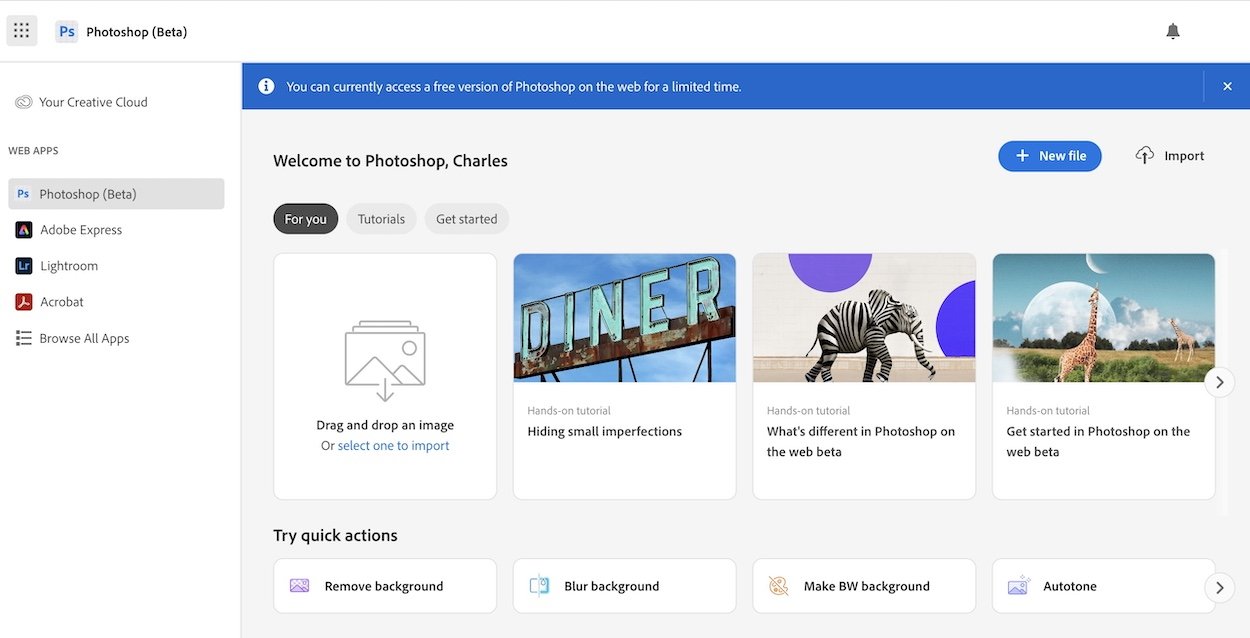 Adobe does plan to make it available on more browsers, eventually, but at present you also need a desktop or laptop computer. The beta requires at least a 2GHz or faster processor (Core i4 or later for Intel-based machines).
It also needs macOS 10.15 or later, or Windows 10 or later (64-bit only). ChromeOS is technically listed as compatible, but is not recommended. Your results can be downloaded, or saved to your Adobe Cloud account.
You'll notice that no iPhone, Android, or tablet of any kind is mentioned in these requirements. It is somewhat ironic that a designed-to-be-ubiquitous web app is limited to the very same machines — with the exception of Chromebooks — that can already run "real" Photoshop.
You can visit the beta on Safari and other browsers, but you can't open or edit anything. If you try, you'll be blocked with an "unsupported browser" message — so have fun looking at the app's home page.
The experience
From the perspective of a regular Photoshop user, the interface for the web version is very simplified, and a fair few controls are relocated, which will make for some confusion. Luckily, a table of tutorials will open automatically, and users can choose the "What's Different in Photoshop on the Web" one, which is very useful for people already versed in Photoshop.
For others, there are a series of hands-on, step-by-step tutorials to show newcomers the ropes of the main tools. The main tools are on the left side, while adjustment layers and other options are found on the right side of the work area.
Veteran users may focus on what's not available to them in the web version, but nearly all of the important tools are present. They're just lacking some of the finer controls in some cases.
Once the web version is available on other devices, it might make for a great introduction to Photoshop for schools and casual users who don't want to buy a desktop subscription. It's no secret that Adobe is losing some would-be Photoshop customers to competitors like Pixelmator Pro and Affinity Photo — both of which offer a one-time purchase model rather than subscriptions.
At present, the web version is free to use, but you get fair warning that this is for a "limited time." If Adobe can resist the temptation to make this subscribers-only and prices it right, it might find an audience among casual users.
As someone who used to use Photoshop daily as part of my then-career, I found the interface a little confusing at first. Within a half-hour of poking around, I figured out the differences, and had my skills re-awakened.
I decided to keep my testing simple, such as a casual user might need. I opted to just take one of Adobe's stock photos, remove the background, and put the subject into one of my own photos.
Photoshop on the Web Beta in action
Taking a cue from its own Elements version of Photoshop, Adobe has made it pretty simple to remove a patterned or solid background from a photo.
Unlike some of its competitors, the web version isn't quite smart enough to remove the background fully, as you can see in the image below. You'll notice some background in the hair and left hand that still needs to be removed by hand.
Removing the gray in the left hand was simple, using the Lasso selection tool; removing the background from some of the strands of hair was more time-consuming. I used a combination of tools, zooming in to try and be accurate.
Since I didn't want to spend too much time on it, just as a newcomer to Photoshop wouldn't, I probably didn't catch every little thing when cleaning up the hair. "Good enough for government work," as they say.
The web version of Photoshop actually impressed me when I absent-mindedly just dragged my background photo into the work area like I would in "real" Photoshop — and it worked. You can also import new layers through the import command, if you prefer.
A little zooming and positioning in the background layer, a little auto-color and auto-tone (again borrowed from Elements), and I was done. The "real" Photoshop of today (or Elements, for that matter) would have probably taken less time.
That said, this web version did the job. Using it reminded me of how we used to do this sort of thing in the print shop, publishing houses, and ad-bureau arenas I once worked in.
Conclusions
For light corrections and retouching, this web version of Photoshop might be just enough to get the job done. It might even tempt you into getting a subscription for the Mac or PC version — starting at $20 a month — if you are in regular need of fixing photos. This certainly gives you just a little taste of what Photoshop is capable of.
If you're using Photoshop on the web primarily for the "automatic" enhancement tools, and wish there were more one-step easy fixes, that's not really what this is for. You may want to consider investing in Photoshop Elements instead.
What the Photoshop on the web beta does do is make it easy to dip a toe into the "real" PS pool. With a little time to learn the tools, you can easily touch-up, fix, or remix photos, for free — at present.
What it doesn't do — at least not yet — is convince anyone considering Affinity Photo or Pixelmator Pro to give up that idea. Those apps can do this level of work in a similar manner, and the pricing — while not free — is right.
In some cases, though, the work you want to do in a photo-editing app is very dependent on third-party plug-ins that only work with "real" Photoshop. Being a PS expert can also still lead to a lucrative, creative job — maybe even a career.
Other apps — like Luminar AI, Photolemur 3, Perfectly Clear, Aurora HDR, and even Adobe's own Photoshop Elements — can also make your photos "pop" or style them in pleasing, semi-pro ways. There are many other lesser options at various price points, especially if you want to do your photo-editing on a phone or tablet.
Once Adobe can get this prototype working on any browser and device, it might be worth a revisit. If you liked Photoshop but had to give it up due to the subscription model, PS on the web might fit your needs and keep those old skills going.
Thanks to its plug-ins and ever-evolving feature set, "real" Photoshop for Macs and PCs remains the king of the powerful, professional photo-manipulation programs — especially for creative and RAW photographers. It's neat as it is to see a subset of Photoshop possible through a web browser, its appeal as a commercial product is hard to see, given the competition.