Plugable's new hub takes both MacBook USB-C ports in exchange for USB-A and HDMI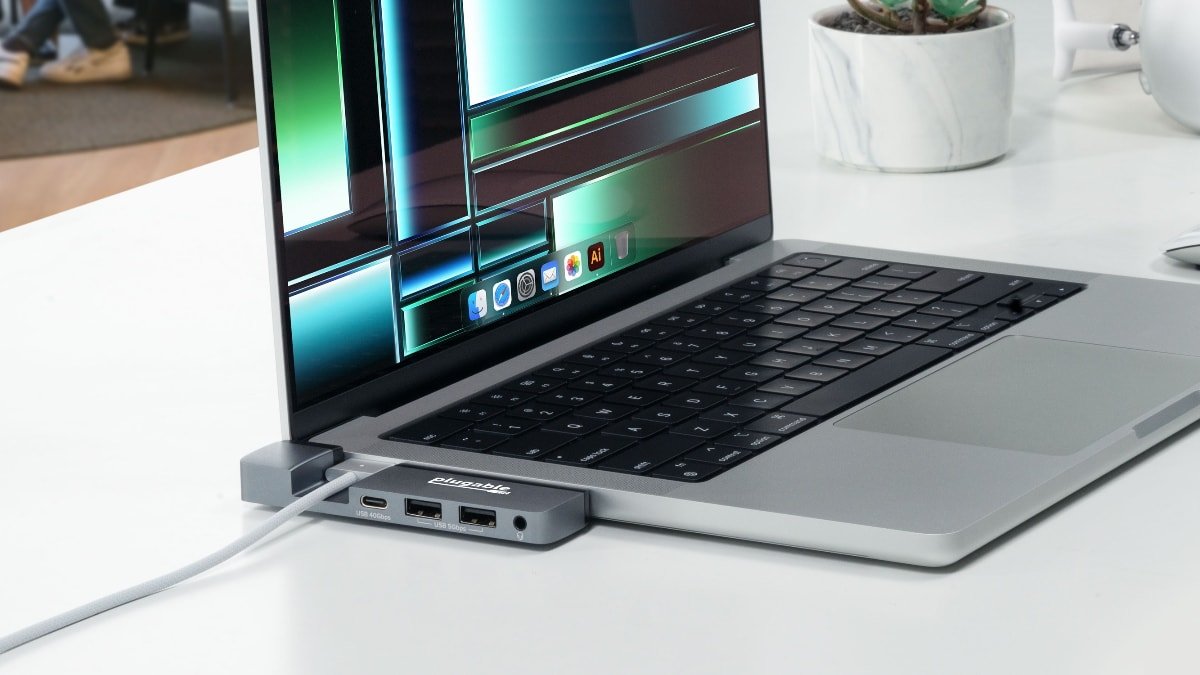 Accessory maker Plugable has released a new low-cost and compact USB-C hub for MacBook Air or MacBook Pro owners to expand the selection of USB ports, and support an external display with HDMI.
The hub extends a person's workspace with ports for Gigabit Ethernet, audio, USB-A, and USB-C. It can also add an additional display to a MacBook.
Two USB-C male connectors slide into the ports on new MacBooks, and it has a cutout so that users can also connect the MagSafe charger. The five ports on the dock include two for USB-A 3.0 with up to 5 gigabit per second speeds, a passthrough USB 4 port at up to 40 gigabits per second, one Gigabit Ethernet, and a 3.5mm jack for audio input and output.
The USB-C port lets people add an external display up to 6K at 60Hz. External display support is subject to various restrictions.
The port also has up to 100W of pass-through charging for iPhones, iPads, and other devices.
An M1 chip can manage a single external display attached through USB-C on a MacBook Air or MacBook Pro. The Mac mini supports one HDMI and one USB-C monitor.
Pricing & Availability
The Plugable 5-in-1 USB-C hub is available on Amazon for $32.95.