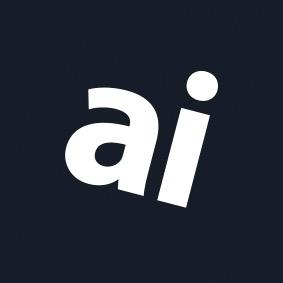 Why you can trust AppleInsider
Monduo 16-inch Pro Duo Display review: Fun and practical, but Mac owners have better choices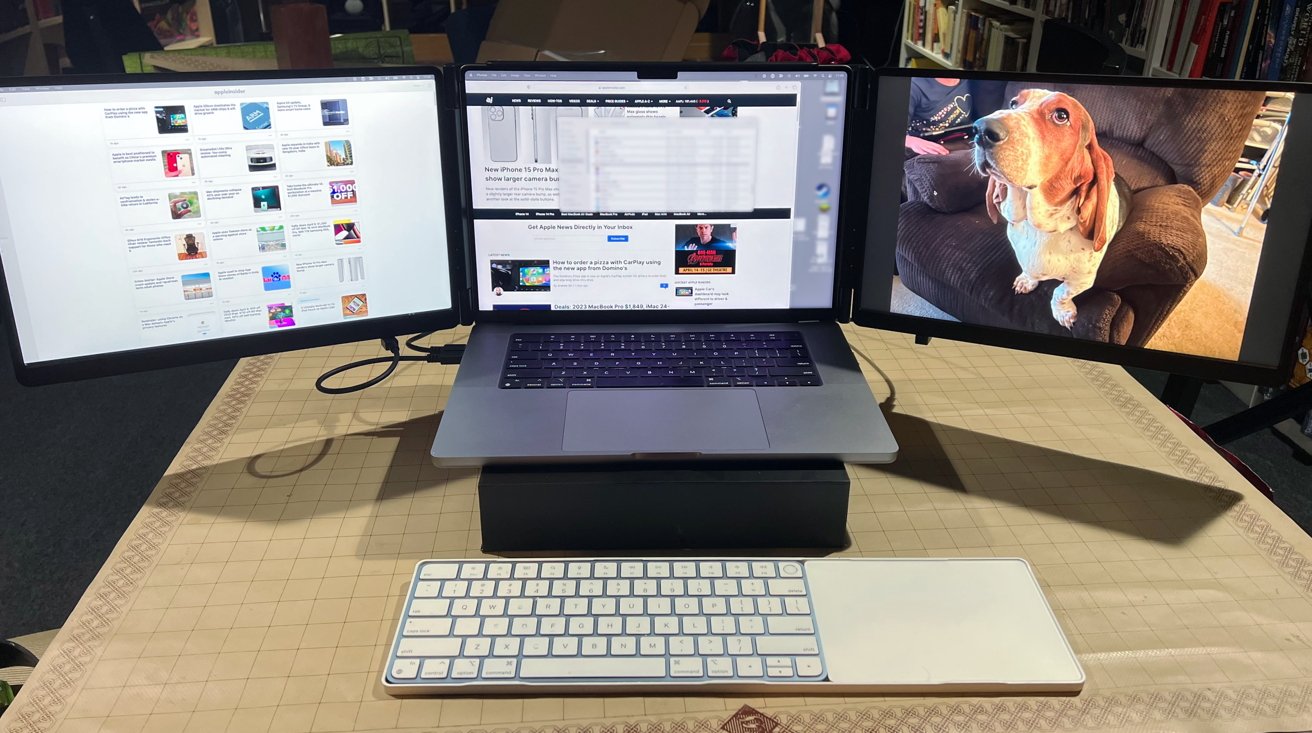 Monduo 16-inch Pro Duo Display
3.5 / 5
---
The Monduo 16-inch Pro Duo Display can turn your single-screen 16-inch MacBook Pro into a triple-screen productivity powerhouse, and it works well — but Apple users have some more flexible choices.
One of the main problems with working while on the move is the need for screen real estate. Power users who spend lots of time at a desk may use multiple large screens with their Mac, a luxury that isn't really available to those who keep shifting from one location to the next.
Of course, you can connect a second screen to the MacBook Pro, but that means either hauling around a hefty display or acquiring one made for being quickly set up and packed away. For owners of the iPad, Universal Control and Sidecar are also good options — but more on that in a bit.
Monduo's solution aims to be the end-all solution for two extra monitors for the road warrior.
A triple (screen) threat
The concept of the Monduo 16-inch Pro Duo Display is simple: Attach two more displays to the MacBook Pro conveniently to create an extremely large working environment.
The result is a system that attaches to the MacBook Pro and holds a screen on the left and right-hand side. It's a simple plan and one that seems to work well.
The entire arrangement is based on a central concave section that fits around the display of your target notebook. Obviously, the 16-inch model fits the 16-inch MacBook Pro snugly at the top, bottom, and sides.
The two displays included in the kit fold out to the left and right on hinges, making a full row of three monitors in a line.
These screens are also pretty good in terms of quality, but they're not quite at the same level as Apple's versions. While the 16-inch MacBook Pro (check prices) uses a 16.2-inch Liquid Retina XDR display with mini LED backlighting, Monduo opts for a more conventional 16-inch IPS LED panel.
The resolution of 2,560 by 1,600 for each screen isn't going to match up to the 3,456 by 2,234 of the 16-inch MacBook Pro, and its 500 nits of brightness is in a similar boat. But there's still a lot of promise here.
The displays have 100% coverage of the DCI-P3 color space, support 16.7 million colors, and have a maximum refresh rate of 144Hz, higher than the 120Hz ProMotion allows.
It's fair to say that the displays of the Monduo aren't an equal match to Apple's version, but even so, it's the convenience of having triple the screen space to play with that's the thing here.
Not unhinged at all
Getting set up with the displays is reasonably straightforward for most users, with a fair amount of thought going into the overall design.
The unit is supplied folded up, as you would expect to store it, with the monitors layered over the central section and each other. Folded down, it's 15.2 inches wide by 9.6 inches tall and 1.1 inches thick, which is not bad considering it's two portable displays attached to a holster.
Attaching it to the MacBook Pro is also reasonably painless as you slide it onto the back of the notebook. No hooks get in the way of the display, nor any other catches, which makes the snug fit even more important.
Since moving the MacBook Pro and the extra displays simultaneously is highly impractical, it's not that much of a problem.
There is a bit of weight to the setup, though, and at 4.1 pounds, it's not a light thing to carry around. It's not too much weight that it becomes too cumbersome for the target market to cart around with them, but probably not something to take everywhere.
We're not thrilled about that weight effectively hanging off the back of the MacBook Pro while being used. Even with the kickstand, balance can be a problem.
The hook up
Like other monitors designed for travel, Monduo's solution to the power and data problem is to rely on its connection to the MacBook Pro. Yes, there are cables, but it's all in a fairly elegant solution.
Included along with the 16-inch Pro Duo Display are a pair of USB-C male-to-male cables for data and power, a single USB-C cable intended for power when using HDMI, a mini HDMI to HDMI cable, and a 90-degree USB-C adapter.
The cable selection is sensible, as you will only use the pair of USB-C cables to connect the displays to the MacBook Pro for power and video. You still have the HDMI on hand if you're using it with another type of notebook that doesn't offer enough USB-C ports for it to function properly.
Once you connect it to your MacBook Pro, you'll find that it also plays nicely with macOS itself — assuming you have hardware support for two more external monitors. The software features of the display range from auto-arrangement of the screens to matching the Monduo display resolutions, brightness, refresh rate, and user scaling to the main screen.
You can also adjust the brightness and color of the displays and enable HiDPi at a custom resolution.
Large and in charge
One potential hang-up in these multiple monitor accessories is M1 and M2 monitor support. But, given that this particular model is tailored for the 16-inch MacBook Pro, that is not really an issue.
The Monduo 16-inch Pro Duo Display aims to give you multiple screens you can easily pack away and bring wherever you need it. To a point, it's fair to say that the brief has been met with this release.
You're not getting the premium quality displays of a MacBook Pro, as that's hard to do without Monduo blowing the budget completely. But since you get a massive amount of screen estate to play with, and at a reasonably good quality at that, it's forgivable.
The plastic construction is also a potential sticking point, but a metal version would be more weight than we want to hang off the back of a MacBook Pro screen. It's not premium, but it's the best material for the task.
The way it attaches is adequate, but since you're not moving this once it's set up until you pack it away and it works without blocking the existing Mac screen, it's not a problem.
The price of $799 is steep, and that's an issue. 12.9-inch M1 iPad Pros have popped up now and again at that price point, and while you only get one monitor at that price, it's the same quality as your 16-inch MacBook Pro. And, if you're reading this, odds are you already have one.
And that iPad Pro is a standalone device. So, if you're in the market for something like the Monduo here, you need to consider that M1 iPad Pro or even a 2018 12.9-inch iPad Pro if you can find a killer deal.
It's not perfect, but the Monduo 16-inch Pro Duo Display has a lot to offer those who need masses of screen while on the move. Of course, it's not going to make you look good at Starbucks, and you'll be a jerk if you break it out on the train or plane — but in the safety of a hotel room, you'll get a lot done with it.
We like it and are considering buying one for ourselves, given that we're traveling more as of late — but $150 cheaper would make it a more compelling offering for Mac users that probably already have an iPad. Two 4K portable displays that are even closer to the MacBook Pro screen pixel density cost about the same as one MonDuo — and they don't have to hang off the back of your MacBook Pro.
Monduo 16-inch Pro Duo Display — Pros
Compact, and transports easily
That's a lot of portable screen real-estate
Screens are nice quality, but...
Monduo 16-inch Pro Duo Display — Cons
Not quite MacBook Pro screen quality
Within striking distance cost-wise of a 12.9-inch iPad, and about the same price as two portable 4K screens
Going to take two of your MacBook Pro Thunderbolt ports
That's a lot of weight to hang off the back of a MacBook Pro screen
Rating: 3.5 out of 5
Where to buy the Monduo 16-inch Pro Duo Display
At present, Monduo doesn't have an Amazon presence. The unit is available for $799 exclusively from the Monduo web store.