All the new features in tvOS 17: FaceTime, new Control Center, more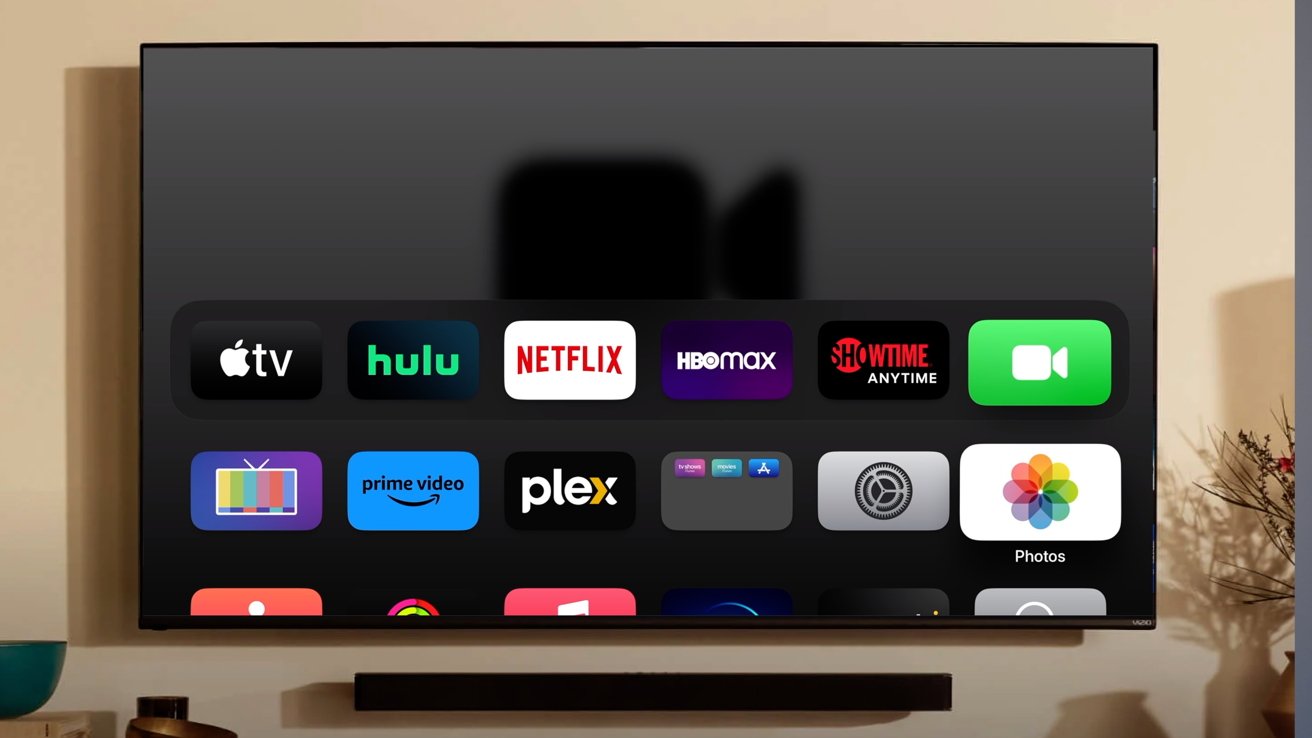 Apple's tvOS 17 has added so many new features, including FaceTime, improvements to Apple Fitness+, and an updated Control Center. Here are the best features coming to the Apple TV set-top box in the fall.
At times, it feels like Apple neglects its big-screen operating system, but this year Apple has plenty of new features. The soon-to-be-released tvOS 17 is poised to be the biggest update to Apple TV in years.
We installed the beta on our new Apple TV 4K to try out the new features for ourselves.
FaceTime and cameras
The most exciting new addition to Apple TV is FaceTime. Thanks to Continuity Camera and your iPhone, it's easier than ever to take a video call on the big screen.
Before anyone gets too excited, FaceTime is limited to more recent Apple TV models. Only those running a second-generation Apple TV 4K or newer updated to tvOS 17 will be able to use FaceTime.
Assuming you meet those requirements, it's quite impressive. Upon launching the app for the first time, it will ask you to pair your preferred iPhone.
Once you select the appropriate device, a Continuity Camera alert will appear on your iPhone. Tap accept to pair.
You'll see an alert on your iPhone to place it in an appropriate spot with you on camera. Once it detects the phone has been placed and you're in the frame, it will give you a countdown on screen before taking you full screen for your call.
Apple provides a list of recommended calls based on recent or missed phone calls on the left side of the screen or you can use the plus button to choose a contact. Alternatively, you can start a call from your iPhone and transfer it to the Apple TV 4K.
There are three toggles you can use to customize your FaceTime experience on Apple TV. The first is Center Stage, keeping you perfectly centered.
The second is Portrait Mode, slightly blurring out your background and bringing more focus to you as the subject.
Reactions on Apple TV
Reactions are video effects that can be triggered via hand gestures. Right now, Apple hasn't provided a full list of supported gestures.
So far, we were able to successfully trigger a thumbs-up bubble by giving a solo thumbs up and two thumbs up triggered full-screen fireworks behind us.
FaceTime calls can work full screen, or they can work split screen with SharePlay while you play a game together or watch a movie.
Apple didn't just bring FaceTime to the Apple TV with this update though, it brought full Continuity Camera API support. We'll soon see loads of apps with integrated video.
To date, Cisco WebEx and Zoom have both promised to hit the set-top box by year's end.
One other app got support for cameras with this update, and that's Apple Music. In the Music app, Apple has an all-new karaoke-like experience.
Lyrics will display on the screen with you in the background as you sing your favorite songs. There are a handful of video effects that can be applied too, putting a bow on the karaoke feel.
Control Center in tvOS 17
With the tvOS 17 update, Control Center is more powerful than ever. It lives persistently in the top-right corner of the Home Screen showing various pieces of system information.
It will show the current time, any connected AirPods if any music is playing, and which profile is currently active. To open it, just hold down on the TV button.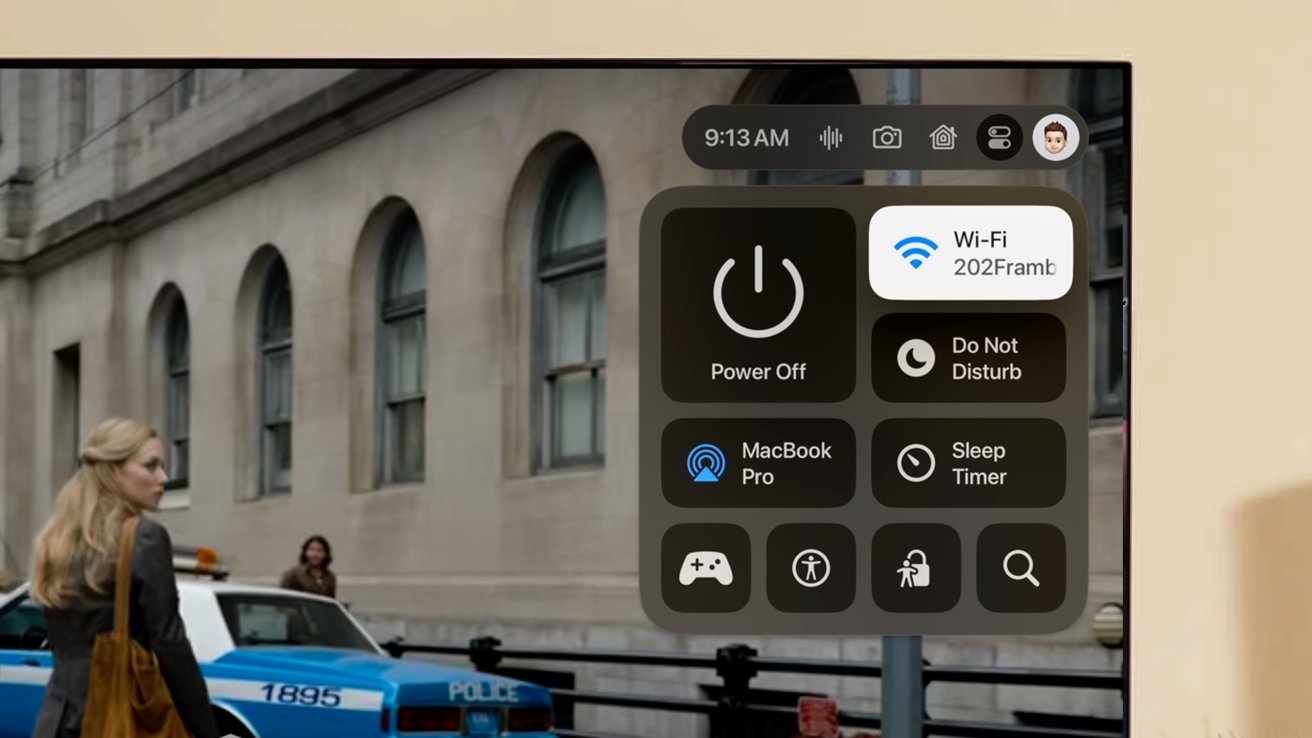 It now takes up less space but is more information-dense. Available controls include the power button, Wi-Fi access, Do Not Disturb mode to mute notifications, Spotlight search, and AirPlay output options.
There are new options for managing gaming controllers, accessibility settings, and restrictions. One feature we're excited about is sleep mode which can turn your TV off after 15 minutes, 30 minutes, 1 hour, or two hours.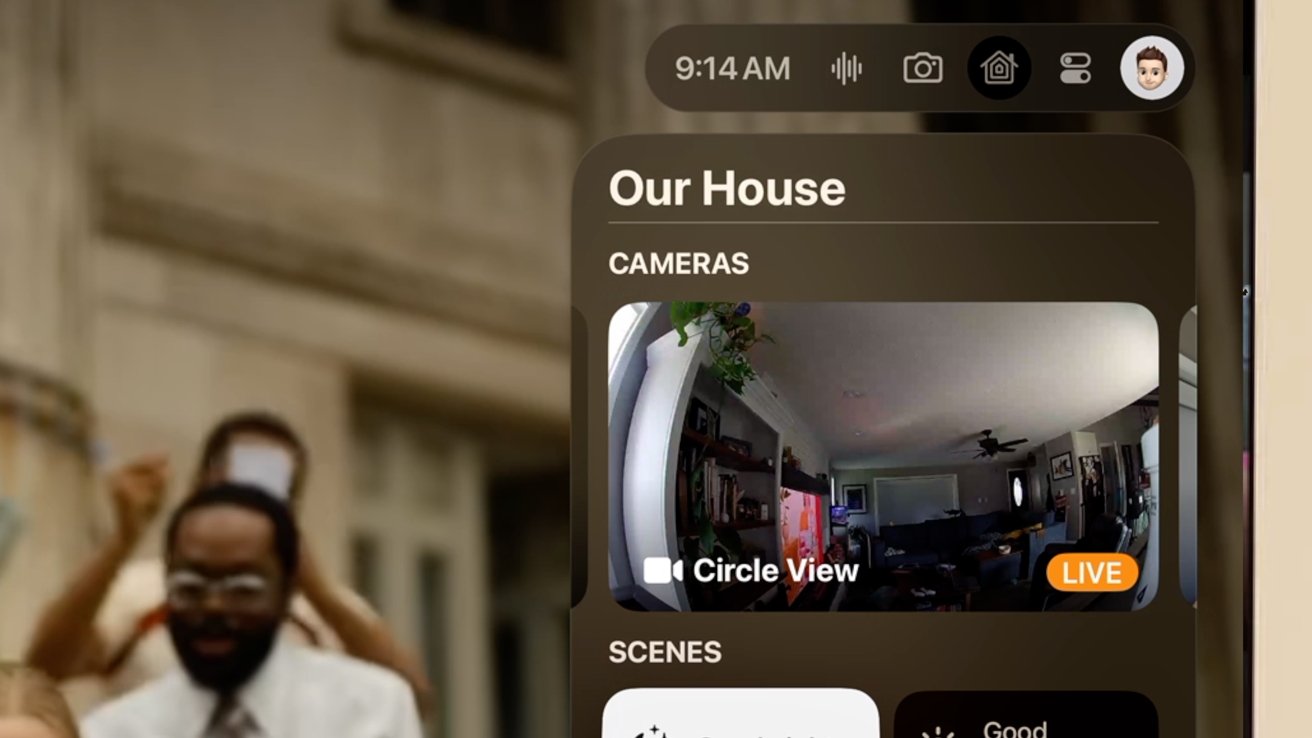 When you go to the top, you can move to the new Home tab. It shows your Apple Home security cameras and various scenes you may want to run.
If you open a camera full screen, you can control any accessories in the room. Picture-in-picture is also still supported.
Lastly, there are new options in Control Center to view any music playing and whether any cameras are currently connected. If you select the profile icon, you can choose a new one to activate.
If you use the Remote app on your iPhone to wake your Apple TV, it will automatically sign you into the appropriate profile for you.
New screen savers in tvOS 17
Apple added two new destinations to its Aerial screen savers with tvOS 17. They're Arizona's Monument Valley and California's coastal redwoods, though they aren't available in the current beta.
If you set your photos as the screen saver, you can now get curated memories from your personal photo library, shared library, or both.
Apple Fitness Plus
In Apple Fitness Plus, you can prioritize the trainer's motivation and instruction or the background music. Apple calls this Audio Focus and you can access it by the in-video audio menu.
Users can checkmark the focus they prefer to help you get the most out of your training session.
Then there are Stacks. Stacks are groups of workouts you can do in succession. Instead of finishing a workout session, finding another, then starting it, they will play back-to-back.
The most noteworthy feature of Apple Fitness Plus is building a customizable workout plan. You can craft plans based on the day of the week, workout type, instructor, music type, and more.
You build the plan on your iPhone before it shows automatically on the TV app. You can view your current and upcoming workouts to help you stay on track.
Other changes in tvOS 17
One of the most-requested features for Apple TV arrives with tvOS 17. You can finally add a VPN directly to the set-top box.
Third-party apps will arrive this fall to help protect your network and mask your traffic when using Apple TV. It can also help you adjust the "location" of your Apple TV, like if you hypotheteically wanted to skirt location-based blackouts on sports.
Despite the new Apple TV Siri Remote lacking the U1 chip and Find My capabilities, Apple did add the next best thing with tvOS 17. You can now use your iPhone to locate your missing remote.
When you open the Remote app from Control Center in iOS 17, you can use it to find the remote if it is nearby. You can't make it play any audio, but the Bluetooth signal helps you at least get close to it.
Another change for tvOS 17 includes a new column of icons on the Home Screen, allowing you to see more of your apps without scrolling.
If you pair your Apple TV with a second-generation HomePod, you can enable "Enhanced Dialogue." It boosts the dialogue track of the mix to make it easier to understand what the actors are saying.
Lastly, there is support for Dolby Vision's 8.1 profile. The Dolby Vision 8.1 profile doesn't have any better video quality, but it does bring fallback support.
Unlike other versions of Dolby Vision, the 8.1 profile will fall back to HDR10 if the TV doesn't support Dolby Vision rather than just SDR. It should ensure the best possible quality video playback.
Available in fall 2023
These new Apple TV features will be available later this year as part of tvOS 17. It will arrive as a free update alongside iPadOS 17, macOS Sonoma, iOS 17, watchOS 10, and more.