What iOS 17 features you aren't going to get at launch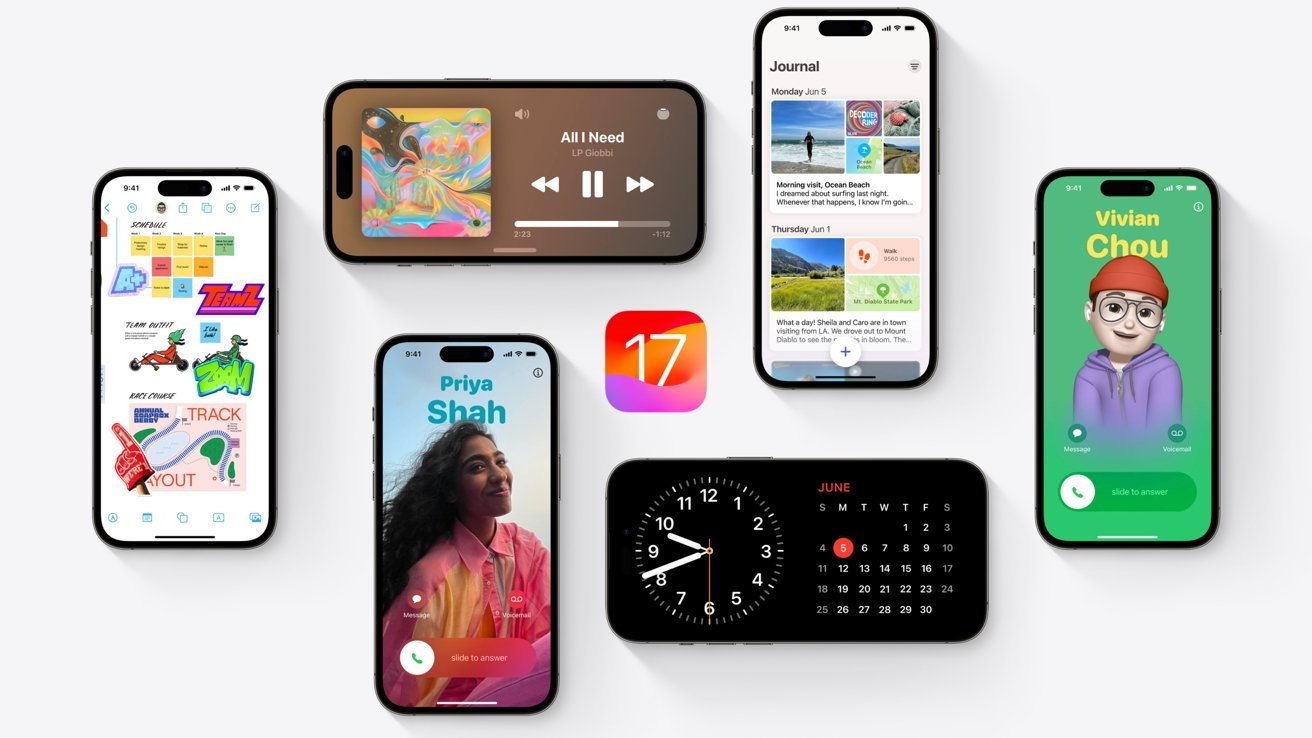 In the fall, iOS 17 will launch with hundreds of features, changes, and enhancements — but some will be missing. Here's what won't ship on time.
In recent years Apple has been working hard to improve its software releases. As of late, there's been a focus on usability, bug squashing, and performance versus trying to cram in as many new features as possible.
The last few major software releases have seen Apple publicly denoting which features won't be available at launch and instead will show up in subsequent updates.
The same holds for iOS 17 with three of Apple's biggest new features missing the initial release window.
Journal app
Apple's Journal app is one of the bigger iOS 17 features to get announced. Using on-device machine learning, it can create personalized journal entries based on your workouts, photos, music, and more.
Users can add context to these curated entries by expanding on them with more information or text.
Of course, since this is an app from Apple, everything is secure. Your Journal can lock and iCloud sync is end-to-end encrypted.
As excited as we are to try out the Journal app, Apple says it won't arrive until later in 2023, after the launch of iOS 17.
New AirDrop features
AirDrop gains new functionality with iOS 17. You bring two phones together and NFC triggers the AirDrop transfer.
In a magical experience, a subtle ball of light stretches across one screen before jumping to the other and transferring your photo, link, video, or something else. With iOS 17, you can even use NameDrop to transfer your contact info.
One feature we won't see right away though is the ability to continue an AirDrop transfer over the internet.
If you are sharing a large file with someone, you'd previously need to stay nearby. The new update will — eventually — let you start the transfer and walk away, with the file continuing to transfer over the internet, no matter where you go.
Collaborative Apple Music playlists
Delivering a feature long available on competing platforms, Apple is finally planning to allow multiple users to collaborate in Apple Music.
You can invite users to collaborate on your playlist, adding songs, removing tracks, and reordering them. They can also react to what's playing using emoji.
Users will have to wait a bit longer to test this feature, with Apple again saying it will arrive by year's end.
iOS 17 is coming in the fall of 2023
Apple is poised to release iOS 17 in the fall, alongside its other flagship operating systems. Some features, like those outlined above, will arrive in subsequent updates, likely iOS 17.1.