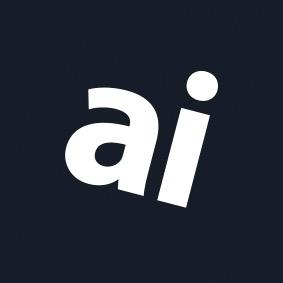 Why you can trust AppleInsider
Bluetti AC180 Solar Portable Power Station review: Perfect merge of price, ports, and power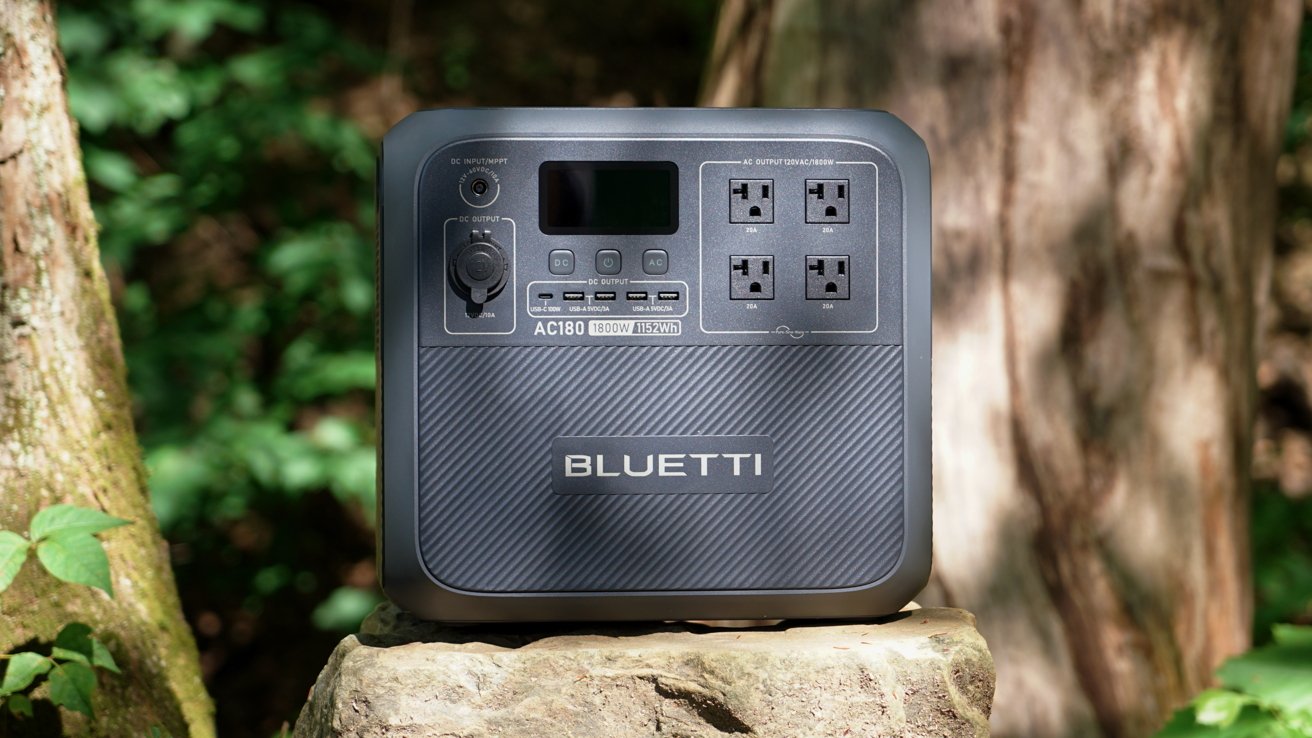 Bluetti AC180 Solar
4.0 / 5
---
The Bluetti AC180 Solar takes on all the best aspects of the AC200Max and crams it into a smaller, lighter form factor that should satisfy most users' needs.
Portable power stations come in all shapes and sizes, from larger than a shoebox to smaller than a mini fridge. The size of the battery is directly proportional to the capacity, so customers need to weigh their options — literally.
The Bluetti AC180 Solar lands right between the small and large classes by having some heft and capacity but still being small enough to carry with one hand. The outlet variety and charging options also set it apart from smaller units.
We previously reviewed the Bluetti AC200Max, a hefty 62-pound power station capable of outputting 2,200W at once from its 16 ports. The AC180 Solar weighs nearly half as much, is only downsized to 11 ports, and can still output 1,800W at once.
Most reputable brands will offer similar power station configurations at competitive prices and similar battery chemistry. Deciding on the right product comes down to reliability, port options, overall portability, expansion, and quality-of-life features.
Bluetti AC180 Solar Portable Power Station review — features
At under $1,000, the Bluetti AC180 Solar is a more approachable product with enough capacity, port selection, and output capability to satisfy most casual uses. Portable power stations are primarily used as backup solutions during power outages or while on extended camping trips.
The Bluetti AC180 Solar has a 1,152Wh capacity and can output 1,800W under load with 2,700W surge protection. The capacity is made up for its various fast charging options and light weight.
The portable power station weighs 35.27 pounds and measures 13.39 inches long by 12.48 inches high by 9.72 inches deep. It is easily carried by its two handles and is light enough to move while gripping just one handle.
The power supply is built-in, so the AC cable isn't dragged down by an oversized brick. The battery can achieve 80% capacity in 45 minutes and 100% within an hour when plugged into an outlet, thanks to 1,440W fast charging.
Bluetti AC180 Solar gets its name from having a DC input/output port that can be used to recharge via solar. Batteries of this size class generally don't have solar inputs, so that's a benefit of this power station.
500W of solar input, which would require about three solar panels, can recharge the battery in three hours.
There are 11 total inputs: one 100W USB-C port, four 15W USB-A ports, four AC outlets, a car charger outlet, and a 15W Qi wireless charging pad.
Using the Bluetti AC180 Solar Portable Power Station
Portable power stations are becoming more and more necessary as electric grids get more unreliable. Plus, these devices are excellent for recreational use like camping or in RVs.
These systems can quickly run thousands of dollars, so an option just under $1,000 is refreshing. Your use case will determine the required size and capacity — the AC180 Solar is a good model for short power outages or limited outdoor excursions.
At 35 pounds, AC180 Solar is perfect for picking up and moving to wherever it's required. Run the fridge in the kitchen for an hour, then move the battery to the basement freezer, all without breaking your back.
The outlet configuration is perfect for the size. We'd have traded two USB-A ports for one more USB-C port, especially since they are only 15W. It seems odd to have so many USB-A ports in a world where USB-C is becoming more prevalent.
However, the four AC outlets make up for this by enabling nearly anything to be plugged in, including giant USB hubs. There are five fewer outlets on the AC180 versus the AC200Max, and none are overly missed.
We're still conflicted about Bluetti's choice to include a wireless charging pad in the top of some of its batteries. The Qi charging standard is inefficient, and most products have a camera bump that prevents laying flat on the charger.
Hopefully, Qi2 will introduce magnets and a small charging shelf to improve this add-on. For now, we're okay with it being there, even if charging via the limited 15W USB-A port on the side would be much faster.
Charging the entire battery in under an hour when plugged in, or in a reasonable time on solar, is quite impressive. Most large batteries require multiple hours of charging with incredibly loud fans to get to 100%.
Speaking of fans, the ones in AC180 Solar are whisper-quiet. You'll hear them in a silent room, but any noise like music will quickly drown them out. Our decibel reading hit sixty at full fan speed with the mic pressed to the exhaust.
The Bluetti app
Bluetti's app is well-designed and is simple to operate — once you're past the main screen. For some reason, the company has added dedicated forums and an in-app store via dedicated tabs.
We've reviewed a few e-bikes with dedicated forums in their apps, and it seems power stations are next to the trend. Sure, it's a niche with vocal fans, but it seems like an odd choice.
We won't dive into Reddit and Twitter's self-destruction here, but it may be a culprit. Users want a place to talk about their products, and it seems dedicated forums similar to the early web are making a resurgence.
Skip past these tabs to the devices section, and you'll find a simple control panel. Dig into the deeper system settings to see more control options that are more intuitive than on-battery operation.
Users can toggle charging modes between standard, silent, and turbo, which controls how fast the battery charges versus the fan noise level. Power Lifting mode increases total potential output to 2,700W for high-powered devices.
Eco mode toggles the AC or DC outputs off after a duration if little to no load is being used from those outputs.
Controlling features without the app
We highly recommend using the Bluetti app to control the AC180 Solar's functions. The lack of a touchscreen like on the larger AC200Max means toggling settings require non-intuitive button combinations.
Settings mode is activated when the device is on, but AC output is off by pressing the AC and DC power buttons for about 2 seconds.
Activate the following settings with the mentioned button sequences while in settings mode:
Eco mode: press the DC power button
Power Lifting mode: hold the AC power button for 2 seconds
Frequency switching: press the AC power button
Toggling Turbo or Silent mode requires the Bluetti app.
Balancing weight and power
Portable power stations can be a lifesaver in some situations, and we recommend every home should have one of some kind. They can be as indispensable as a first aid kit in some situations.
That doesn't mean every home should go out and buy a $5,000 solar generator and power storage system. In fact, most would likely do well with an AC180 Solar or similar.
The variety of outputs, ability to recharge via solar, and light weight make this an excellent portable power station. Smaller, cheaper models on the market might get you by, but we feel this hits the sweet spot on price, capacity, and portability.
Bluetti AC180 Solar Portable Power Station - Pros
A portable power station that's actually portable
Four AC outlets and 100W USB-C are enough for most
Solar input is an excellent addition to this form factor
Recharges in under 1 hour over AC
Quiet in operation with even quieter silent mode
Bluetti AC180 Solar Portable Power Station - Cons
Four USB-A ports at 15W seems outdated
Flat 15W wireless charging surface isn't ideal, especially for iPhones that cap out at 7.5W over Qi
Bluetti app required for many controls — if you can find them
Rating: 4 out of 5
Bluetti has a great portable power station with the AC180 Solar. It has good port selection, decent capacity, and is light enough to carry with one hand.
But there's space to improve. We'd love future models with more USB-C ports and Qi2 wireless charging.
Where to buy the Bluetti AC180 Solar Portable Power Station