Hands on with all the new features in iOS 17.1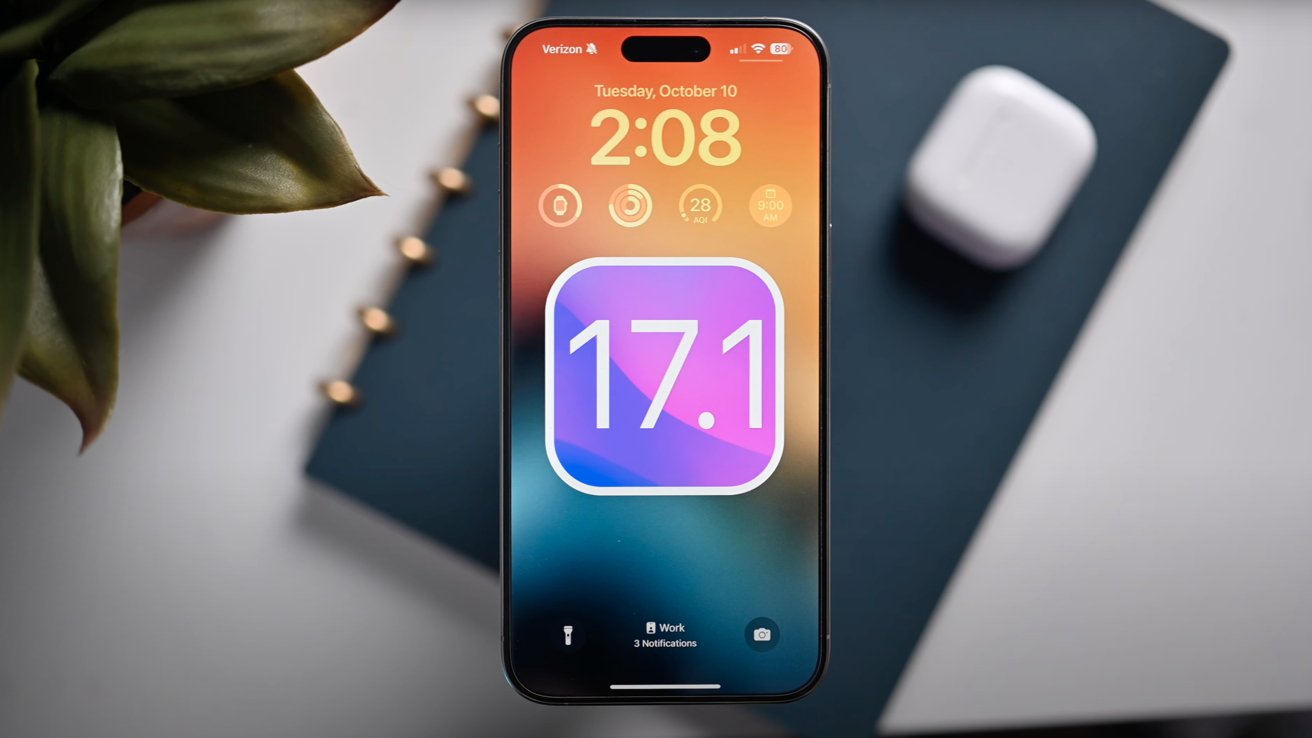 Apple on Wednesday released the much-tested iOS 17.1 update, bringing long-promised features and a slew of bug fixes, marking the first major update to Apple's software platform. Here's what's new.
After spending 35 days in beta, everyone is finally able to install Apple's latest update. Weighing in at a paltry 363MB on our iPhone 15 Pro, there are lots of changes to discuss.
AirDrop in iOS 17.1
One of the headlining features comes to AirDrop. Apple designed a whole AirDrop experience with iOS 17, but one of the flagship features was missing for launch.
The iOS 17.1 update now allows you to initiate an AirDrop transfer when you're next to someone but then walk away, allowing the transfer to continue over the internet.
It's great for large files where you don't want to wait near the recipient. There's even a toggle in Settings to force this to transfer over Wi-Fi or also to allow cellular.
StandBy mode gets a much-requested feature
We've heard from many readers, listeners, and viewers that they'd love more control over StandBy mode, and it seems Apple has listened to your pleas.
With the iOS 17.1 update, there is now a toggle in the Settings app to control how long the display stays on before turning off.
Available for any iPhone with an always-on display — i.e., the iPhone 14 Pro, iPhone 14 Pro Max, iPhone 15 Pro, or iPhone 15 Pro Max — you can now choose between automatically turning off, turning off after 20 seconds, or never turning off.
StandBy mode has been one of our favorite features in iOS 17, so we're excited Apple has continued to improve it with this release. Maybe next time it will throw in more clock designs.
Apple Music
There are some new quality-of-life improvements to the Music app, some of which we've waited for for a long time.
Apple has changed the nomenclatures of hearting a song, now calling it "favoriting" versus "loving." It's not just a name change, though — you can now favorite songs, albums, and playlists, too.
The Music app can now filter its content, showing just favorited songs, albums, or playlists or showing all of your content. Apple, thank you for this change.
On playlists, Apple has new album art choices that help you design what the playlist looks like. Third-party apps continue to give you more granularity and more choice.
At the bottom of playlists, Apple can now present song suggestions based on what's in that playlist. You can play any of those songs and instantly add them to the playlist.
More changes in iOS 17.1
That's not all. Apple has a lot of other new features for users this time around.
On the Lock Screen, you can now choose a dedicated album for shuffling photos. It's much easier than picking the photos manually or based on a person, place, or pet.
For devices with Dynamic Island, if you turn the flashlight on, a flashlight icon will appear. Now, you won't feel silly with the flashlight on while you're using the phone.
If the flashlight is on, you can also turn it off from the Dynamic Island. No need to swipe into Control Center.
Apple has tweaked the Action Button, disabling it when it detects it is in your pocket. This is to prevent inadvertently holding the button.
Apple Home Keygets support on Matter-enabled locks and we should likely see more locks that freely support both soon.
The Wallet app can show certain bank balances, but only in the EU. The US doesn't have the same open banking standards so the same feature will take more work for Apple to enable.
Apple did partner with Discover to show those balances for stateside users.
Bug fixes in iOS 17.1
There have been some prominent bugs in iOS 17 that have been going around on social media and Apple has addressed several of the biggest ones.
Apple is calling out the most notable in the iOS 17.1 release notes.
There are optimizations for crash detection on the iPhone 14 and iPhone 15 series, a keyboard lag bug has been squashed, the perceived screen burn-in issues have been solved, ScreenTime now syncs correctly, and custom ringtones can be set once again.
More outside of iOS 17.1
This update has a lot but Apple has been busy with other features too.
Apple Pay Later has officially launched, outside of the limited beta group. This rolled out ahead of iOS 17.1 and users don't need to be on this update to use this service.
The Apple-owned Shazam app got an update, helping users find live music in their area. TestFlight was updated too, fixing an issue for iOS 17.1 users.