Apple Watch Black Friday Deals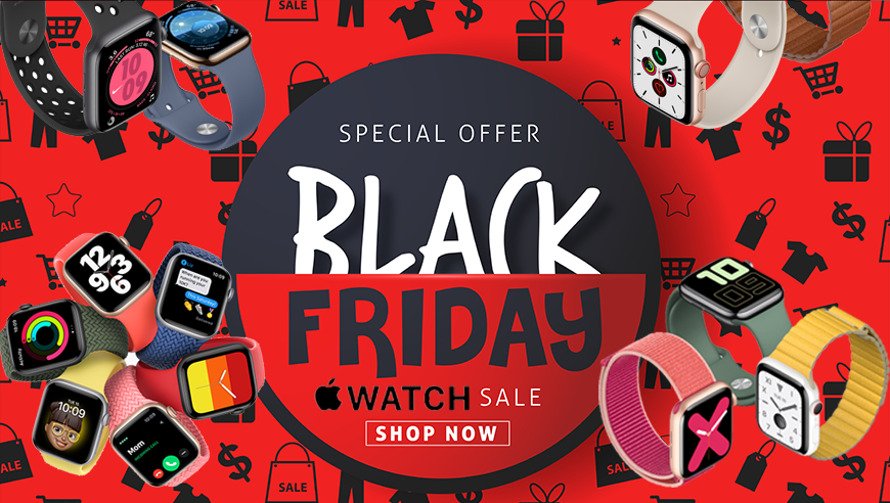 Last updated: 2 months ago
Apple recently released the Apple Watch Series 6 and Apple Watch SE, but there are already discounts and deals among authorized resellers on the new smartwatches. Find the best Apple Watch Black Friday deals here.
While Apple doesn't typically discount the Apple Watch for holidays or events, the company does offer gift cards. However, Apple's retail partners have plenty of discounts on Apple Watch and other devices during the holiday season, with the best prices tracked in the AppleInsider Apple Price Guide.
Current Apple Watch Black Friday Deals
There are already many discounts for Black Friday 2020, despite the sales holiday being days away. The only older model Apple still sells is the Apple Watch Series 3, though some resellers still offer other older models at a discount.
Best bet for Black Friday:
Black Friday Apple Watch Deals by Store
AppleInsider has affiliate partnerships and may earn commission on products purchased through affiliate links. These partnerships do not influence our editorial content. Please note, prices fluctuate rapidly during the holiday season and are subject to change at any time.
Amazon
B&H
Which Apple Watch should you buy this Black Friday?
Apple revealed the Apple Watch Series 6 in September. The upgrade adds a Blood Oxygen sensor, faster S6 chip, new color and band options, and slightly thinner build compared to Apple Watch Series 5. Before Black Friday disocunts, Apple Watch Series 6 starts at $399.
The company also revealed the Apple Watch SE, a mid-ranged variant that skips recent health-sensor hardware and uses a last-generation chip. However, the Apple Watch SE does include current-generation hardware features like screen size, fall detection, Family Setup, and ambient-noise detection. When not discounted, the Apple Watch SE starts at $279.
For those who want the absolute lowest prices, Apple and its resellers still offer the Apple Watch Series 3, which starts at $199 before Black Friday discounts. While it has a dated chip and smaller screen, while also lacking the advanced health sensors found in the highest-end model, it provides a low entry point for the most budget-minded shoppers.
With only $120 difference between the Apple Watch Series 6 and Apple Watch SE, you'll want to go with the higher-end model if health sensors, an always-on display, or future-proofed performance are important to you. Apple Authorized Resellers are aggressively marking down the premium model for Black Friday, making it an even easier choice. However, more cost-conscious shoppers who aren't worried about those features will still get a perfectly capable update in the Apple Watch SE, which is also seeing some decent Black Friday deals.