Best Lenovo Deals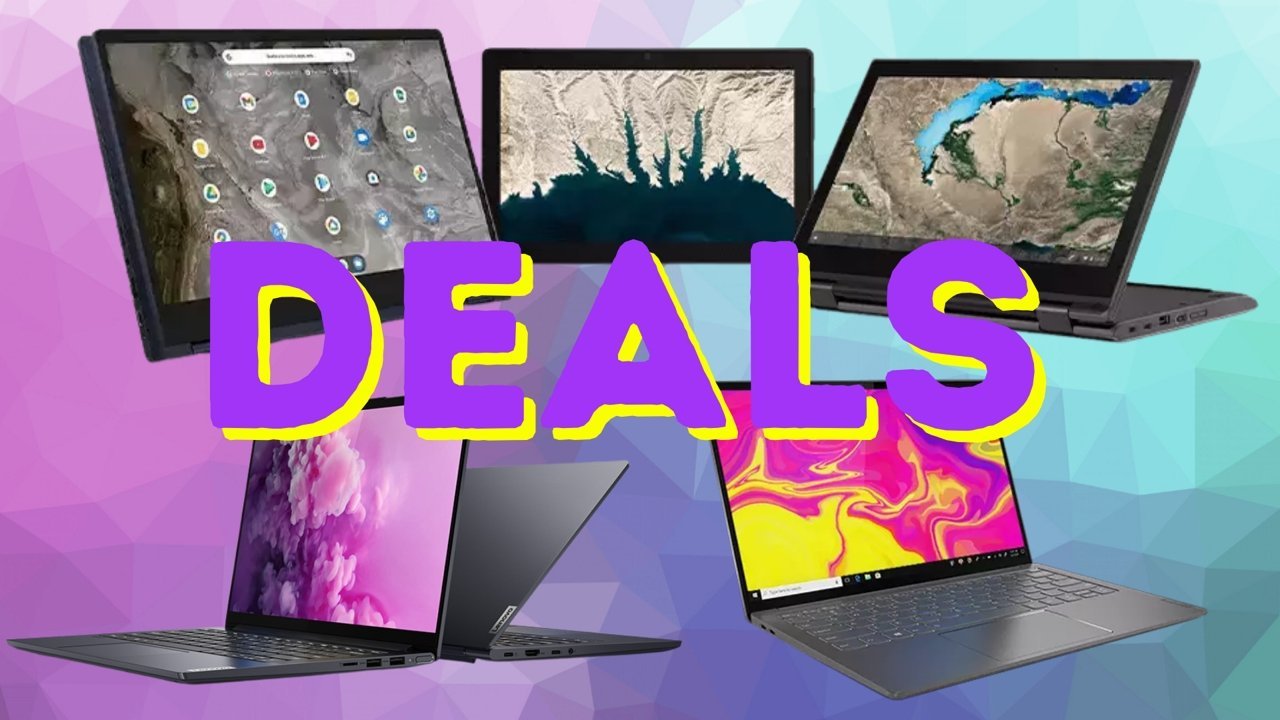 The best Lenovo laptop deals this May include savings on ThinkPad T14s, X13s, and Legion gaming PCs, most of which can be purchased directly from Lenovo.
AppleInsider is supported by its audience and may earn commission as an Amazon Associate and affiliate partner on qualifying purchases. These affiliate partnerships do not influence our editorial content.
Best Lenovo laptop deals for May 2022
The best deals on Lenovo laptops aren't relegated to one retailer. We see consistent deals posted across the spectrum of online storefronts like Amazon, Best Buy, Walmart, Newegg, Target, and more. Check out our top picks:
---
Lenovo Coupon Codes for 2022
If you're looking to find the best Lenovo coupon codes for 2022, be sure to visit the official Lenovo eCoupon page for the best and most recent deals.
Stay tuned for Black Friday 2022 deals as AppleInsider will be tracking the steepest discounts and best sales across the Lenovo product line throughout the year.
---
Buying a Laptop: What You Need to Know
When it's time to purchase a laptop, you'll want to keep a few crucial things in mind. Whatever your reasoning for taking the plunge and picking up a new computer, you should consider these main points before purchasing whatever model first catches your eye. The best Lenovo laptop sales can make for great impulse buying, even if you don't particularly need or want to get a new computer. But if you want some additional guidance, keep these bits of advice in mind, when it comes to the type of laptop you wish to purchase and the best times (and places) to do it.
Consider size and form factor. Laptops generally start around 11.6-inch models or so and go up from there to around 17.3-inch options. The larger your screen, typically means the less portable your laptop will be in terms of weight and size. If you're planning for your laptop to remain as lightweight and easy to maneuver as possible, you might want to take it easy in terms of size. If you're not worried about traveling so much as you are looking for a desktop replacement, go bigger without worrying about lugging your laptop along with you.
Choose the right type of screen. Your laptop's screen is an important part of the purchase. Do you want a touchscreen, or a display that has a high refresh rate? What about 4K resolutions? Be sure you know what you're looking for and opt for the screen that fits your lifestyle the best. A 1920x1080 resolution is considered full HD, and should be the bare minimum for a modern laptop for you to purchase if you want a decent amount of screen real estate.
Look for a quality keyboard: Unless you're going to be hooking up a Bluetooth keyboard or using your laptop as a passthrough for your desktop space, your keyboard is infinitely important. Be sure that the keyboard on the laptop you've chosen is large and comfortable without compact keys, with good travel and responsiveness. One important aspect to consider is backlighting, which is a great thing to have if you have to work in low light conditions.
Purchase a laptop when the best deals are in full swing. Many of the best deals are available throughout the holidays, including Black Friday, Memorial Day, and Amazon Prime Day.
Look for student discounts. If you're a student, you can usually find some type of deal based on your academic need for a laptop. Check retailers for special discounts or programs that require submission and/or verification of student IDs, and you may find that your prospective PC is a lot cheaper less your student discount. Lenovo, for instance, offers an extra 5% off with verification sitewide (excluding doorbusters, clearance, and other select items).
---
Price Comparison Shopping
To find the best prices on Lenovo laptops, don't shy away from shopping direct from the brand. Lenovo typically offers a wide variety of discount codes that you can use in addition to most of its deals, which can end up saving you more cash. Buying directly from the manufacturer also nets you some of the additional perks like extended warranties, custom bundles, and extra software or accessories that general or electronics retailers may not offer.