» » »
Beats Studio Pro versus AirPods Max — compared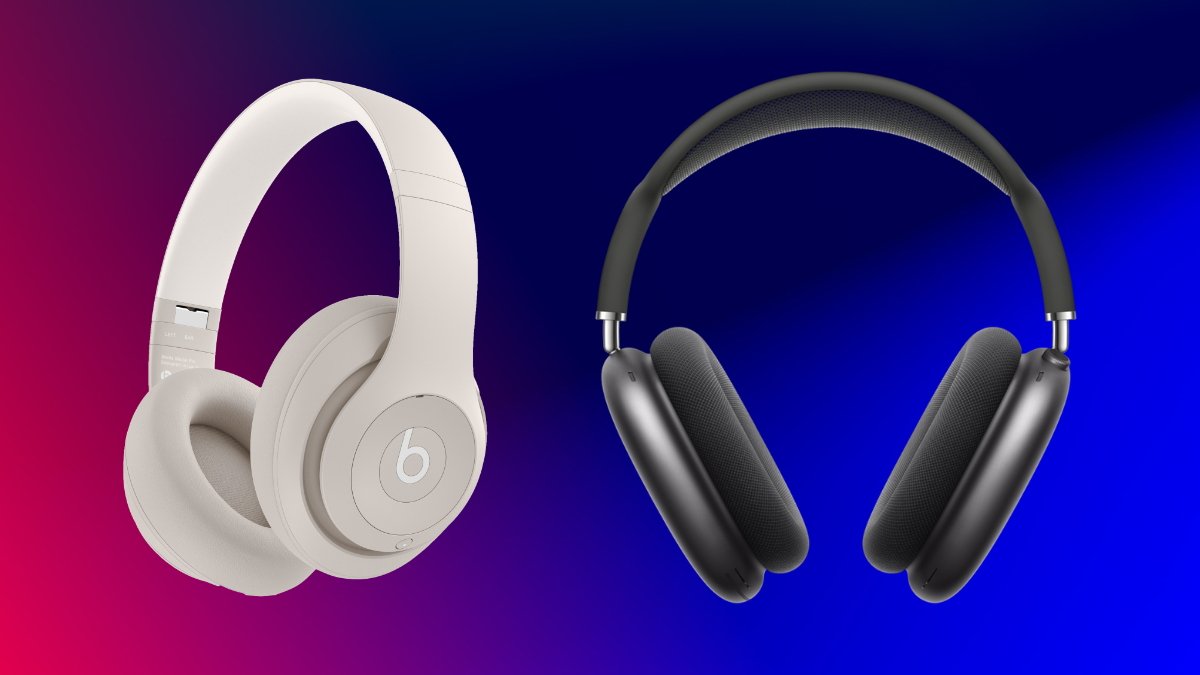 Apple has released the Beats Studio Pro headphones with Active Noise Cancellation and other features. Here's how they compare to the AirPods Max, which hasn't been updated since 2020.
Taking inspiration from the Beats Studio3 headphones, the Beats Studio Pro ships with leather ear cushions and metal sliders, as launched by Apple on July 19. Inside each earcup, a specially designed 40mm driver aims to deliver exceptional audio quality with minimal distortion, even at high volume levels.
Furthermore, a newly integrated digital processor achieves a well-balanced sound profile. Both headphones promise an unparalleled listening experience, but the new Beats Studio Pro has some advantages.
Here's how the new Beats Studio Pro stacks up against the aging AirPods Max, Apple released in 2020.
Specifications
| Specifications | Beats Studio Pro | AirPods Max |
| --- | --- | --- |
| Price | $349.99 | $549.00 |
| Dimensions (inches) | 7.1 x 7.0 x 3.1 | 7.37 x 6.64 x 3.28 |
| Weight (ounces) | 9.17 | 13.6 |
| Battery life | Up to 40 hours | Up to 20 hours |
| Connectivity | Bluetooth 5.3 | Bluetooth 5.0 |
| Microphones | Yes | Yes |
| Active Noise Cancellation | Yes | Yes |
| Spatial Audio | Yes | Yes |
| Colors | Sandstone, Navy, Deep Brown, Black | Space Gray, Pink, Green, Silver, Sky Blue |
Beats Studio Pro vs AirPods Max - Design
The world of premium headphones is as much about aesthetics as it is about sound quality, and both the Beats Studio Pro and the AirPods Max are testaments to this philosophy. However, their design philosophies diverge, reflecting their unique brand identities.
The Beats Studio Pro carries forward the signature Beats design language, typically a modern, urban aesthetic. The branding is unmistakable, with the iconic Beats logo on the ear cups.
These headphones are 7.1 inches in height and 7.0 inches in length and have a width and weight of 3.1 inches and 9.17 ounces. The AirPods Max is larger in dimensions with a height of 7.37 inches, width and depth of 6.64 and 3.28 inches, and weighs 13.6 ounces.
The AirPods Max embodies Apple's minimalist design ethos. The oval-shaped ear cups and the U-shaped, inverted knit mesh headband showcase the company's attention to comfort.
The seamless integration of the digital crown and the absence of visible screws or joints make the AirPods Max look and feel like a cohesive unit. Using premium materials, such as anodized aluminum for the ear cups, ensures durability while maintaining a lightweight profile.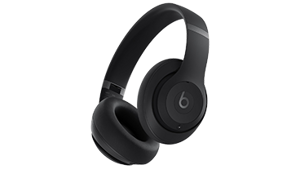 Beats Studio Pro
---
Beats Studio Pro over-ear headphones feature Active Noise Cancelling, Transparency Mode and Spatial Audio.
Beats Studio Pro vs AirPods Max - Main features
The Beats Studio Pro is a testament to the evolution of audio technology. At its core is the Beats Custom Acoustic Platform, which promises to deliver an immersive listening experience, ensuring every beat and note resonates with clarity.
The headphones' earcups contain a unique 40mm driver renowned for minimizing distortion, even when the volume is cranked up, resulting in superior audio quality. Similarly, the AirPods Max has 40mm drivers for deep bass, accurate mid-range sounds, and clean high-frequencies.
One of the standout features of each headphone is the Active Noise Cancelling, which, combined with the Transparency Mode, offers users the flexibility to either drown out the world or stay connected. Each device has a dedicated side button to switch between the two listening modes.
The Beats Studio Pro headphones are equipped with powerful microphones that actively filter out background noise to enhance the clarity of your voice. Apple is more specific with AirPods Max, saying it has nine microphones in total.
Eight of these are used for Active Noise Cancellation (ANC) to provide an immersive listening experience by reducing external noise. Additionally, three microphones are used for voice pickup, ensuring clear voice transmission during calls or voice commands.
Two of these microphones are shared with the ANC function, and there's one additional microphone dedicated to voice pickup.
While both headphones are designed with advanced microphone technology to ensure clear voice transmission and effective noise cancellation, the AirPods Max boasts a more extensive array of microphones primarily dedicated to its ANC feature. The Beats Studio Pro, on the other hand, emphasizes enhanced voice clarity, making it a strong contender for voice calls and communication.
A more recent feature for AirPods is Personalized Spatial Audio, which takes advantage of the TrueDepth camera on an iPhone to create a personal profile for the user, which is used by Spatial Audio to further the experience. Just as this works with AirPods Max, it also does so for the Beats Studio Pro.
Beats Studio Pro vs AirPods Max - Battery life
Battery life plays a vital role in headphones, and the Beats Studio Pro and AirPods Max have some key differences. They each promise impressive battery life but offer different durations and features that can impact their longevity.
The Beats Studio Pro boasts a remarkable battery life, ensuring users enjoy their favorite tunes without frequent interruptions. With a full charge, these headphones offer up to 40 hours of listening time without ANC or Transparency mode enabled.
However, even if you're using advanced features like Active Noise Cancelling or Transparency Mode, the Beats Studio Pro promises up to 24 hours of listening time. In contrast, the AirPods Max has up to 20 hours of listening time with ANC or Transparency mode turned on.
Apple isn't clear on the battery life of AirPods Max if neither of these features is turned on. Some tests have claimed that the headphones can reach approximately 21 hours in "regular" mode.
It's worth noting that the AirPods Max has impressive standby mode when put into its case. A review from AppleInsider shows it has several stages of low power mode, and can potentially last around 72 hours.
Beats Studio Pro vs AirPods Max - Connectivity
The Beats Studio Pro offers a versatile range of connectivity options. The Class 1 Bluetooth connection is at the forefront, ensuring exceptional wireless connectivity over longer distances without sacrificing audio quality.
The AirPods Max has Bluetooth 5.0, while the Beats Studio Pro has Bluetooth 5.3, although most people probably won't notice a significant difference between the two. Bluetooth 5.3 focuses on improving energy efficiency and reducing interference in connections.
Additionally, the Beats Studio Pro offers USB-C audio, which supports high-fidelity lossless audio and allows for simultaneous listening and charging. On the other hand, AirPods Max has a Lightning port for charging and supports an optional Lightning to 3.5mm audio cable, while the Beats Studio Pro has a 3.5mm analog input port.
AirPods Max uses Apple's proprietary H1 chip, which ensures a stable and high-quality Bluetooth connection, especially with Apple devices. This chip also facilitates quick pairing and device switching, making the user experience smooth and hassle-free.
Beats uses its own proprietary chip to accomplish the same thing, but in a way that also makes it highly usable for Android users. That means while you have one-touch pairing and Find My support for iOS, there's also Google Fast Pair, Audio Switch, and Find My Device for the other side of the fence.
Beats Studio Pro vs AirPods Max - Pricing
The Beats Studio Pro is $349.99, while the older AirPods Max costs $549. The AirPods Max is available in Space Gray, Pink, Green, Silver, and Sky Blue, and the Beats Studio Pro comes in Sandstone, Navy, Deep Brown, and Black.
Apple offers a customization option for the AirPods Max with a free engraving that can include emoji, text, and numbers.
Beats Studio Pro vs AirPods Max - What to buy
In the realm of premium headphones, the choice often boils down to more than just audio quality. While the Beats Studio Pro and the AirPods Max offer top-tier sound experiences, there are compelling reasons to lean toward the Beats Studio Pro.
First, price plays a significant role. The Beats Studio Pro, priced at $349, offers a more affordable alternative to the AirPods Max, which comes in at $549. With the Beats Studio Pro, users get a premium listening experience without the premium price tag of the AirPods Max.
$349 may be considered by some users to be a lot to spend on headphones, but it's still $200 cheaper than Apple's counterpart.
Versatility is another strong suit of the Beats Studio Pro. These headphones integrate with both Apple and Android devices with enhanced compatibility and ensure a smooth listening experience across platforms, making it an ideal choice for users operating in a multi-device environment.
AirPods Max can connect to Android devices via Bluetooth. However, some features exclusive to Apple devices, such as seamless switching and spatial audio, may not be available when using AirPods Max with Android.
AirPods Max also only supports the AAC Bluetooth codec, which may cause audio delay and sync issues on non-Apple devices.
Lastly, the battery life of the Beats Studio Pro is commendable. Offering up to 40 hours of listening time on a full charge, it ensures that users are rarely left searching for a charger.
This extended battery life, especially when using advanced features, can be a game-changer for avid music listeners or travelers compared to AirPods Max's 20 hours of battery life.
With price, battery life, and a good listening experience on its side, it's hard to justify buying the AirPods Max over the Beats Studio Pro for most potential buyers.
Where to buy