» »
What to do if your Apple Watch is stolen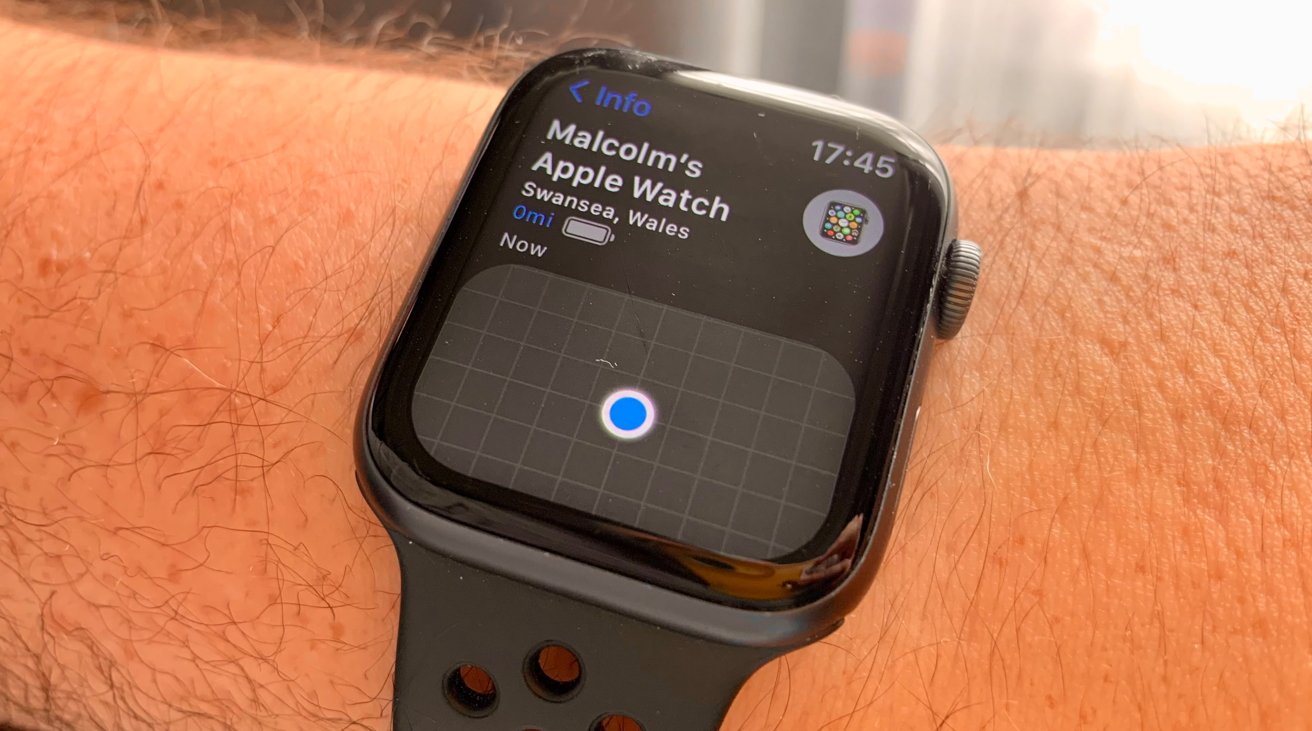 If you have lost track of your Apple Watch and think it may have been stolen, this is what you should do to protect your data and stand a chance of getting the wearable device back.
Temporarily losing track of a device can be nightmare-inducing, fearing that someone may have walked off with an expensive item that doesn't belong to them. In public places, the chance of that happening goes up, and the potential to get that item back intact goes down.
It may not even be a situation where a thief takes an unattended Apple Watch. People have their Apple Watch taken away as part of a face-to-face robbery, among other valuable goods.
Aside from knowing you've become a victim of theft, the prospect of losing a piece of hardware like an Apple Watch, and its stored data, can be alarming. With it also most likely capable of making payments because you probably put your card details into it, the situation may seem to be as bad as losing your wallet.
That being said, there are several actions you can take if you, unfortunately, end up in this situation.
Look for it with Find My
If the Apple Watch has gotten out of your sight, or you kept it in a bag that has itself seemingly disappeared, the first thing to try is relocating your stuff. The Apple Watch may not necessarily have been stolen, but it could've been misplaced or moved by someone else for safety.
The key here is to use Find My, Apple's system for keeping track of select Apple devices, as well as accessories like AirTag.
Be aware that this will only work if Find My has been enabled on the Apple Watch before it was lost or stolen. You cannot turn on Find My for the Apple Watch after the incident.
Using Find My requires that you either log into iCloud.com in a browser using your Apple ID then selecting Find iPhone from the webpage. You can also do this by opening the Find My app on an iPhone or other Apple products.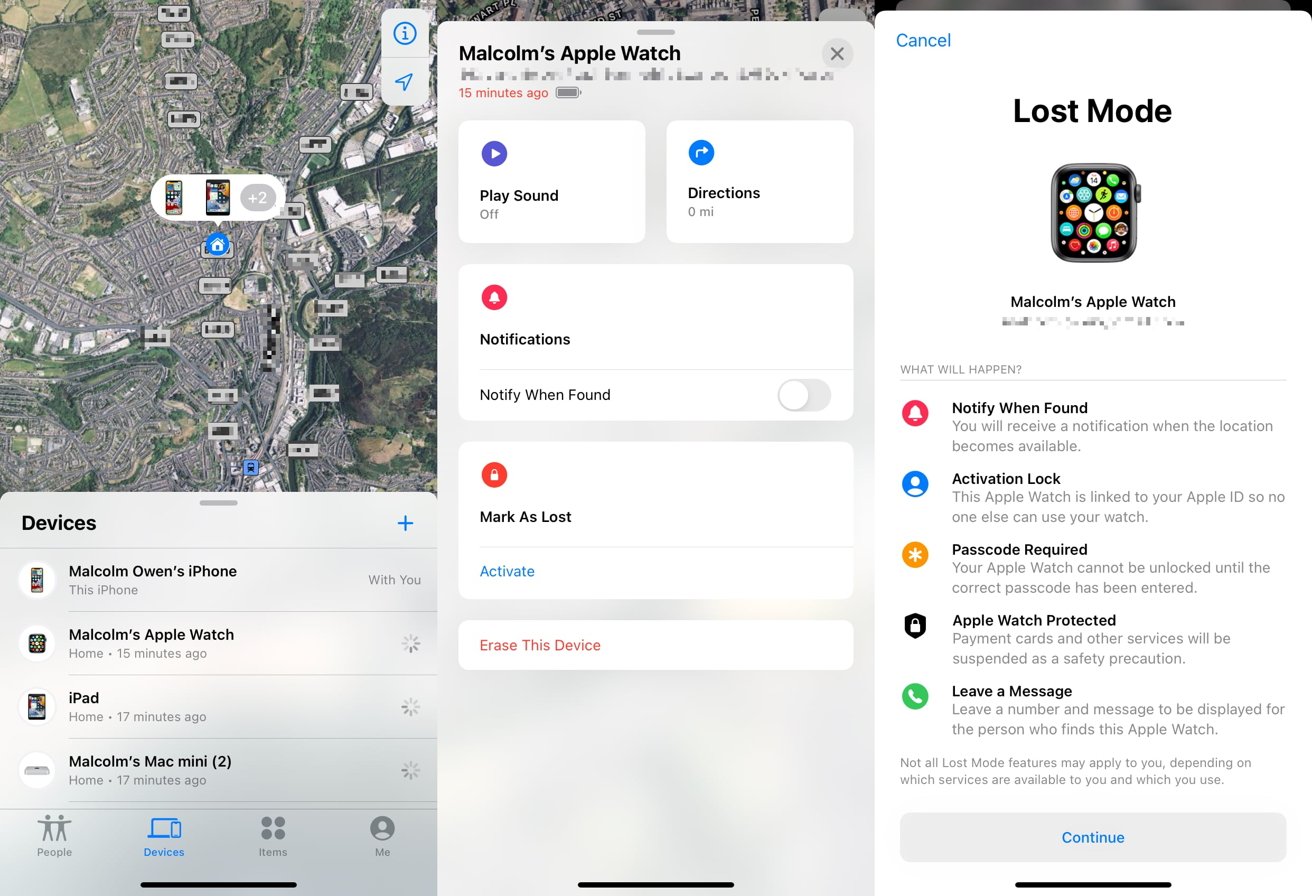 Find My will tell you the last reported location of your Apple products in relation to you. If you have a lot of items to track, you can select All Devices then your Apple Watch in the browser to find it, or tap Devices then your Apple Watch from within the app.
If it is nearby and not moving, it should be reasonably easy to find the Apple Watch, as you could set it to Play Sound from Find My to help determine if it is within earshot of you or someone else.
If the Apple Watch is a distance away or still moving, there are more actions you should perform.
If you see the Apple Watch and it is on the move, it is not advisable to chase after the thief. Though you might be able to get back your property, it is a potential risk to your safety.
In such cases, you are better off contacting the police.
Set your Apple Watch as Lost
With the Apple Watch confirmed to be away from you and unlikely to be returned in a short time, the next step is to lock it down by setting it as a lost device.
How to set an Apple Watch into Lost Mode via a browser
Log into iCloud.com in a browser and select Find iPhone.
Select All Devices then the Apple Watch.
Select Lost Mode.
Enter a phone number to display on the Apple Watch screen. Select Next.
Enter a message to be shown on the display. Select Done.
How to set an Apple Watch into Lost Mode using Find My
Open Find My.
Tap Devices, then the Apple Watch.
Under Mark As Lost, select Activate.
Follow the on-screen steps.
Enabling Lost Mode will lock down the Apple Watch using your existing passcode, suspend payment cards and other services on the device, and send notifications to you when its location has been updated.
Tell the Police
Like other lost and stolen items, you should file a police report as soon as you can if getting the Apple Watch back isn't immediately possible.
Doing so offers some essential benefits, such as allowing the Apple Watch to be recovered if it is handed in to the police. In instances where it is trackable in Find My, police may be able to use the facility to help get the Apple Watch back from the thief.
Filing the report will also provide you with a reference number, which you should keep on file in case you need to contact the police again about the theft.
File an insurance claim
If there is no chance of getting the Apple Watch back, you should consider filing an insurance claim. While this may vary between countries, insurance types, and insurers, in many instances, you can claim to get a replacement Apple Watch, even if you don't have specific insurance for the device.
While Apple doesn't offer Theft and Loss cover for the Apple Watch as it does for the iPhone, other types of insurance may already provide coverage.
This can include home insurance policies that have elements relating to personal devices used in public, some mobile phone insurance policies, and even travel insurance.
Suppose you have a policy that does cover your Apple Watch. In that case, you will need to be prepared with information about the Apple Watch itself, details about the theft or loss, relevant Apple Watch details like a serial number, and the report reference number from the police.
It's also likely that you will have to pay an excess towards the replacement.
Wipe the Apple Watch
If a long time has passed since the Apple Watch was lost or stolen, and there's no sign of it ever getting back to you, it's probably time to wipe the Apple Watch. Doing so protects your data further by deleting it from the Apple Watch, so there's no chance of any further impact to your accounts.
However, this will also delete any data stored on the Apple Watch that hasn't been backed up anywhere else. It may also impact any still ongoing investigations into the disappearance or theft of the Apple Watch.
Once erased, you will not be able to track the Apple Watch via Find My, so bear that in mind before deletion.
Wiping data can be performed remotely, again via Find My.
How to erase your Apple Watch remotely
Open Find My on another Apple device, or log into iCloud.com in a browser and select Find iPhone.
In Find My, Tap Devices then the Apple Watch, then Erase This Device, then follow the on-screen prompts.
For iCloud.com, tap All Devices then the Apple Watch, then Erase Apple Watch, then Erase.