Week in review video: Remembering Steve Jobs, build cost of iPhone 6s, 'iRing' & more
By Nate Hanson
Monday, October 05, 2015, 12:39 pm PT (03:39 pm ET)
Each Monday, AppleInsider packs all the Apple news you need to know into a fast-paced, 120-second show. This week, we cover all of the news about Steve Jobs, new water protection enhancements in the iPhone 6s, Apple TV developer kits, and much more.



In our latest episode, we remember the late Steve Jobs' life after he died in 2011. We also focus on the build cost of the new iPhone 6s and 6s Plus, the recently-patented Apple "iRing", and Laurene Powell Jobs's reported efforts to stop production of the film Aaron Sorkin-scripted "Steve Jobs," which opens in theaters this Friday.

Also packed into this episode are reports of a new gasket on the iPhone 6s and 6s Plus that helps to keep water out as well as Apple sending out more Apple TV developer kits ahead of the late-October public launch date.

Be sure to subscribe to the 2 Minute Review show on YouTube so you don't miss an episode.

All this and more awaits —just click play.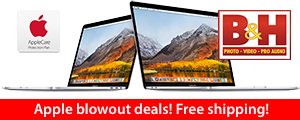 2017 12" MacBooks
Price
Save
1.2GHz/8GB/256GB (Gold)
$799.00+
$500
1.2GHz/8GB/256GB (Rose Gold)
$799.00+
$500
2018 13" Touch Bars
Price
Save
2.3GHz/8GB/256GB (Gray)
$1,649.99+
$150
2.3GHz/8GB/512GB (Silver)
$1,879.00+
$120
2.3GHz/16GB/256GB (Gray)
$1,949.00+
$50
2.7GHz/16GB/512GB
$2,449.00+
$50
2.7GHz/16GB/1TB
$2,849.00+
$50
2018 15" MacBook Pros
Price
Save
2.2GHz/16/256GB/555X
$2,549.00+
$50
2.2GHz/16/512GB/555X
$2,575.00+
$225
2.9GHz/16/1TB/560X
$3,199.00+
$300
2.9GHz/32/2TB/560X (Gray)
$3,999.00+
$700
2.9GHz/32/4TB/560X (Gray)
$5,999.00+
$700
Click here for dozens more configurations
+ Free shipping within the contiguous U.S.
Lowest Prices Anywhere!

13" MacBook Pros
Price
You Save
3.1GHz/8GB/256GB Gray
$1,679.00
$120.00
3.1GHz/8GB/256GB Silver
$1,704.00*
$95.00
3.1GHz/8GB/512GB Gray
$1,849.00*
$150.00
3.1GHz/16/512GB Gray
$2,099.00
$100.00
15" MacBook Pro
Price
You Save
2.8GHz/16/256/555 Silver
$2,199.00*
$200.00
2.8GHz/16/256/560 Gray
$2,299.00
$200.00
2.9GHz/16/512/560 Gray
$2,599.00
$200.00
2.9GHz/16/1TB/560 Gray
$2,999.00
$200.00
3.1GHz/16/512/560 Gray
$2,799.00
$200.00
3.1GHz/16/2TB/560 Gray
$3,899.00
$300.00

*

price with Promo Code:

APINSIDER

prices.appleinsider.com for more configurations