Video shows 10-year-old unlocking mother's iPhone X via Face ID
By Roger Fingas
Tuesday, November 14, 2017, 09:39 am PT (12:39 pm ET)
A video uploaded on Tuesday suggests that the Face ID system on Apple's iPhone X could be fooled not just by twins, but by any family member who bears enough resemblance.




In the the clip, a woman unlocks her phone using Face ID, locks it again, then hands it to her 10-year-old son. The son unlocks it on his first try.

In its current incarnation, Face ID is only able to store one face at a time, meaning that the iPhone made a false match between people of two different ages and sexes.



The technology is meant to adapt to changes in appearance, such as aging, makeup, and facial hair, as well as accessories like hats, scarves, and some sunglasses. That leniency could be what allows two family members to pass for each other, at least when they have a similar facial structure.

Shortly after the iPhone X's launch, it became common to test Face ID with identical twins. Sometimes it passed, other times not.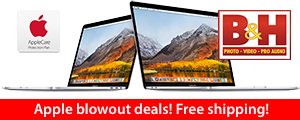 2017 12" MacBooks
Price
Save
1.2GHz/8GB/256GB (Gold)
$799.00+
$500
1.2GHz/8GB/256GB (Rose Gold)
$799.00+
$500
2018 13" Touch Bars
Price
Save
2.3GHz/8GB/256GB (Gray)
$1,649.99+
$150
2.3GHz/8GB/512GB (Silver)
$1,879.00+
$120
2.3GHz/16GB/256GB (Gray)
$1,949.00+
$50
2.7GHz/16GB/512GB
$2,449.00+
$50
2.7GHz/16GB/1TB
$2,849.00+
$50
2018 15" MacBook Pros
Price
Save
2.2GHz/16/256GB/555X
$2,549.00+
$50
2.2GHz/16/512GB/555X
$2,575.00+
$225
2.9GHz/16/1TB/560X
$3,199.00+
$300
2.9GHz/32/2TB/560X (Gray)
$3,999.00+
$700
2.9GHz/32/4TB/560X (Gray)
$5,999.00+
$700
Click here for dozens more configurations
+ Free shipping within the contiguous U.S.
Lowest Prices Anywhere!

13" MacBook Pros
Price
You Save
3.1GHz/8GB/256GB Gray
$1,679.00
$120.00
3.1GHz/8GB/256GB Silver
$1,704.00*
$95.00
3.1GHz/8GB/512GB Gray
$1,849.00*
$150.00
3.1GHz/16/512GB Gray
$2,099.00
$100.00
15" MacBook Pro
Price
You Save
2.8GHz/16/256/555 Silver
$2,199.00*
$200.00
2.8GHz/16/256/560 Gray
$2,299.00
$200.00
2.9GHz/16/512/560 Gray
$2,599.00
$200.00
2.9GHz/16/1TB/560 Gray
$2,999.00
$200.00
3.1GHz/16/512/560 Gray
$2,799.00
$200.00
3.1GHz/16/2TB/560 Gray
$3,899.00
$300.00

*

price with Promo Code:

APINSIDER

prices.appleinsider.com for more configurations