Apple releases results of iPod factory probe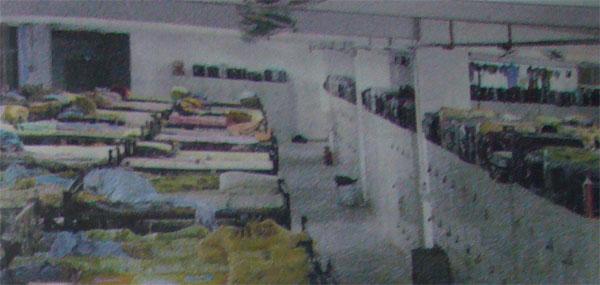 Apple Computer on Thursday released the results of its investigation into the working conditions at Foxconn, one of its Taiwanese manufacturing partners commissioned to build iPod digital music players and Mac desktop computers.
Apple initiated the probe about eight weeks ago, after the UK's Mail on Sunday published a detailed report from inside the factories, which included allegations of worker mistreatment and substandard living conditions.
"Like many of you, we were concerned by reports in the press a few weeks ago alleging poor working and living conditions at a manufacturing facility in China where iPods are assembled," Apple wrote in its report.
The company said its Supplier Code of Conduct mandates that suppliers of Apple products follow specific rules designed to safeguard human rights, worker health and safety, and the environment. "We take any deviation from these rules very seriously," Apple said.
The investigation, which spanned over 1200 person-hours and covered over one million square feet of facilities, focused on the areas of labor standards, working and living environment, compensation, overtime and worker treatment.
Apple said an audit team interviewed over 100 randomly selected employees representing a cross-section of line workers (83%), supervisors (9%), executives (5%), and other support personnel (3%) including security guards and custodians. "They visited and inspected factory floors, dormitories, dining halls, and recreation areas," Apple said. "The team also reviewed thousands of documents including personnel files, payroll data, time cards, and security logs."
Overall, Apple said it found Foxconn to be in compliance in the majority of the areas audited. However, the company did find some violations of its Code of Conduct, as well as other areas that it believed could be improved.
Specifically, Apple said it was not satisfied with the living conditions of three of the off-site leased dorms its audit team visited. The buildings were reportedly converted by Foxconn during a period of rapid growth and have served as interim housing ever since.
"Two of the dormitories, originally built as factories, now contain a large number of beds and lockers in an open space, and from our perspective, felt too impersonal," Apple said. "The third contained triple-bunks, which in our opinion didn't provide reasonable personal space."
To address housing situation, Foxconn has acquired additional land and is currently building new dormitories — plans that were apparently in place prior to Apple's audit, which will increase the total employee living space by 46 percent during the next four months.
The investigation also found that all workers earn at least the local minimum wage, and that a sample audit of payroll records showed that more than half were earning above minimum wage. However, Apple said Foxconn's employee pay structure was unnecessarily complex.
"An employee's wage was comprised of several elements (base pay, skill bonus, attendance bonus, housing allowance, meal allowance, overtime), making it difficult to understand and communicate to employees," Apple wrote. "This structure effectively failed to meet our Code of Conduct requirement that how workers are paid must be clearly conveyed."
Similarly, Apple was also unsatisfied in learning that employees worked longer hours than permitted by its Code of Conduct, which limits normal workweeks to 60 hours and requires at least one day off each week.
"We reviewed seven months of records from multiple shifts of different productions lines and found that the weekly limit was exceeded 35 percent of the time and employees worked more than six consecutive days 25 percent of the time," the company said. "Although our Code of Conduct allows overtime limit exceptions in unusual circumstances, we believe in the importance of a healthy work-life balance and found these percentages to be excessive."
In remedying these issues, Foxconn has since implemented a simplified pay structure and enacted a policy change to enforce the weekly overtime limits set by Apple's Code of Conduct.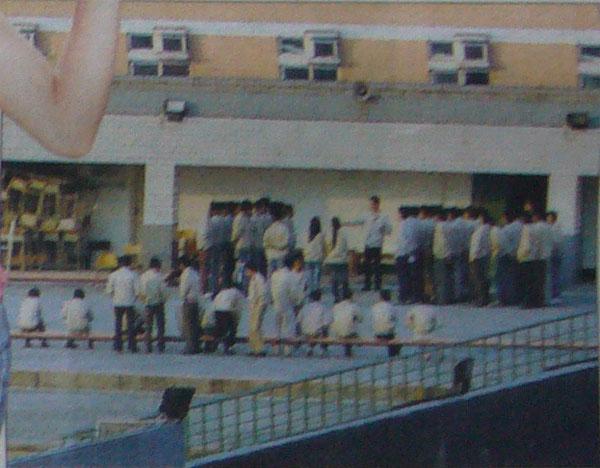 Military-style drills on the roof top at Foxconn | Image copyright Mail on Sunday.
In terms of worker treatment, Apple said two employees interviewed by its audit team reported that they had been disciplined by being made to stand at attention. While Apple did not find this practice to be widespread, the company said it has a zero tolerance policy for any instance, isolated or not, of any treatment of workers that could be interpreted as harsh. As a result of this finding, Foxconn is said to have launched an aggressive manager and employee training program to ensure such behavior does not occur in the future.
Going forward, Apple has enlisted the services of Verité, an internationally recognized leader in workplace standards, to ensure that its manufacturing partners around the world are in compliance with its Code of Conduct.
By the end of the year, Apple said it will complete audits of all final assembly suppliers of its Mac and iPod products.
"Apple is committed to the highest standard of social responsibility in everything we do and will always take necessary action accordingly," the company said. "We are dedicated to ensuring that working conditions are safe and employees are treated with respect and dignity wherever Apple products are made."
An unedited copy of Apple's report on the subject is available with additional details.