Apple may see 50 percent margin on each iPhone sale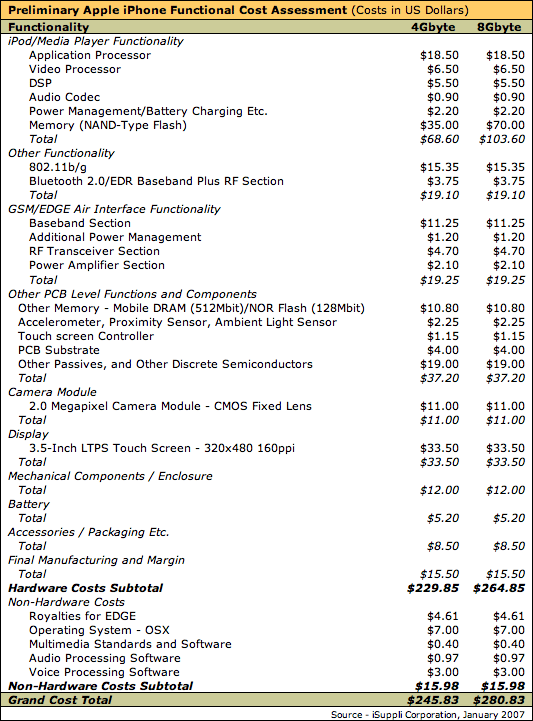 Each iPhone sold will generate nearly a 50 percent gross margin for Apple Inc. and partner Cingular Wireless, giving the companies a hefty profit, as well as plenty of room for future price cuts, according to research firm iSuppli.
Based on a preliminary functional Bill of Materials (BoM) estimate, the firm calculates that the 4Gbyte version of the Apple iPhone will carry a $229.85 materials and manufacturing cost and a $245.83 total expense, yielding a 50.7 percent margin on each unit sold at the $499 retail price.
Meanwhile, it said the 8GByte model will sport a $264.85 materials cost and a $280.83 total expense, amounting to a 51.3 percent margin at the $599 retail price.
"While iSuppli has a high degree of confidence in its conclusions, these figures are considered preliminary until we perform an actual physical teardown and analysis of the iPhone," the firm said in a report released Thursday.
The firm added that such a strong hardware profit is par for Apple's course, with the company having achieved similar margins of 45 percent and more in products including the iMac and iPod nano. But with extensive competition in the music-phone market, it may need to cut into those margins to reduce pricing in the future.
"With a 50 percent gross margin, Apple is setting itself up for aggressive price declines going forward," said Jagdish Rebello, PhD, director and principal analyst with iSuppli.
iSuppli noted in its report that Apple is due to face a bevy of competitors in music phones, with 835 models expected to be introduced by various competitors in 2007. It estimates that 14 music-enabled mobile phones with features that compete closely with the Apple iPhone already are shipping from manufacturers including Nokia, Motorola Inc., Samsung Electronics Co. Ltd. and LG.
"In terms of features and form factors, the closest competitor to the Apple iPhone is LG's KE850, which will ship later this year," said Tina Teng, analyst, wireless communications, for iSuppli. Other phones with similar characteristics reportedly include Nokia's N800, although that product is aimed more at niche markets than the broad-appeal Apple iPhone, the analyst said.
Shipments of music-enabled mobile phones will rise to 618.1 million units in 2007, up 39.9 percent from 441.7 million units in 2006, iSuppli predicts. By 2010, it sees shipments of such phones will increase to 1 billion units.
"iSuppli defines music-enabled phones as those supporting music file formats, and not necessarily as those tailored specifically for music playback," the firm said. "Thus, this number is much larger than the total available market for music-oriented handsets like the Apple iPhone."
Apple's goal is to capture 1 percent of these unit sales, which seems attainable, according to Rebello.