Apple's Mac share inches upwards during first quarter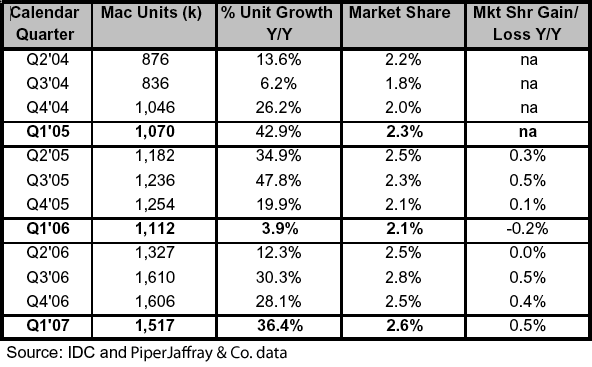 Data just released by market research firm IDC indicates that Apple's share of the worldwide personal computer market rose slightly during the first calendar quarter of the year, despite the simultaneous launch of Microsoft's first major operating system upgrade in over five years.
For the three-month period ending March, the Mac maker registered a 2.6 percent global share, up from 2.5 percent during the December quarter and from 2.1 percent during the year-ago quarter.
"Due to Vista's January 30 release and the PC sales that resulted from pent-up demand after its lengthy delay, we expected a slight sequential downtick in Mac market share," said Gene Munster, an analyst with investment bank PiperJaffray & Co."But strong Mac sales in Apple's March quarter enabled the company to gain share despite stronger than normal PC sales."
The analyst expects year-over-year market share gains to continue for the Cupertino-based company on a quarterly basis, especially as it enters three quarters of significant product releases (iPhone, Leopard, new iPods) and the educational buying season (July).
In a note to clients on Monday morning, Munster offered three specific examples of why he expects Mac share will continue to rise in June and throughout the remainder of Apple's 2007 fiscal year.
First and foremost, he said, the company's dominance in the portable sector will only help to amplify Mac appeal as the industry continues its trends away from clunky desktop systems and towards notebooks. He also noted that iPod and iTunes users on the Windows side are increasingly switching to Macs because they offer superior media management.
"And with iPhone and Apple TV, Apple has carried its lead in music into two new product categories," Munster told clients. "These products will further expand its footprint in a market with growing demand for simple solutions for digital content management. So far Dell and HP have failed to deliver PCs that rival the Mac's superior media experience."
Another variable weighing in the favor of continued share gains, the PiperJaffray analyst said, is the Mac's growing cool factor as a brand, which is similarly gaining traction thanks to successful series of international television ads, the continued popularity of the iPod despite cheaper prices, and Apple's profitable and effective retail strategy.
"Since coming out of the Intel transition Mac market share has seen year-over-year increases, and year-over-year unit sales growth of about 30 percent, which have been about 3x the industry average of about 10 percent," said Munster.