ITN: Disney, Mac Office, Leopard, Ticketmaster, and Apple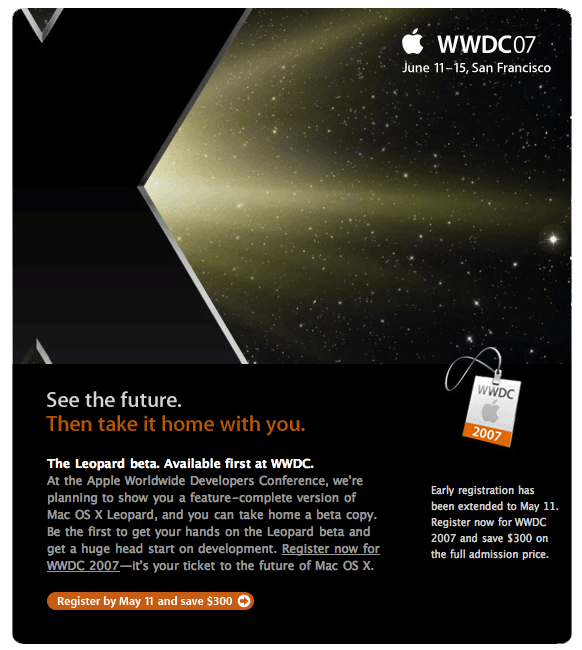 AppleInsider may earn an affiliate commission on purchases made through links on our site.
In The News: Disney profits rise but the media firm refuses to break out iTunes figures. Meanwhile, Redmond is still pumping out updates to Mac Office 2004 while Apple dangles a "feature complete" Leopard beta in front of developers. And Apple ranks high in a list of most desirable employers.
Disney not ready to break out iTunes figures
Walt Disney said Tuesday that second quarter profits rose 27 percent, helped by double-digit growth in operating earnings across of all its business units.
For the quarter ended March 31, the entertainment conglomerate earned $931 million, or 44 cents a share, up from the $733 million, or 37 cents a share, a year earlier.
During an ensuing conference call, chief executive Robert Iger refused to break out a measure of the company's digital revenue, garnered from its Web sites and sales of movies from Apple's iTunes.
Microsoft Office 2004 for Mac 11.3.5 Update
No need to check your calendars... Microsoft on Tuesday indeed released an update to Office 2004 for Mac — the current version of its industry standard office applications suite for Mac OS X.
Microsoft says the 59.5MB update contains several improvements to enhance security and stability, including fixes for vulnerabilities that an attacker can use to overwrite the contents of your computer's memory with malicious code.
The Redmond, Wash.-based software giant has maintained that it will wrap up the development of Office 2008 for Mac sometime later this year.
Apple dangles Leopard beta
Continuing with its campaign to draw the largest ever crowd at its Worldwide Developers Conference next month, Apple on Tuesday afternoon baited Apple Developer Connection members with a new teaser email.
"See the future. Then take it home with you," the company wrote in the email. "The Leopard beta. Available first at WWDC."
"At the Apple Worldwide Developers Conference, we're planning to show you a feature-complete version of Mac OS X Leopard, and you can take home a beta copy," the message continued. "Be the first to get your hands on the Leopard beta and get a huge head start on development. Register now for WWDC 2007 — it's your ticket to the future of Mac OS X."
Apple, in the email, also noted that it has extended early registration ($300 discount) till May 11th (Friday).
iTunes Ticketmaster promo
The online booking service is offering every online ticket buyer access to a ten-song sampler of songs from emerging artists, and will offer a free iTunes download of a customer's choice in an offer which beginning May 28 through September 3.
Wanting to work for Apple
Google topped the list, with Microsoft trailing Apple in the no. 7 spot
Of MBAs who offered their top five most desirable workplaces, 10.78 percent chose Apple. Some 9.75 percent of women surveyed placed Apple in their top five most desired workplaces, while 11.65 percent of men mentioned Apple in their top five.